Ham, Cheese and Fruit Kabob Appetizers
Make-ahead fruit appetizer skewers are ideal for parties! These cold mini kabobs are as pretty as they are delicious. They've got grapes, pineapple and cheddar, plus delicious ham roll ups for a flavor boost. This is a crowd pleasing recipe at finger food parties, holidays, showers, and ladies luncheons. Plus, they're light enough to serve before a dinner party.
If you love charcuterie skewers you're going to love these mini fruit and cheese skewers! They offer an alternative to the antipasto flavors as they're more fruit forward giving them a mild sweetness. It's the perfect sweet & savory combo!
This food-on-a-stick includes a classic pairing, cheese and fresh fruit, while incorporating ham and cream cheese rollups. I guarantee your guests will love them!
When to Serve It
You'll be thrilled to serve this finger food appetizer for so many occasions.
Hawaiian Luau
Appetizer party
Baby & Bridal Showers
Why You'll Love It
Cheddar cheese is a fantastic complement to fruit.
So easy and customizable. See the options below.
Delicious mildly sweet and savory combo.
Such a colorful and pretty presentation for hors d'oeuvres.
*Post contains affiliate links
Ingredients
Use these cute skewer sticks or get some themed ones that match your party theme.
Cheese. Cut a block of cheese into square chunks so you get the right size. Pre-cut cubes tend to be too small and can break when you thread it onto the skewer.
Grapes. Use red or green seedless grapes. I like the red ones because they make the kabobs more colorful.
Pineapple Chunks. Use canned for the ease of it, and drain the juice and pat the fruit dry.
Deli Sliced Ham. Use regular thin sliced ham. You don't want anything too thick or too thin so I don't recommend using thin shaved slices. I like to use honey ham or boiled ham so as not to interfere with the other flavors.
Cream Cheese. Use a block that you softened at room temperature. That way it will set and help to hold the rollups in place after being chilled. Whipped cream cheese is too soft and doesn't hold up as well.
Honey. The honey adds just enough sweetness to balance the salty ham and nuts, plus it helps to thin the cream cheese making it easier to spread.
Chopped Almonds. Pick up a small pack of almond slices in the baking section since you don't need a lot for this recipe. Lightly toast the almonds before chopping them to bring out the nutty flavor.
Substitutions
Here's a list of the best alternatives for these fresh fruit, meat and cheese skewers.
Prosciutto
Colby-Jack cheese
White Cheddar
Bocconcini (mini mozzarella balls)
Cantaloupe
Peaches
Strawberries
Maraschino cherries (use a paper towel to dry off the syrup from the jar)
Starfruit
Kiwi
Cherry tomatoes
How to Make Fruit & Cheese Kabobs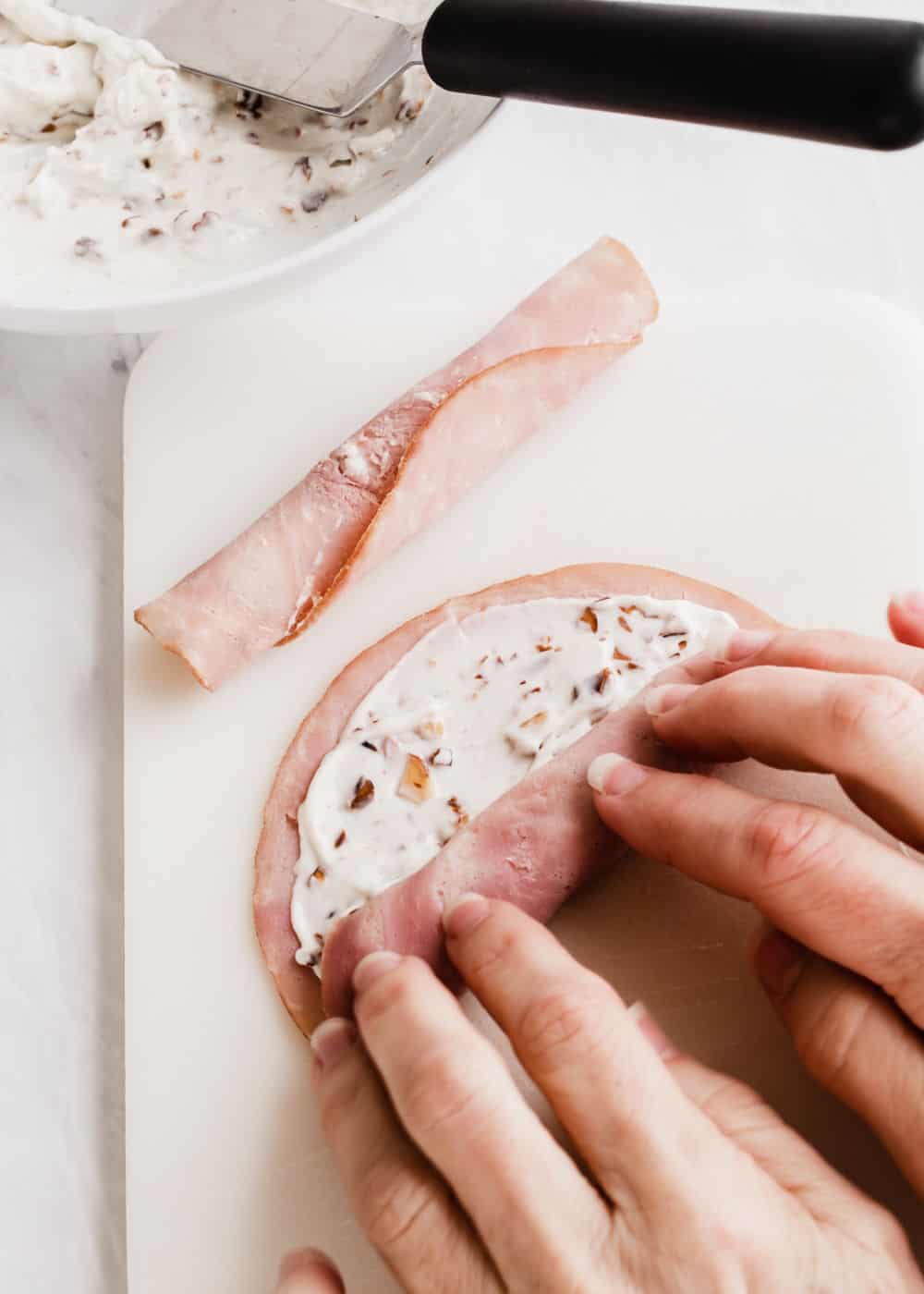 Step 1. Lightly toast the almonds by cooking them in the oven at 375 degrees F for about 5 minutes or until fragrant and golden brown.
Step 2. Combine the ingredients for the ham filling, and spread it on each slice of meat. Roll the ham slice jellyroll style.
Step 4. Trim the ends off the ham rolls so they're uniform, and cut each one into thirds, evenly.
Step 5. Cut a block of cheese into cubes, wash and dry grapes, and dab dry the pineapple chunks with a paper towel.
Step 5. Thread the ingredients onto each skewer, alternating placement of each for a pretty presentation. Leave room at the top so you can hold the skewer.
Storage
My favorite way to make and store these is to place the prepared kabobs on a serving dish and cover tightly with saran wrap. Keep refrigerated until ready to serve.
This way all you have to do is remove the covering and place the dish on the table.
Expert Tips
Use toothpicks instead of skewers for smaller bite size snacks.
Make some without the ham for a vegetarian option. Likewise, you can create a plate filled with just the ham roll ups served on a toothpick.
Make these up to a day ahead for easy entertaining.
Cut cheese into shapes using mini cookie cutters.
Serving Suggestions
Serve these alongside fruit & nut crisps (crackers) or sliced baguette.
Garnish the platter with fresh mint or basil leaves.
Lightly drizzle balsamic glaze over the skewers for added taste.
More Finger Food Recipes
If you like these ham, cheese and fruit kabobs, check out these other cheese appetizers and party bites.
If you like this post, PIN, Share, or sign up for our Newsletter at the top of the page. And don't forget to follow CAH on Instagram or Facebook. Cheers!
Ham, Cheese and Fruit Skewers
Easy and delicious fruit and cheese mini kabobs with ham are perfect for parties. Make this crowd pleasing recipe ahead and serve cold or at room temperature.
Ingredients
7 slices of deli-style ham
½ cup cream cheese (from 8-ounce block)
2 Tablespoons finely chopped toasted almonds
2 teaspoons honey
1 block (8-ounces) cheddar cheese
1 can (15 ounces) pineapple chunks, drained and dabbed dry
21 red seedless grapes
Instructions
In a medium size bowl, combine cream cheese, honey and almonds together until well mixed.
Spread the mixture evenly on top of each ham slice and roll the slices up, jelly roll style.
Chill if you have time so the cream cheese can firm up. Trim the ends off the ham rolls so they're uniform in shape and cute each one into thirds.
Cut cheese into uniform cubes or oblong pieces.
Begin threading each ingredient onto wooden skewers, alternating placement for visual interest.
Cover and chill until ready to serve.