How to Make a Wine Bottle Ice Chiller
A DIY wine bottle ice chiller is a great way to add a fancy detail to parties, showers, and celebrations. It's easy to do and it keeps wine or vodka chilled while you're entertaining. Add berries, citrus slices, or flowers to dress it up.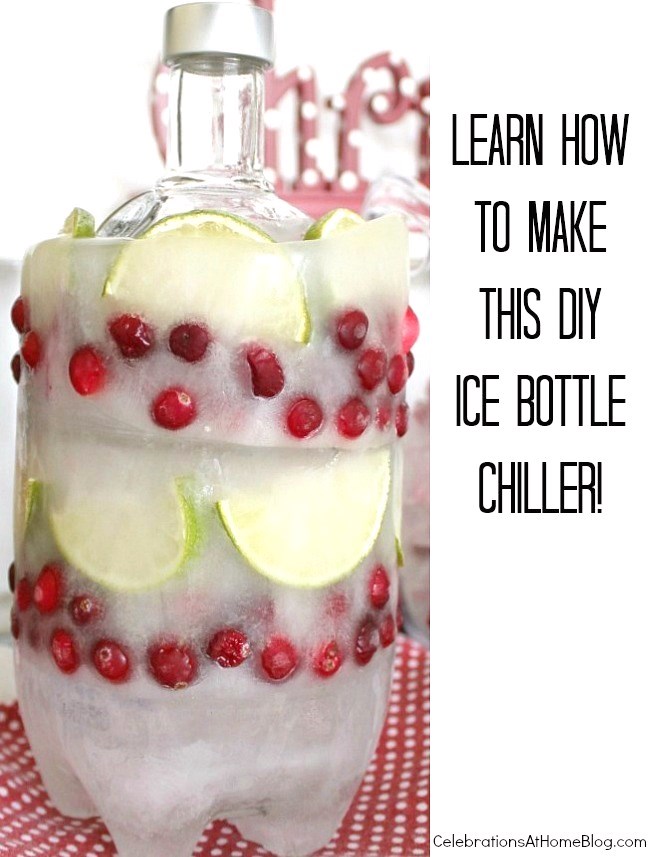 DIY Bottle Chiller
This DIY ice bottle cooler as seen on my holiday bar design is a stylish way to present vodka or white wine while keeping it cold at the same time. It's a simple project but you need to give yourself a couple of days to freeze the layers.
This works well for vodka because it can go in the freezer without turning solid, and is best served very cold anyway. You can also make an ice bowl perfect for serving shrimp cocktail, a salad (line the bowl with lettuce leaves) or ice cream.
What You Need
A 3-liter empty soda container that you will cut the top off of
distilled water for more clarity in your end result
fruit such as lemons, limes, star fruit, or cranberries
duct tape – only in case your bottle floats up in the water
How to Make It
Place the bottle of vodka inside the 3-liter container and fill with an inch or two of the distilled water. Freeze until solid.
When the base is frozen you can begin adding sliced fruit or berries around the bottle and fill with more water to just cover the fruit layer. Freeze until solid.
Once the first fruit layer is frozen you can add your next layer in the same manner, filling with distilled water enough to cover the fruit. This layer should take you to the top of the vodka bottle. Freeze until solid.
Once the cooler is completely frozen, take it out of the freezer so it can thaw slightly; about 30 minutes or enough to work the 3-liter container off of the ice. You may still need to dip in lukewarm water to help ease it off. 
Once you have the ice cooler out of the container, store it in the freezer until ready to set on your bar.
Best Tips
When setting the ice cooler out on your bar, set it in a shallow dish or tray that's lined with a small towel. This will prevent the icy base from slipping around on the dish, as well as help contain or soak up the melting ice.
Under normal home temperatures this should last a few hours. 
If you would like to use the ice cooler for white wine or other cold drink, just insert a clean empty bottle (wine bottle or other decorative bottle) into the 3-liter container and follow the same steps.  You can add your beverage to the empty bottle inside using a funnel after the cooler is frozen. 
You can freeze a bottle of tequila too!
If you like this post, PIN, Share, or sign up for our Newsletter at the top of the page. And don't forget to follow CAH on Instagram or Facebook. Cheers!