BEST Cheese Grits Casserole (with Quick Grits)
My easy cheddar cheese grits casserole is a family recipe that's been passed down for decades so you know it's delicious! This oven-baked breakfast dish starts with quick grits and has two kinds of cheese, eggs, butter and milk to give it lots of flavor. Good enough to serve for weekend brunch parties or holiday meals.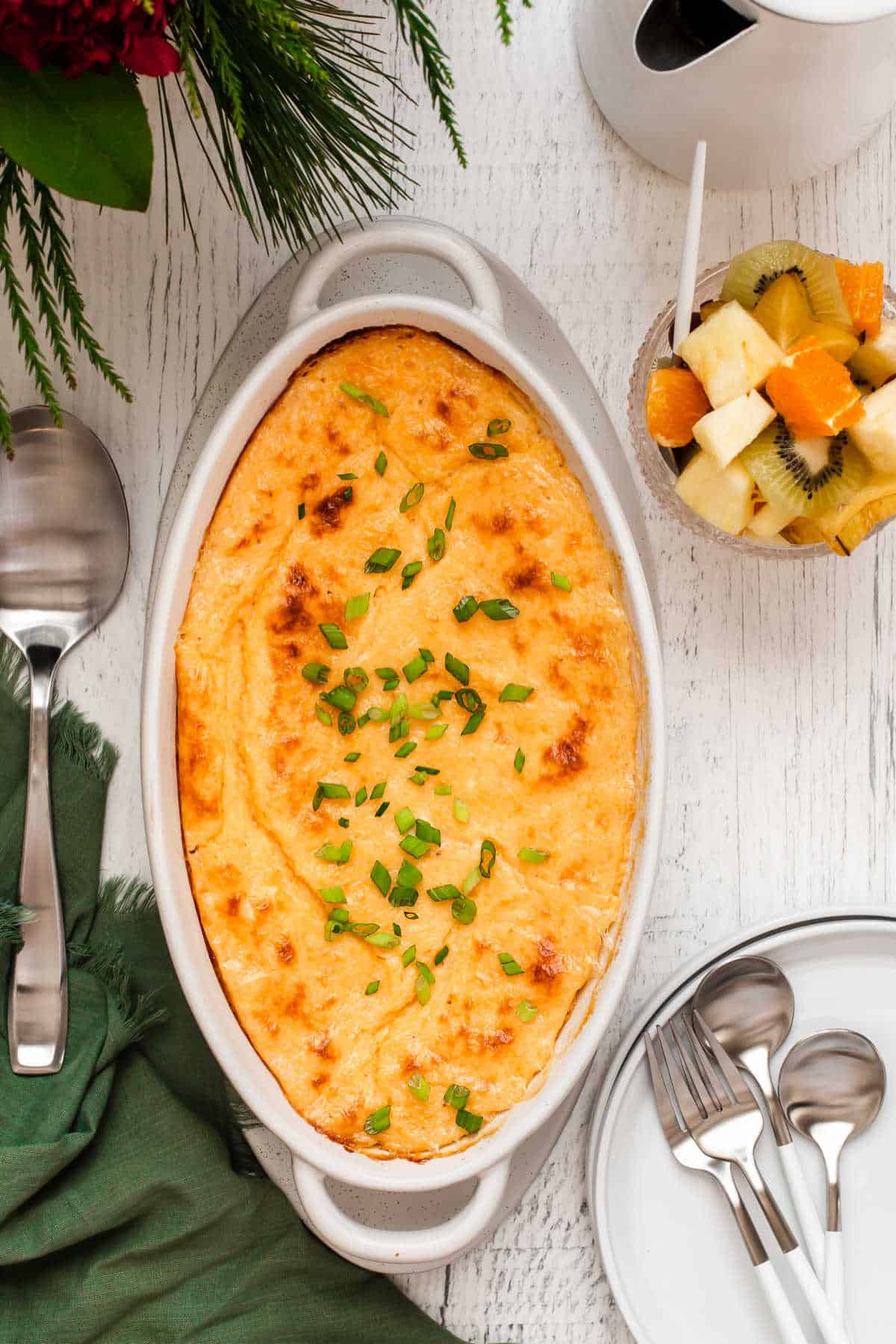 Grits are a Southern tradition and you can take them to the next level with this cheesy casserole. It's a long standing family recipe that's been served and shared time and time again.
Add this casserole to a breakfast bar when you're entertaining overnight guests, hosting a Sunday brunch, or you just want to indulge the family.
Why you'll love easy cheesy grits
Grits are similar to other grains and tofu in that it's a neutral base that readily takes on the flavor of the surrounding ingredients. So it's the perfect starting point for a delicious side dish.
The ingredients used here, are pantry staples and easy to find.
This dish is quick and easy to prepare with only six ingredients.
You can make-ahead and then bake just before company arrives.
It's versatile. Serve it for breakfast, brunch, luncheons, and dinner.
This is comfort food at its best. It's rich and satisfying but won't leave you feeling heavy.
When to serve it
Cheesy grits are ideal for holidays like Easter brunch, Christmas brunch, or Mother's day brunch.
They're great for a supper side dish or dinner party menus like a Southern themed dinner or a Mardi Gras dinner party.
You can also add it to a spring ladies luncheon or bridal shower brunch.
What to eat with grits
Grits casserole makes a great side dish for breakfast or dinner. You can position them similarly to my lamb chops with goat cheese polenta, or serve them with one of these dishes.
sausage
shrimp
fried catfish
Ingredients
You just need these 6 ingredients for the best cheesy grits casserole. You'll pre cook the grits according to the package directions using 4 cups of water and 1/4 teaspoon of salt.
Quick grits. Do not use instant for this recipe. Use quick-cooking grits and cook them similarly to rice for about 5 minutes.
Velveeta cheese. You only need half of a 16-ounce loaf, but the easy melting and creaminess of this product makes this casserole superb! Cut the cheese brick into 1-inch squares.
Cheddar cheese. It's best to use a block of sharp or extra sharp and shred your own. Shredded cheese combined with the Velveeta is a marriage made in heaven. You can try substituting other cheese too, like gruyere, smoked gouda, even pepper jack.
Eggs. Use room temperature eggs if you can, and lightly beat them. You can put them in a bowl of hot water (not boiling) for 5 to 10 minutes to bring the temperature down. Eggs add moisture and help bind the casserole together.
Butter. Unsalted sweet cream butter gives this dish rich flavor. Cut it into thin pats so it melts easily. If you only have salted butter eliminate the salt used in the cooking water for the grits.
Milk. Let it sit at room temperature for at least 30 minutes if you can, or warm it in the microwave for 30 seconds. Milk helps add creaminess as it combines with the other ingredients. I like to use 2% or whole milk for this recipe but skim will also work. For super creamy grits use half-and-half.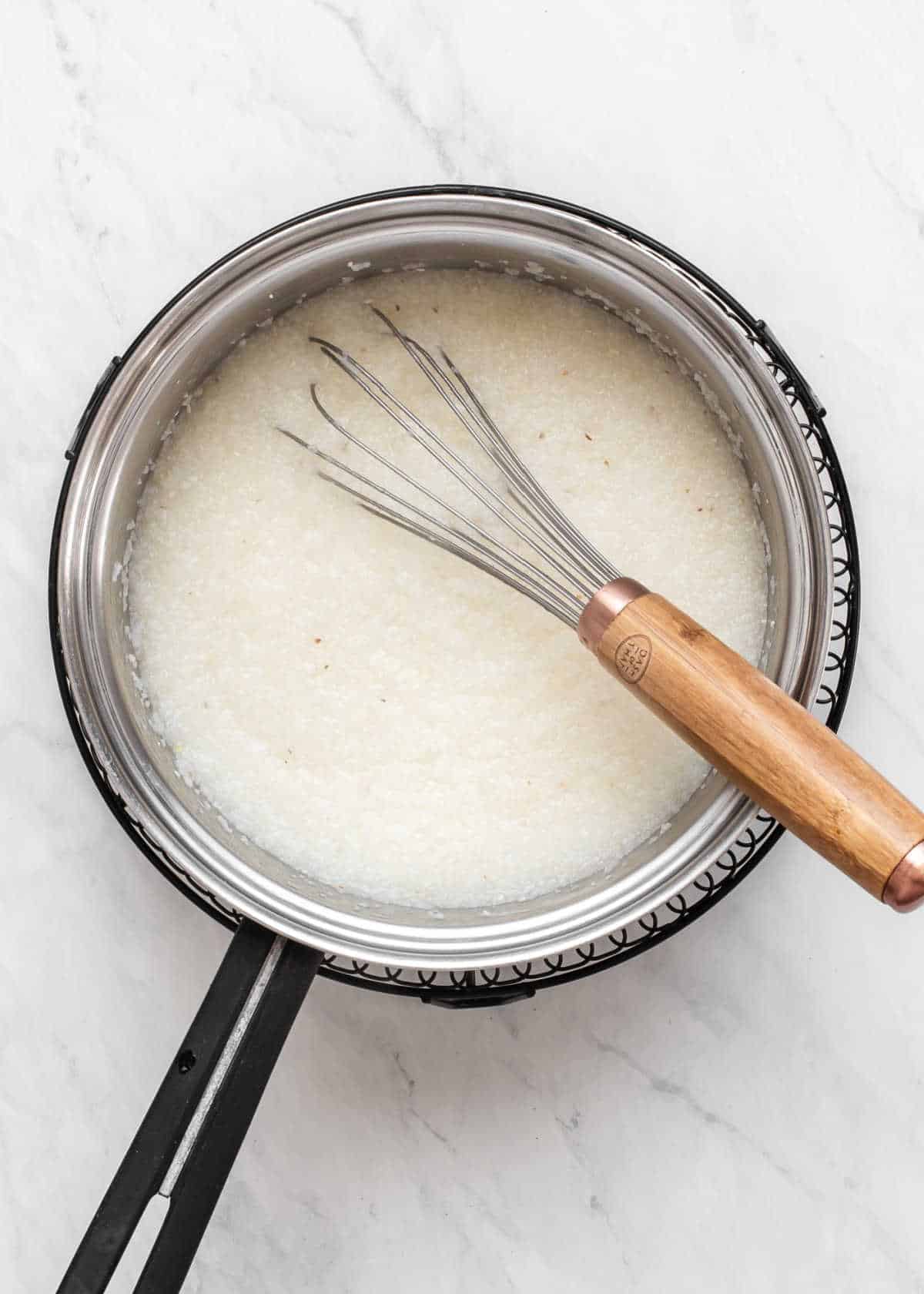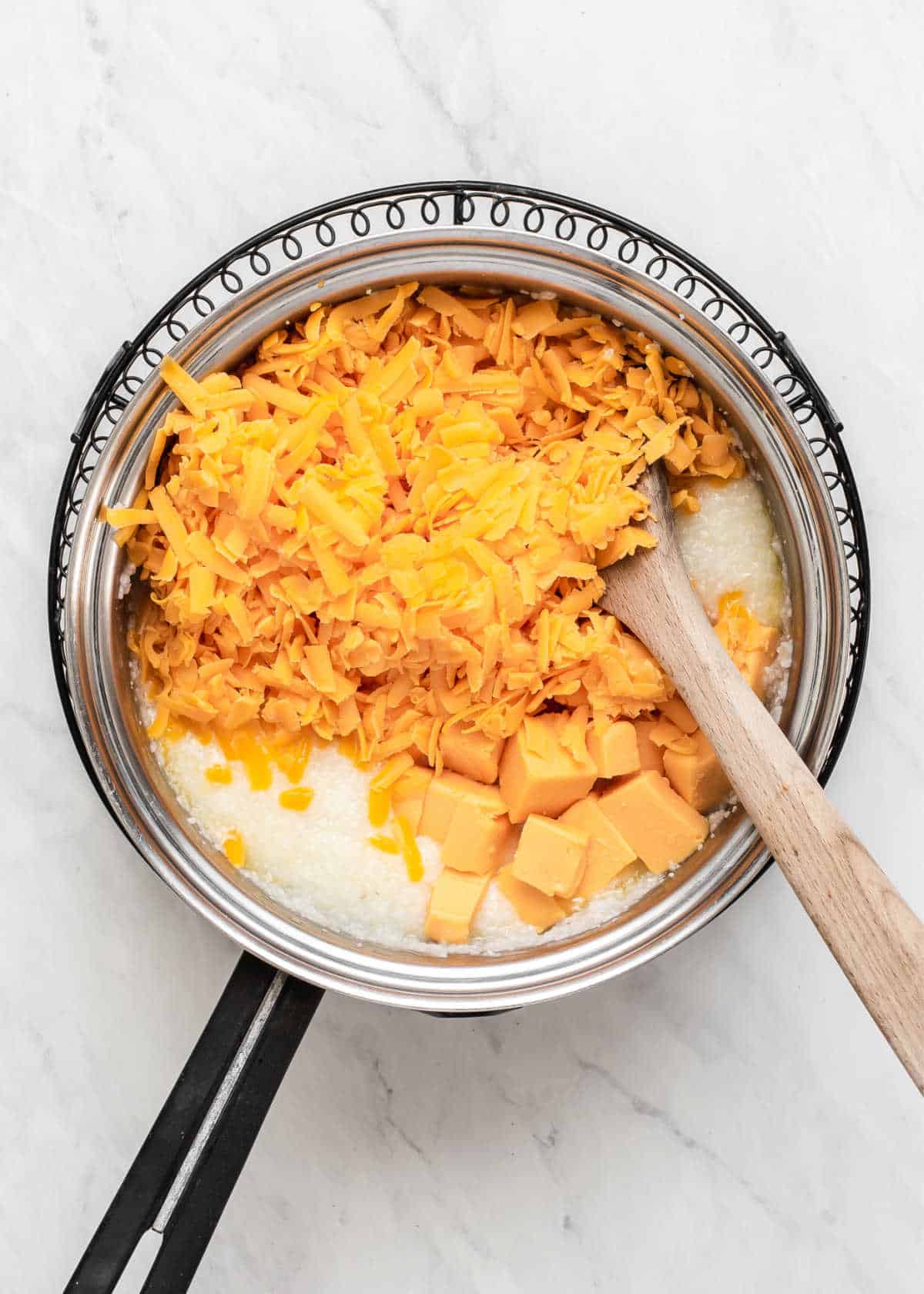 How to make cheese grits
Gather and prep the ingredients and preheat the oven to 325 degrees.
Add water to a large saucepan over high heat and bring to a boil. Add salt.
Add the grits and whisk well. Bring grits back to a boil then reduce the heat to low and simmer covered for five minutes. Stir with a whisk frequently to prevent lumps.
Remove pan from heat and add butter and cheeses; stir until mostly melted. Add milk and stir to integrate.
Use a spoon to drizzle some of the grits mixture into the beaten eggs. This will help temper the eggs (warm them up) so they don't scramble when added to the grits.
Pour the eggs into the grits and cheese mixture and combine well.
Pour into a two-quart baking dish and bake 30-45 minutes at 325 degrees, or until the center is only slightly jiggly.
Remove the casserole and let it sit for five to ten minutes before serving so it can firm and set as it cools.
PRO TIP: Check casserole half way through baking to see if it's getting too brown on top. If so, lay a sheet of aluminum foil on top to prevent further browning.
Make ahead
Prepare it up to 24 hours ahead but do not bake. Cover and refrigerate until ready to bake. Take it out of the fridge and place it into a cold oven. Turn oven on to preheat and cook as directed, adding 5 to 10 minutes if necessary.
If the oven is already hot, let the casserole sit at room temperature for at least 30 minutes so the cold dish doesn't go directly into a hot oven, as the temperature shock can cause it to break.
Storage and leftovers
Store: Cover and refrigerate leftovers for up to 5 days.
Reheat: Heat individual portions in the microwave in 30 second intervals until heated through.
FAQ's
Can you freeze cheese grits casserole?
You can freeze the casserole after baking. Let it cool completely, wrap tightly with saran wrap, and freeze for 4-5 months. Later you can thaw overnight in the fridge and reheat in the microwave or oven until heated through. If heating in the oven, cover with aluminum foil while cooking.
What to add to grits to make them better?
Grits are rather bland on their own but they eagerly take on the flavor of surrounding ingredients. You can cook them in broth instead of water. You can add cheese, gravy, sausage, bacon, roasted tomato & garlic confit, or use them in our casserole.
What are grits?
Grits are basically ground up kernels of white corn, and are similar to polenta. You can buy stone-ground, quick cooking, or instant grits, however I don't recommend cooking recipes with instant. Regular, or quick cooking, are ideal for recipes because they're a fine texture and cook in less than 10 minutes. Stone ground are coarser and take about 45 minutes to cook.
Cheddar cheese grits casserole is definitely not on the diet menu but they're wonderful for special occasions like brunch parties, dinner parties, or holiday get-togethers.
If you like this post, PIN, Share, or sign up for our Newsletter at the top of the page. And don't forget to follow CAH on Instagram or Facebook. Cheers!
Easy cheese grits casserole (with quick grits)
Cheesy and delicious quick-cook grits casserole is perfect for breakfast, brunch, or a dinner side dish. Six simple ingredients make this easy recipe ideal for entertaining.
Ingredients
1 cup Quick Cooking grits + 4 cups water and 1/4 teaspoon salt for cooking
8 ounces Velveeta - use half of a 16 ounce brick
8 ounces shredded sharp or extra sharp cheddar cheese - shred your own
4 Tablespoons (1/2 stick) unsalted butter - cut into thin pats
1/2 cup milk - best at room temperature or warmed for 30 seconds in the microwave
3 eggs - at room temperature, and lightly beaten
Instructions
Preheat oven to 325 degrees.
Bring 4 cups of water to a boil in a large sauce pan, over high heat. Add salt and stir in grits.
Reduce heat to low and cover. Cook for 5-7 minutes until thickened, whisking occasionally to prevent clumping. Remove from heat.
Add cheeses, butter, and milk back into grits and stir. Add a small amount of mixture to beaten eggs to temper them. Give a quick stir then add eggs into grits mixture.
Pour into a 9 x 11 baking dish and bake for 30 to 45 minutes until the center is only slightly jiggly.
Remove and let cool for 5 minutes so it can firm and set before serving.