How To Host A Laid Back Dinner Party In 6 Steps
Host a laid back dinner party with 6 easy steps and approachable hostess tips. It will only look like you spent hours! Use this simple menu that anyone can make, set an inviting table, and invite guests over for an outdoor summer party.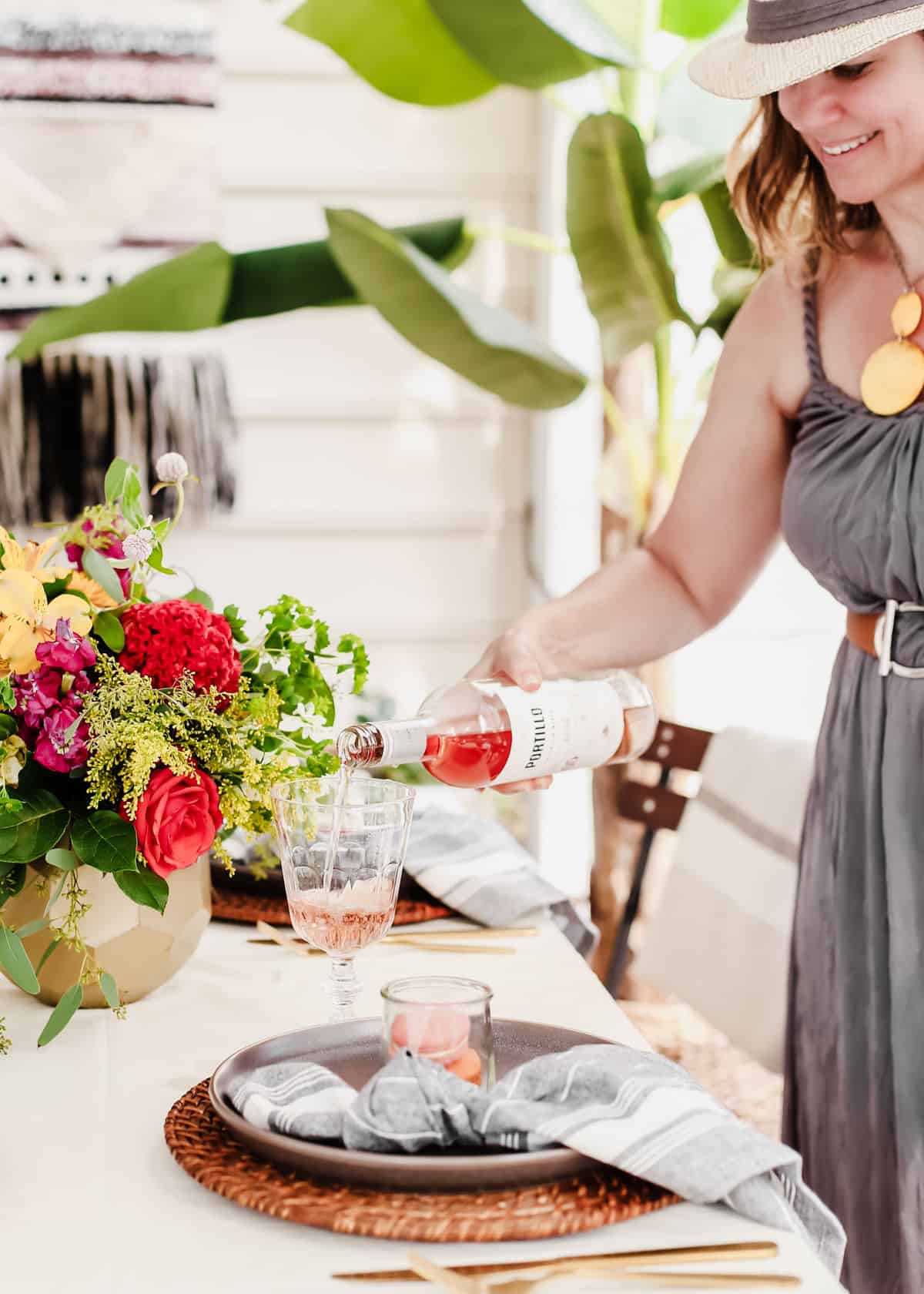 How do you host a fabulous dinner party when you're short on time or confidence? Besides following these themed dinner party ideas, you can follow this 6-step process that makes it super easy!
Easy Casual Dinner Party
Sometimes entertaining can seem daunting. In fact, that's one of the top reasons people choose NOT to entertain at all. But it doesn't have to be that way.
I'm breaking it down for you right here. Host a casual outdoor dinner party with these 6 step and you can feel comfortable whether you're a first time host or simply a busy mom.
This party is perfect for 6 people, but you can scale up or down as needed.
*Post contains affiliate links. I earn commission from Amazon purchases.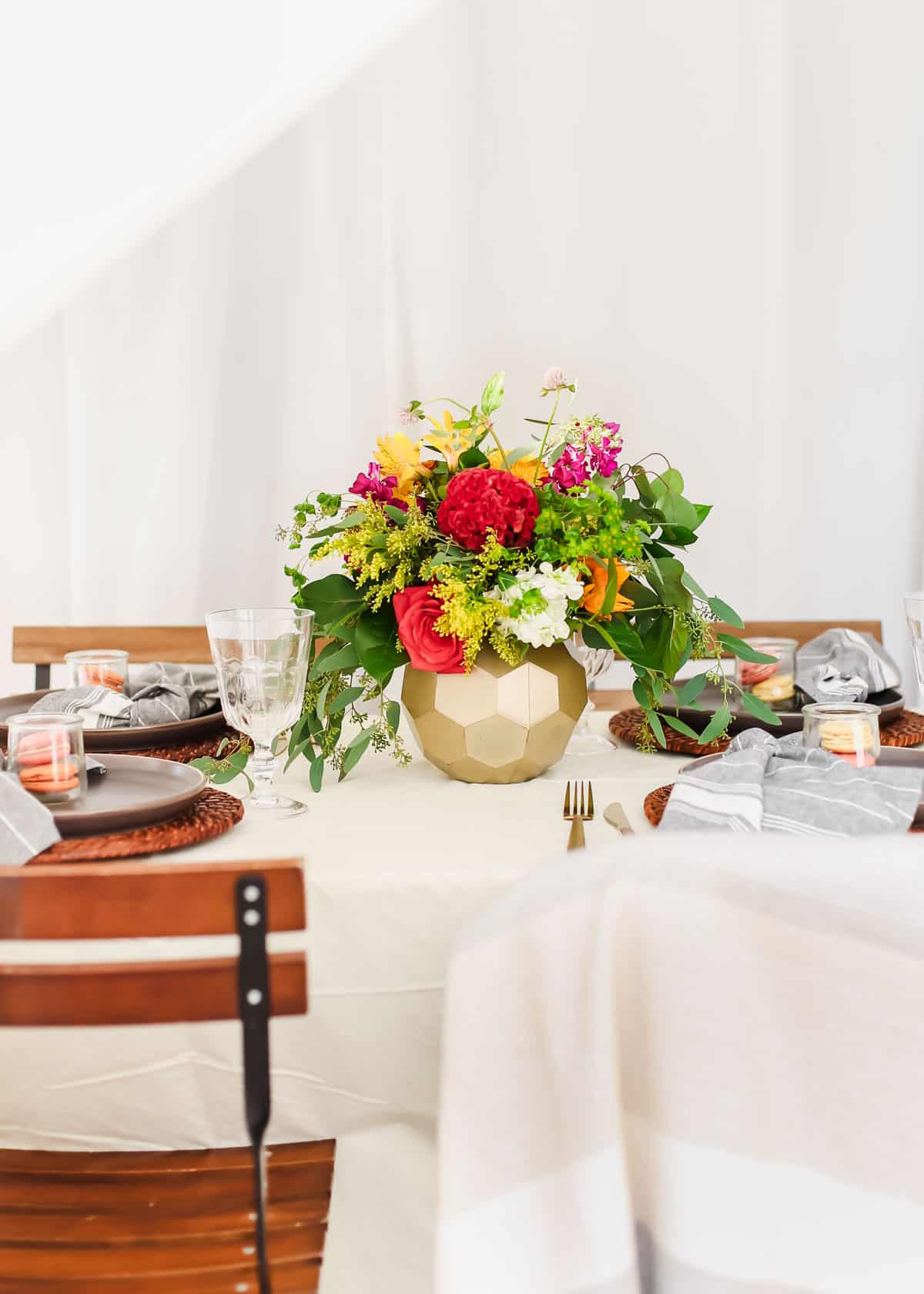 This party plan can be done in about an hour, including table setting, flower arrangement, and prepping food. A trip to the store is not included in the time frame.
You can follow these tips when you have last minute guests, or you just don't feel like pulling out all the stops. For more, see these dinner party menu ideas.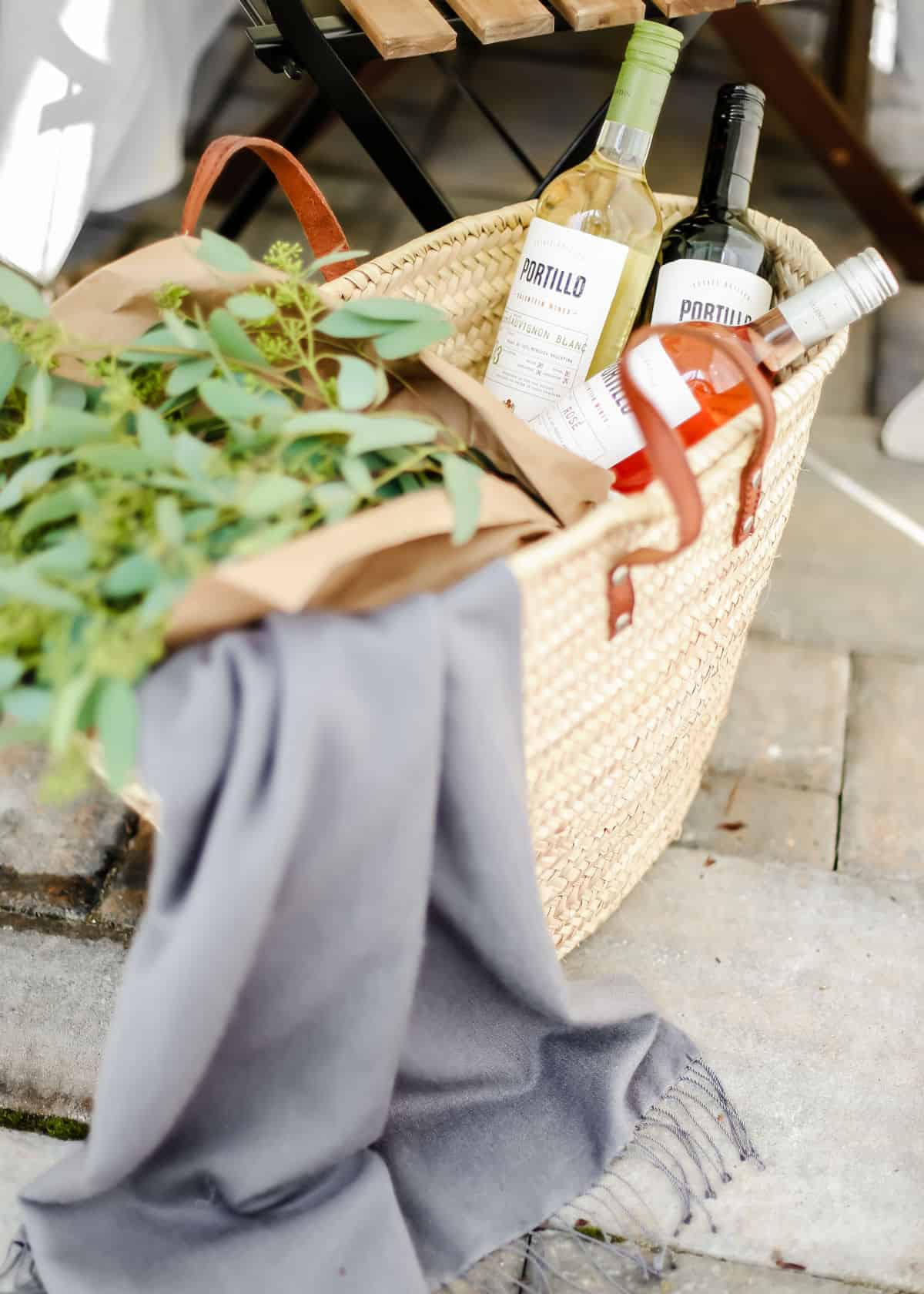 1. Shop For What You Need
Take stock of what you already have in your pantry or freezer and work from there.
I almost always have a pack of flatbread in the freezer, as well as cheese, turkey pepperoni, salad or chopped salad, and some sort of fruit in the fridge.
In the pantry I usually have canned artichokes, canned chicken, and tomato paste.
With these basic items you have the beginnings of an easy casual meal. You can make 3-topping mini pizzas by picking up a few extra items.
Pick up 3-4 bottles of wine. Malbec, Sauvignon Blanc, and Rosé all go great with pizza. The Rosé is very refreshing, while the Sauvignon Blanc is crisp and goes down easy. As reds go, I've always been a fan of Malbec. This is nice with the pepperoni pizza and also pairs well with red meat and pasta.
2. Easy Menu for 6
Pair the mini pizzas with a chopped salad and fresh fruit. Add a party cheese board to graze on while the pizza cooks. Create a menu for 6 by estimating at least 2 1/2 mini pizzas per person.
Mini pizzas for this party include: 
tomato paste + turkey pepperoni + grated Parmesan; garnish with fresh basil
chicken + artichoke + grated Parmesan; lightly drizzle EVOO as the base 'sauce' and sprinkle with Italian seasoning.
grated Parmesan + fresh figs + goat cheese; garnish with arugula
Some other favorite pizza recipes are honey drizzled ham & arugula pizza, this quick & easy pesto pizza, and bbq chicken pizza.
As the hostess, you can prepare the pizzas, or let guests make their own as an interactive activity while sipping on Rosé. Either way, you can pop them in the oven or on the grill and nosh on a cheese board while they cook.
3. Presentation is Everything
A little food presentation goes a long way. Make your dinner party table setting look extra special by serving the food in an attractive way. How much more effort does it take to serve a chopped salad on a wood cutting board? None! But it's unexpected and interesting, and fresh fruit can be placed around it so no extra dish is needed for that.
Another wood board serves up the mini pizzas. Edible flowers can be found in the packaged herb section of some grocery stores. Grab a pack and sprinkle them around your food boards to elevate the presentation of this casual menu.
4. Set the table
Create a simple but attractive table setting. Use casual rattan chargers with a single dinner plate is refined and lovely.
A nice collection of napkins can go a long way in dressing up a table. These striped napkins add interest while the flowers and food add color. There's no need to use place cards for a laid back dinner party. This is about keeping it easy and carefree.
Flowers
If you're stopping at the store you might as well pick up flowers for a centerpiece. A couple of bunches will do. This time of year we have a nice selection of locally grown 'farmers picks' that look great mixed with seeded eucalyptus. Check out my secrets to flower arranging here.
Party Favors
Guests can take home cute and tasty party favors when you place a few colorful macarons into mini jars. Place the jar on top of the dinner plate to help decorate each place setting.
Mini s'mores kit favors are also a great take home gift for guests.
5. Keep Dessert Simple
Everybody loves ice cream! Serve a couple of different flavors along with fresh berries and mint to garnish. It's a simple and refreshing dessert for easy entertaining.
You can also purchase cake or pies from the bakery section
6. Relax and Have Fun
There's no need to worry about keeping your guests entertained. In my experience a little wine goes a long way in keep the conversation going. But if you have a lull or just want to add something extra, try one of these entertainment ideas.
I hope that "over thinking" things won't get in the way of gathering with friends over dinner. Just follow these steps for a laid back dinner party and you'll be all set!
If you like this post, PIN, Share, or sign up for our Newsletter at the top of the page. And don't forget to follow CAH on Instagram or Facebook. Cheers!