Look no further, this is the BEST Glazed Lemon Bars Recipe!
This is the Best Glazed Lemon Bars Recipe and you'll want to eat the whole batch yourself! It's one of my favorite desserts for summer entertaining and fall tailgating. Three layers of flavor and texture make these a mouth-watering experience. Don't let this recipe pass you by.
What makes these the best lemon bars?
The best glazed lemon bars recipe has 3 layers of flavor including a light flaky crust, smooth lemony filling, and sweet glaze topping.
Nothing says summer dessert quite like this glazed lemon bars recipe. The sweet-tart flavor is light and refreshing, and they seem at home at any party or buffet. My go-to recipe came from one of those small booklets you find in the checkout line at the grocery store. I made it years ago for a shrimp boil party we hosted and have had friends asking for the recipe ever since.
The thing that sets these bars apart I think, is the glaze on top. I mean the shortbread crust is to die for, but the glaze topping adds that little extra touch.
This is definitely a recipe you'll want to make now and file away for all those potluck parties, casual cookouts, backyard barbecues, and tailgating later.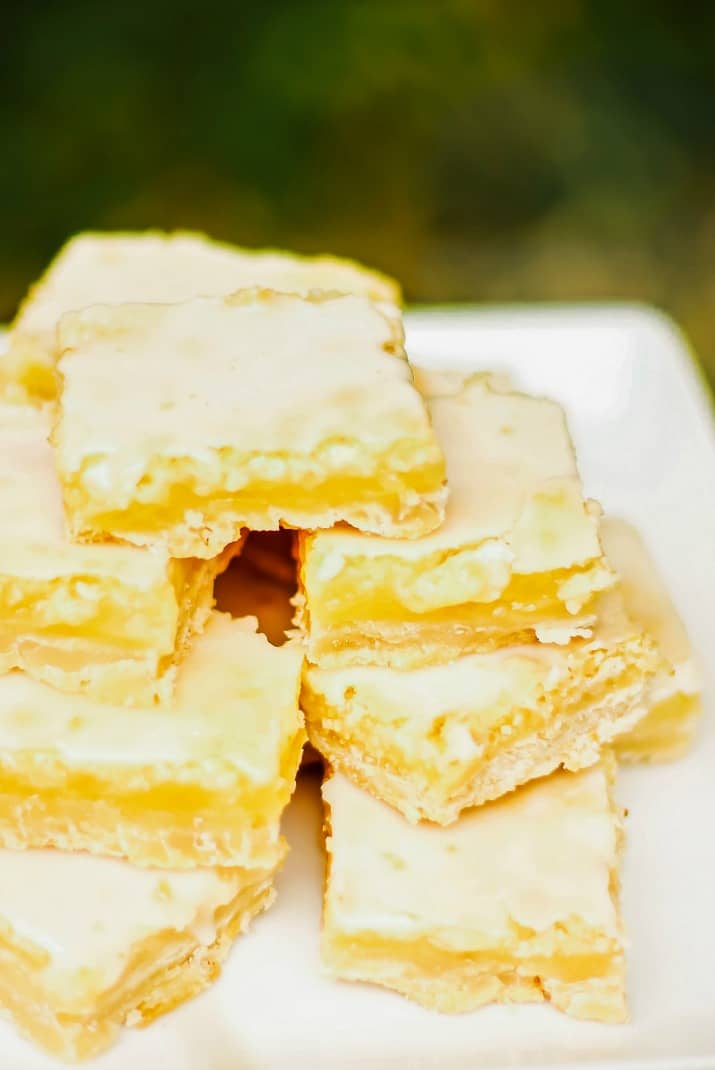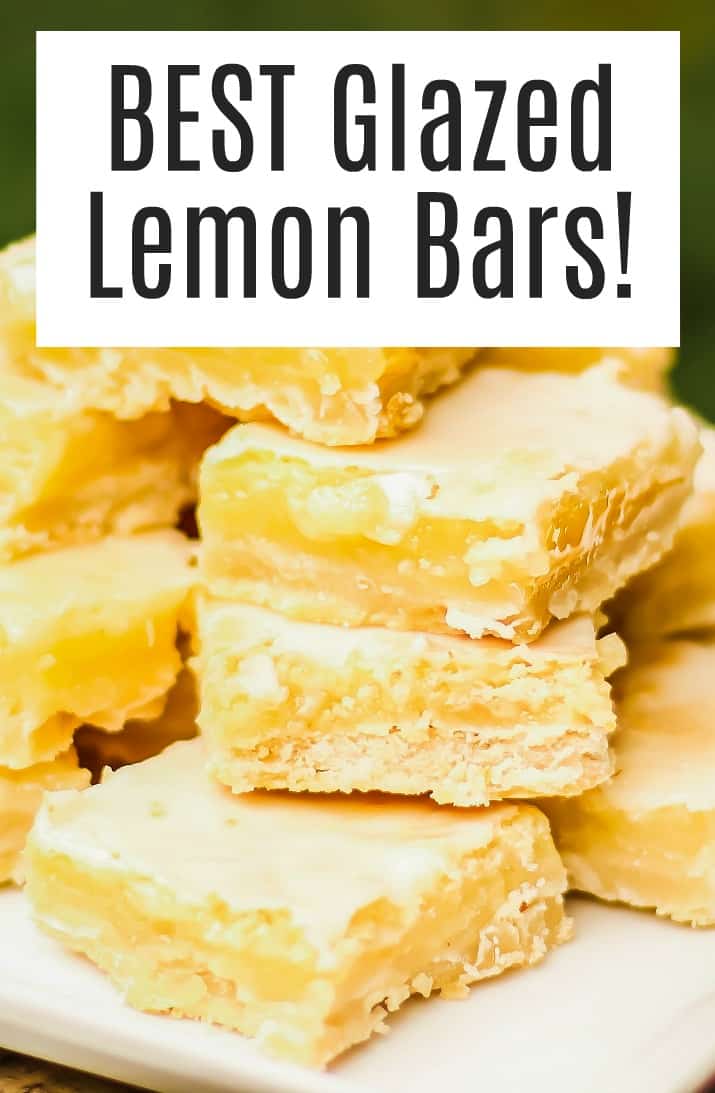 More Cookie & Bar Recipes
If you like these lemon bars, you're going to love these other baked treats.
If you like this recipe PIN, Share, or sign up for our Newsletter at the top of the page. Cheers!
BEST Glazed Lemon Bars Recipe!
Your friends and family will be begging for the recipe when you serve these amazing glazed lemon bars for dessert. Make them for parties, backyard cookouts, tailgating, or summer entertaining.
Ingredients
Crust
2 cups all-purpose flour
1/2 cup powdered sugar
1 cup butter, softened
Filling
4 eggs
2 cups granulated sugar
1/4 cup all-purpose flour
1 teaspoon baking powder
1/4 cup lemon juice
Glaze
1 cup powdered sugar
2 tablespoons lemon juice
Instructions
Preheat oven to 350 degrees. Using an electric mixer on low speed, combine crust ingredients in a large bowl until crumbly. Spoon mixture into a 13×9 inch pan lined with parchment paper. Press evenly to cover bottom, and bake for 20 to 30 minutes or until golden brown.
Meanwhile, for filling beat eggs lightly in a large bowl, with a wire whisk. Add remaining filling ingredients EXCEPT lemon juice, and mix well. Add lemon juice and beat until incorporated into mixture.
Remove crust from oven and pour filling mixture on warm base. Return to oven and bake 25 to 30 minutes more or until top is light golden brown. Cool completely for 1 hour or more.
In a small bowl mix powdered sugar and lemon juice together for glaze. If mixture is too thick add up to 1 tablespoon more of lemon juice. Spread glaze over the top of the cooled lemon bars.
Store in refrigerator to set up completely.