Thai Noodle Salad with Shrimp (No Mayo)
Cold Thai noodle salad with shrimp and crunchy vegetables is full of Asian flavors like soy sauce, sesame oil, red pepper flakes, cilantro and garlic. It's a delicious entrée for a ladies luncheon or for bridal and baby showers.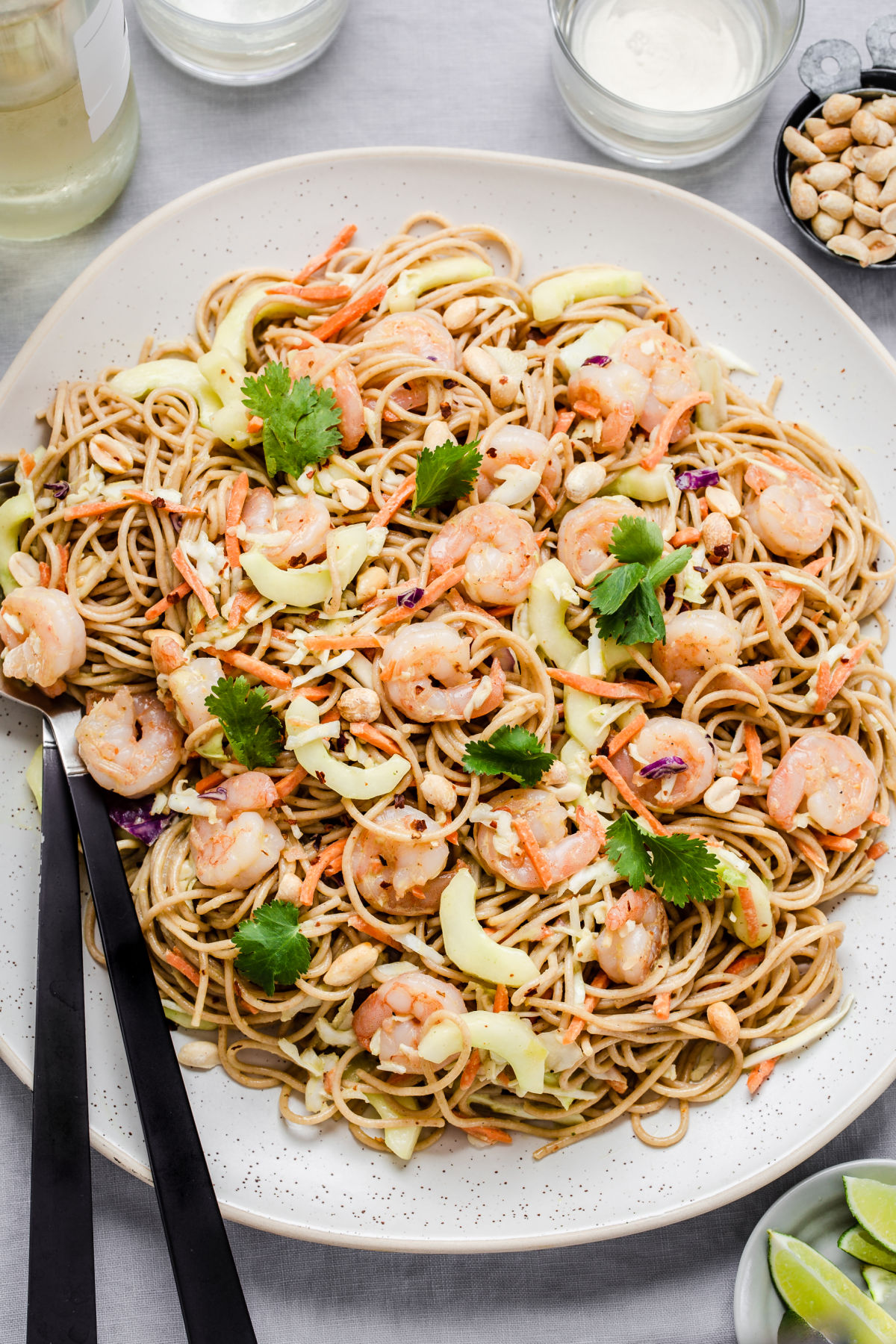 Cold Spaghetti & Shrimp Salad
Need a delicious dish for a light luncheon or ladies get-together? This pasta salad is the answer! It's a terrific dish to serve for a spring ladies luncheon, a baby shower or sip and see, or a bridesmaids luncheon.
This cold Thai noodle salad recipe is made with spaghetti for simple entertaining. I tossed in some cooked shrimp to make this a main dish, and the Asian-style dressing is light and addictive!
Crunchy fresh vegetables give great balance to the soft pasta noodles. And the peanut garnish, with extra cilantro sprinkled on top gives this entrée even more complexity when serving. It's great to add to an Asian theme dinner party.
PARTY TIP: Make it vegetarian by using edamame instead of shrimp.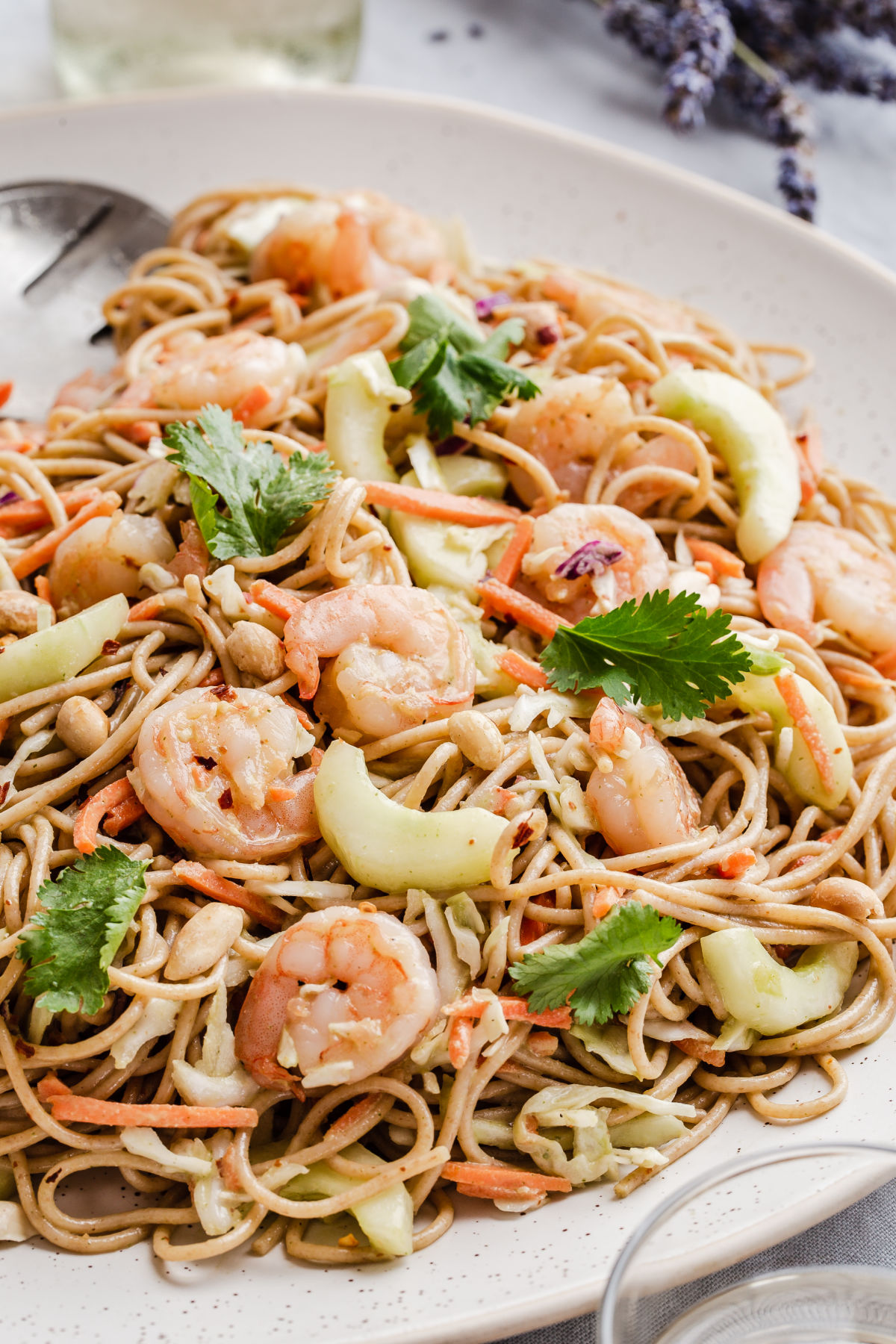 What Makes This So Good?
There's a lot to love about this pasta salad entrée.
It's actually a light dish so you don't feel heavy after eating it.
It's loaded with flavor and texture.
It's versatile.
You can make it ahead.
When to Serve It
This is the perfect dish to serve when you host a small gathering.
How to Make It
Make this ahead when you're hosting a party at home or if you want to take it to a potluck party.
Ingredients
The base of the salad includes just 5 ingredients.
Spaghetti Noodles. I use whole wheat pasta but you can use what you like. Substitute with vermicelli, angel hair, or Asian Soba noodles. Break it in half before cooking so it's easier to eat.
Cooked Shrimp. Buy pre-cleaned and shelled shrimp, either already cooked or cook them your self just until they turn pink. You could also use cooked shredded chicken.
Shredded Cabbage. Save yourself time and purchase shredded cabbage slaw mix.
Shredded Carrots. Buy pre-packaged matchstick carrots to save time and effort.
Cucumber. Use a seedless English cucumber if you like, but for this I like to scrape out the center anyway, to give the slices a half-moon shape. Make sure to peel the skin off first.
You'll also need peanuts to sprinkle on top at the end.
Thai Dressing
Fresh Cilantro & Limes. These are the main components and add flavor and acidity to the sauce. Use a big bunch of fresh cilantro and about 3 limes.
Soy Sauce. Use low sodium to keep the salt in check.
Honey. This adds balance to the other ingredients.
Sesame Oil. A staple in Asian-style recipes. Find it in the condiments aisle, not with cooking oils.
Salt, Red Pepper flakes, Garlic cloves, Olive Oil. These should be pantry staples in your kitchen. If you don't have fresh garlic you can substitute with 1/4 teaspoon of garlic powder.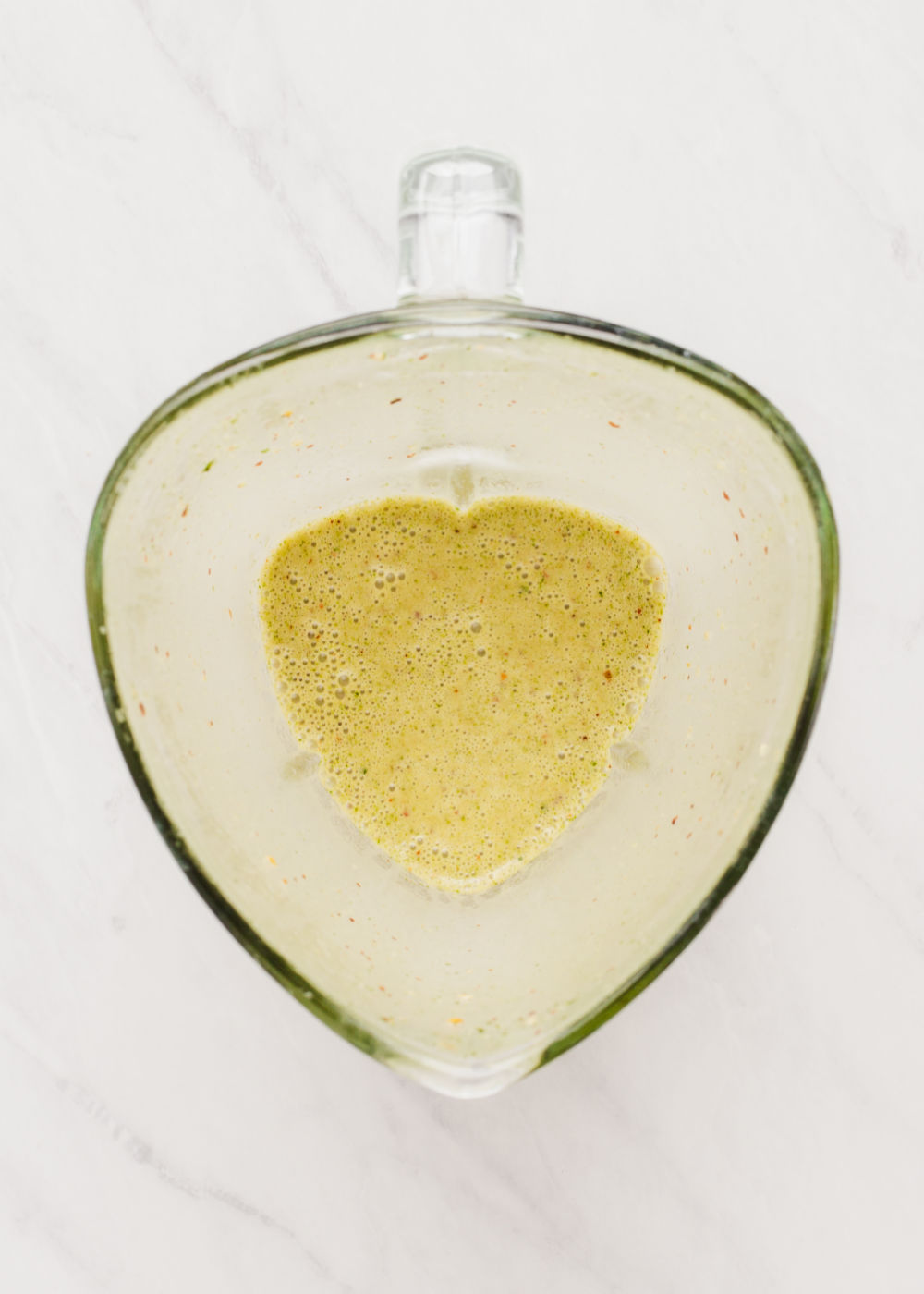 Easy Steps
Cook pasta noodles in boiling water; drain and let cool. Combine the main salad ingredients together in a large bowl and toss.
Pulse the dressing ingredients together in a blender until smooth, and pour over salad.
Stir well to mix the dressing throughout all the ingredients. Cover and chill in the fridge until ready to serve.
Toss in Peanuts just before serving.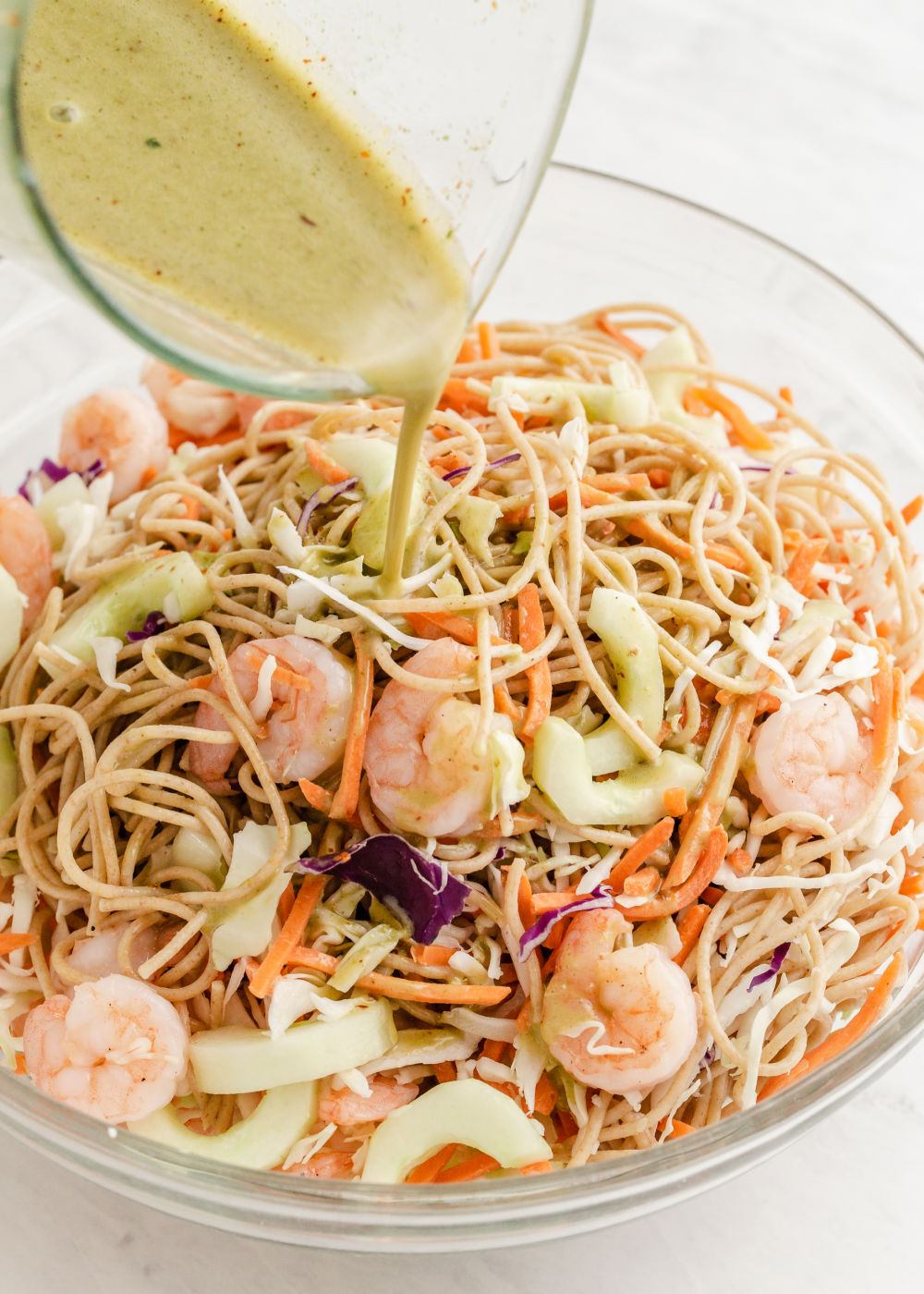 Can I Make It Vegetarian?
Yes! Substitute edamame for the shrimp to make this a vegetarian entrée.
If you're serving a party, you can divide the prepared recipe and add the shrimp to one bowl and the edamame to another bowl for guests.
You can also omit protein altogether and serve this as a side dish.
PRO TIP: Turn this into a side dish by omitting the shrimp.
Substitutions
Use whole wheat pasta to give it a better-for-you boost.
Serve this with cooked shredded chicken instead of shrimp.
Hold the cilantro! Some people really don't like it. Place a bowl of chopped cilantro out so guests can add it if they like.
Switch out the shredded cabbage for shredded brussels sprouts.
Toss in cashews instead of peanuts, just before serving.
More Asian-Inspired Recipes
If you love the depth of flavor that Asian style food offers then you'll want to try these tasty dishes.
If you like this post, PIN, Share, or sign up for our Newsletter at the top of the page. And don't forget to follow CAH on Instagram or Facebook. Cheers!
Thai Noodle Salad with Shrimp
Thai noodle salad with shrimp is full of crunchy vegetables and Asian flavors. It's a terrific entrée for a ladies luncheon or bridal shower. Make it vegetarian by substituting edamame for the shrimp and it's a win for everyone.
Ingredients
10-12 ounces thin spaghetti, broken in half
1 cup shredded or matchstick carrots
1 heaping cup shredded cabbage
1 large cucumber, peeled, seeded, and sliced
1/2 cup unsalted peanuts
1 pound large shrimp, cooked and peeled
Dressing
2/3 cup chopped fresh cilantro
2 or 3 garlic cloves, minced
1 teaspoon red pepper flakes
1/2 cup fresh lime juice (about 3 limes)
2 Tablespoons low sodium soy sauce
2 Tablespoons honey
3 teaspoons sesame oil
1/2 teaspoon salt
1/4 cup extra virgin olive oil
Instructions
In a food processor or blender, pulse together the dressing ingredients EXCEPT the olive oil. After a few pulses, slowly add in olive oil while blending, to combine. Set aside or refrigerate over night.
Meanwhile, cook pasta according to package directions. Drain, rinse (drain all liquid from rinsing) and place in a large bowl. Add carrots, cabbage, cucumber, & shrimp, and toss together.
Add dressing when ready to serve and toss to coat. Sprinkle with peanuts and serve.
Notes
Garnish with fresh cilantro and a light sprinkling of red pepper flakes if desired.