Saltine Cracker Toffee Recipe
Saltine Cracker Toffee is a favorite treat in our family. It's easy to make and tastes amazing! Growing up, we ALWAYS had a box of saltine crackers in the pantry. This is one of the best ways to use them! Make this sweet snack any time for after school, weekends, or for holiday entertaining. And for another simple but delicious cracker treat don't miss my peanut butter marshmallow cracker treats. They are another classic snack from childhood.
This cracker toffee takes about 30 minutes to make from start to finish
Cakes and pies are great for special occasions. But for a quick and easy sweet treat, you can hardly beat this classic saltine cracker toffee recipe.
I guarantee you'll need to show some restraint to keep from eating it all at once! I made a batch a couple of weeks ago and my kids have been begging me to make it almost every day since!
For other variation on cracker treats, don't miss my graham cracker and ritz cracker toffee in my 3 homemade sweet treats recipes. All these recipes are out of this world and have stood the test of time!
Use mini chocolate chips in this recipe for best results
Even as a chocolate lover, I think too much used here can be overwhelming. This isn't a "chocolate recipe" so you definitely want the flavors of the crackers and caramel to come through. You want the balance of sweet and salty toffee flavor to be the star, not the chocolate.
Make this sweets recipe for parties and entertaining
As I said above, these are great after school snacks or holiday treats. However the fact that these are hand held and easy to eat makes them great for these other parties as well.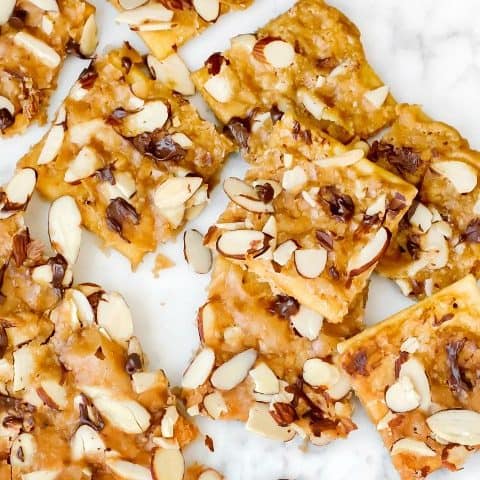 Saltine Cracker Toffee Recipe
Yield:
about 5-6 servings
There's not much better than these saltine cracker toffee squares. Simple ingredients come together for an over the top dessert treat that you won't be able to stop eating! You'll probably need to make a double batch of these.
Ingredients
24 saltine squares
1/2 cup unsalted butter
1/2 cup packed brown sugar
1/3 cup sliced almonds
1 Tablespoon mini semi-sweet chocolate chips
Instructions
Preheat oven to 350 degrees, and line a baking sheet with aluminum foil.
Place the crackers in a single layer in the pan, and make sure they're touching one another. Set aside while you make the caramel topping.
Melt butter and brown sugar together in a small sauce pan over medium heat. Increase temperature to medium-high and bring to a boil. Cook 2-3 minutes stirring constantly. Consistency will be like caramel.
Pour the sauce evenly over the saltines. Use a knife or back of a spoon to help spread it out. Sprinkle the almonds all over the top and bake for about 10 minutes.
Remove pan from oven and sprinkle chocolate chips over the top and let them melt.
Once the cracker toffee is completely cooled, break it apart and enjoy!