Cheesy Bacon Potato Bites (easy appetizer)
Cheesy bacon potato bites are a delicious and easy party appetizers with just 4 ingredients. They start with convenient frozen waffle fries and only get better with the addition of cheese and bacon! These potato appetizers are a crowd pleaser if you're looking for easy party appetizers for girls night in or hosting a casual gathering at home.
Easy Finger Food
Appetizers are my FAVORITE food group! When hosting parties I'm usually serving an array of heavy hors d'oeuvres and cocktails. Even dinner parties include at least one special appetizer before the meal. This recipe is one that continues to please everyone!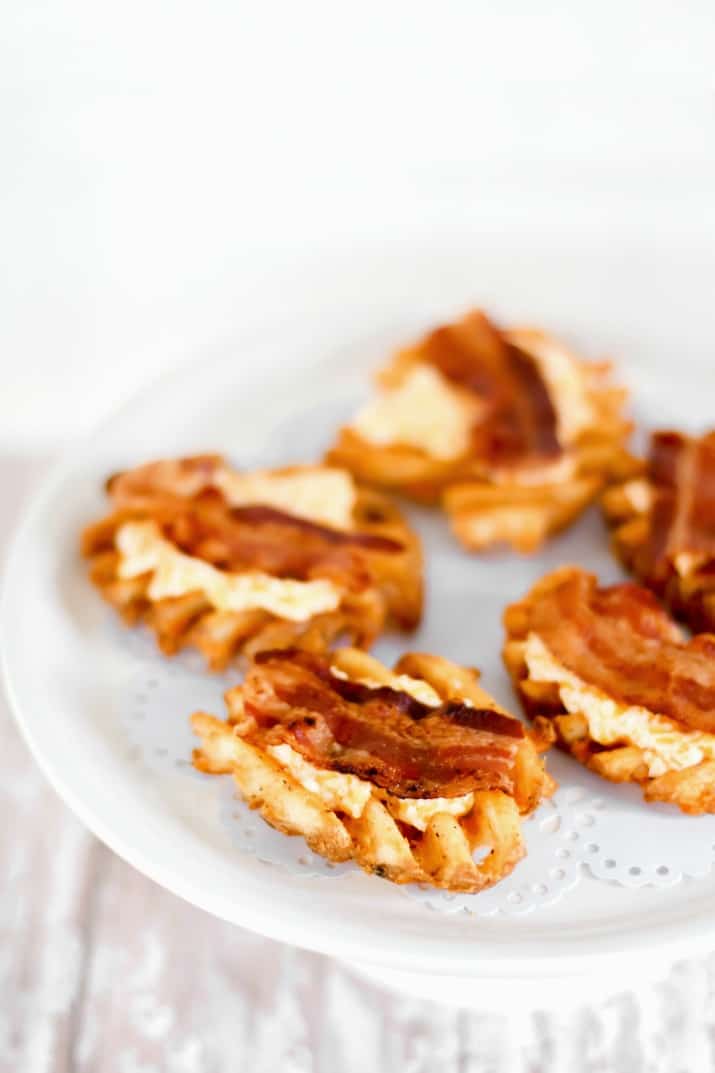 Why you'll love them
Time is always a consideration. I love starting with packaged foods for semi-homemade dishes. Frozen foods can make home entertaining so much easier.
For my cheesy bacon potato bites I started with frozen waffle fries. These are sort of a spin on the classic potato skins you get at restaurants.
These are so delicious. And the waffle fries are quite large so you get plenty of tasty goodness! Make them for cocktail parties, ladies night, or happy hour.
PRO TIP: These potato bites can be served as a side dish for dinner too.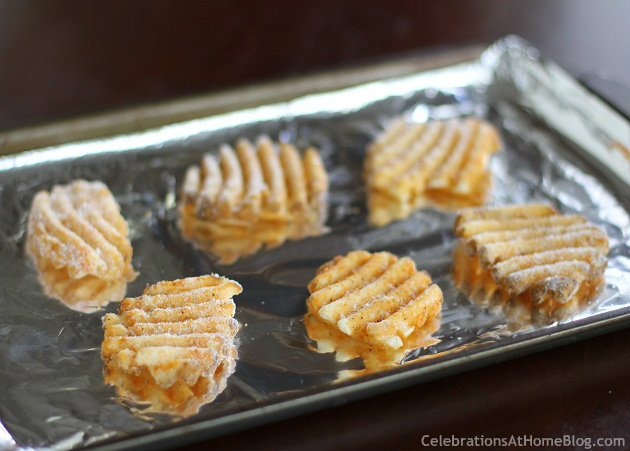 When to serve cheesy bacon potato bites
These bites are so versatile they're a great addition to a brunch buffet or breakfast bar, or a late night party buffet. After all, potatoes, bacon, and cheese are all staples of breakfast dishes.
The waffle fries are also a terrific base for easy smoked salmon appetizer bites. If you like salmon, you'll love these!
Another way to use waffle fries is to put them on a juicy burger.
More easy appetizers
To help round out your party menu you might like to include these recipes.
If you like this post, PIN, Share, or sign up for our Newsletter at the top of the page. And don't forget to follow CAH on Instagram or Facebook. Cheers!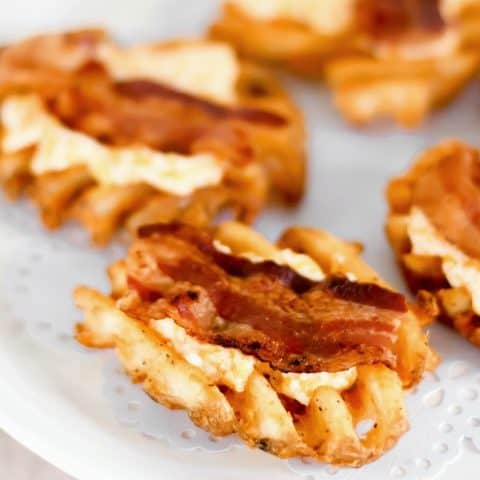 Easy Party Appetizer Cheesy Bacon Potato Bites
Turn waffle fries into an easy party appetizer with these 4 ingredients. Cheesy bacon potato bites are so good your guests will beg for more!
Ingredients
1 bag Frozen Waffle Fries
2 ounces cream cheese, softened
1 cup sharp cheddar cheese, shredded
1 package center cut bacon slices, cooked
Instructions
Preheat oven at 400 degrees, and lay frozen waffle fries in a single layer. Bake as directed on package.
Combine cream cheese and shredded cheddar until well combined. If you need to add more of either cheese, you can do so. This is a very forgiving recipe.
Once waffle fries are cooked, remove them and place a dollop of cheese mixture on top of fries. Return to oven at 350 degrees, for 3-5 minutes or until cheese is melted.
Remove fries from oven and place a slice of bacon on top of the cheese so it adheres to the melted cheese.
Serve warm, with sour cream on the side if desired.