Christmas Decorating for a Cozy Night at Home
Get Christmas decorating ideas here, with an updated classic style. You'll love the neutral colors with modern animal prints. This is the perfect way to spend a cozy night at home.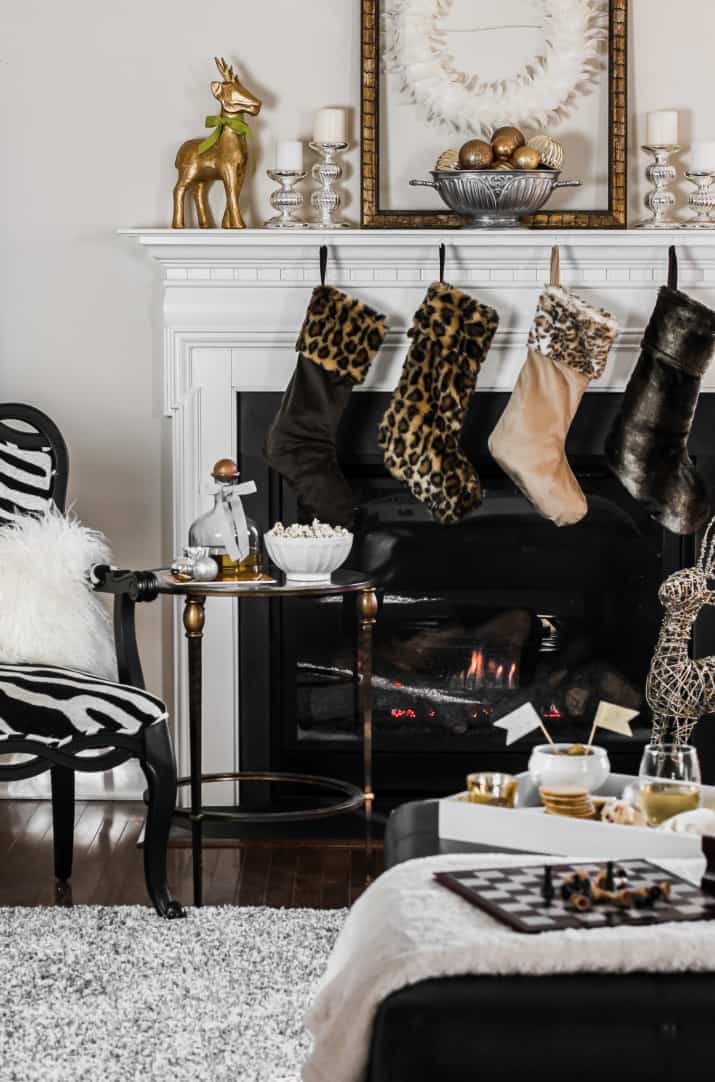 Decorating with Updated-Classic Style
I'm in full Christmas decorating mode over here and I love setting it up for entertaining. This year I've been working with what I already have and adding a few new pieces to the mix.  
I've already shared my tips for decorating your Christmas tree, and today I'm sharing another view of our family room with the coordinating fireplace and décor.
My design aesthetic is very eclectic, but I keep the high ticket items classic and neutral in color and design. This makes the home feel warm and inviting.
Keep everything looking updated by adding less expensive trendy items and accessories. These are the pieces that you can change out year after year, or season after season.
They won't break the bank but they will keep your home looking modern and classic at the same time. 
Christmas Decorating
Use what you have in a new way. The mantel is sleek and simple. The white feather wreath fits in with the natural theme, and the mix of gold and silver pieces ties into the tree decorations and the rest of the room. A green ribbon around the necks of paper mache reindeer adds a pop of color to the vignette.
Coordinate with updated stockings. If you have old ones that are traditional red & green, update them with something more neutral that goes with the gold and silver décor. These 4 coordinating animal print stockings feel a little glam but a little rustic at the same time. They pair well with a number of decorating styles from rustic to whimsical.  
DECORATING TIP: Stuff crumpled paper into the stockings to give them some shape as they hang.
A touch of animal print goes a long way. As you can see, I already have a classic zebra chair in this room. I love that chair so much and have had friends BEGGING me to sell it to them! It ties in perfectly with my animal print stockings, and I added a new lambs wool pillow (we call it the hairy pillow).
Leave space for entertaining. Don't overload every surface with decorations. Keep side tables sparse so there's room to set a drink or snack.
Low Key Christmas at Home
Turn your Friday night wind-down into a wine and cheese party for two. Serve everything on a pretty tray and enjoy the Christmas decorations around you. Load up the tray with cheese, charcuterie, nuts, and stuffed olives.
Or sit on the floor and watch tv, read, play games, and have snacks. Turn on some Christmas music to fully set the scene.
What's your favorite style for Christmas decorating & entertaining?