Mezcal Margarita (Skinny Recipe)
Serve up this delicious skinny Mezcal margarita when you want something light and refreshing. It's smoky with lime and orange bitters, and tastes terrific for summer parties, Cinco de Mayo, or girls or guys night in.
Skinny Margarita Recipe
I have another easy mezcal cocktail recipe that's not only delicious but it's lightened up too! This mezcal margarita takes the classic drink to a new level with good quality liquor and a few simple ingredients.
I've made a skinny version by replacing the Cointreau typically used, with orange bitters. That way you get the essence of orange without the sugar and calories.
If you're not interested in lighter drinks, Mezcal also pairs really well with sweeter mixers such as this sweet & smokey Prosecco cocktail recipe. It is a MUST TRY!
What is Mezcal
Think of mezcal as the smoky version of tequila. It's made from the agave plant mostly in the Mexican state of Oaxaca. Most producers are small so there's a wide variation of flavor from brand to brand. The exact species of agave plant used will effect the flavor too.
Mezcal gets its smoky flavor from roasting the plant in underground pit ovens for about three days. This gives it that rich earthy taste.
PRO TIP: Substitute good quality Tequila for the Mezcal, to make a classic skinny margarita.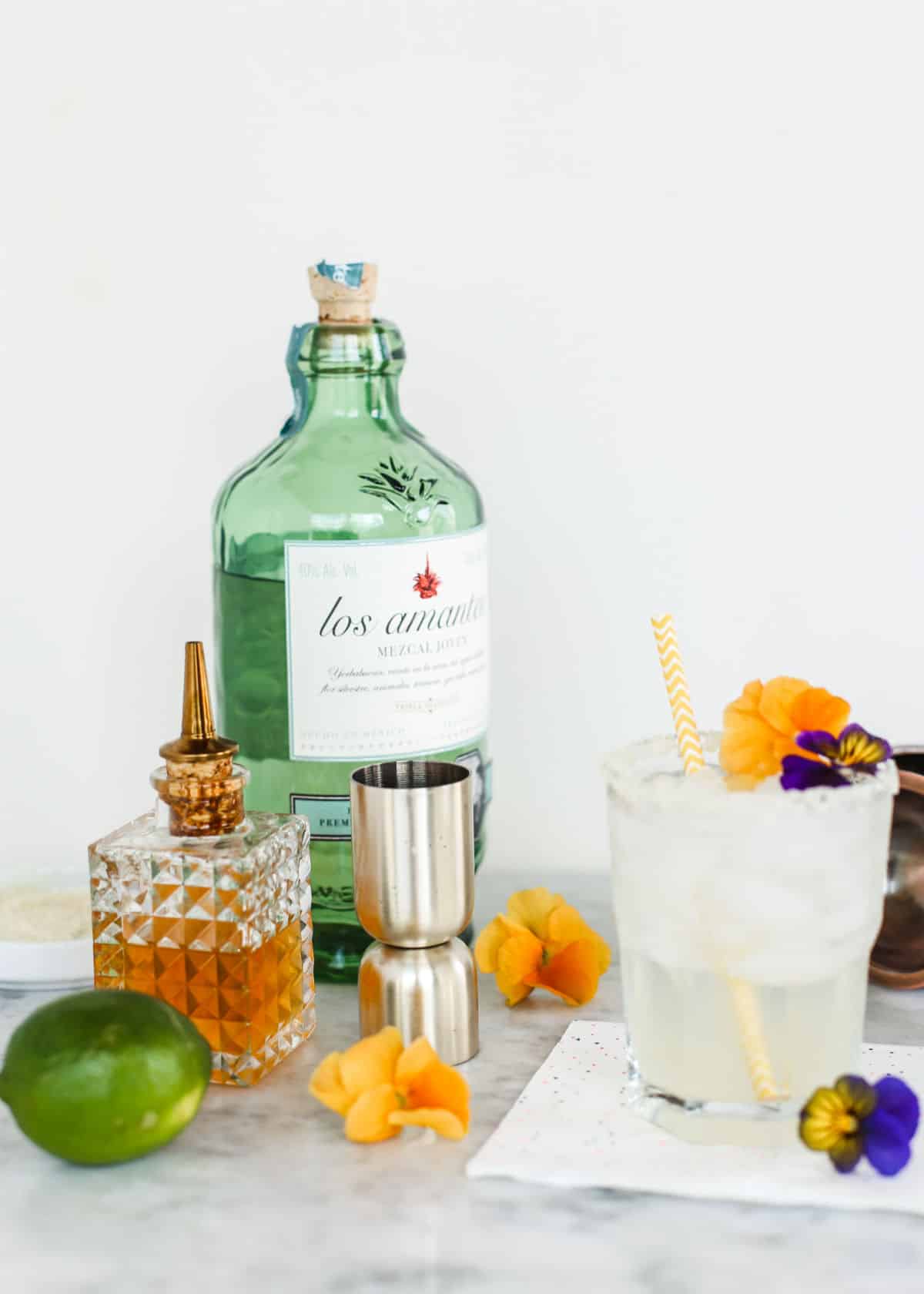 What You Need to Make It
You need 4 simple ingredients for this drink. The end result is a citrusy cocktail with fizzy effervescence.
Mezcal. My favorite brand, Los Amantes Joven. The quality and taste are so good that you can even drink it by itself over ice.
Lime Juice. For each cocktail you'll need the juice from half a lime. Don't use bottled lime juice for this. My favorite tool to juice lime halves is this one. It has changed my life! 
Orange Bitters. A home bar should be stocked with a few bottles of bitters, and orange bitters is one of them. It adds complexity to sour or sweet drinks, and gives this margarita the citrus notes that you would traditionally get from orange liqueur.
Sparkling Mineral Water. Using carbonated water or sparkling mineral water helps tame the alcohol and combines with the lime for a balanced and refreshing cocktail. I like to use Topo-Chico for an authentic Mexican touch, but Pellegrino is also good.
When to Serve It
Since a Cinco de Mayo party is about Mexican flavors and culture, this is the perfect drink to help celebrate.
Sip this for a Mexican fiesta happy hour or any time you want to chill out on the patio. Garnish with some pretty, edible flowers and a salted rim around the glass.
When you're hosting a Mexican theme dinner party, add this as a welcome drink for your guests.
This makes a great signature party drink for girls night in or guys night.
I hope you'll make this fresh and smoky skinny mezcal margarita next time you want a delicious cocktail without the sugar.
If you like this post, PIN, Share, or sign up for our Newsletter at the top of the page. And don't forget to follow CAH on Instagram or Facebook. Cheers!
Skinny Mezcal Margarita Recipe
This mezcal margarita is perfect for the purist who wants a classic cocktail on the lighter side. The mezcal gives this drink a smoky twist while orange bitters takes the place of orange liqueur.
Ingredients
1 1/2 ounces good quality Mezcal
1/2 of a Lime, juiced
5 dashes Orange Bitters
3 ounces carbonated Mineral Water like Topo-Chico
crushed ice
Instructions
Add all ingredients into an ice-filled glass, and stir to combine.
Notes
Rub the rim of the glass with a lime wedge and dip into salt for a salted rim.