Easy Beer Margarita Pitcher Recipe (3 ingredients)
A beer margarita, beergarita, or beerita is the perfect recipe for serving a large batch pitcher for a crowd. I love to use Corona beer for a Mexican theme, but you can also use other lager beers to combine with tequila and limeade. Served on the rocks with a salt rim, it's a refreshing cocktail for Cinco de Mayo and beyond!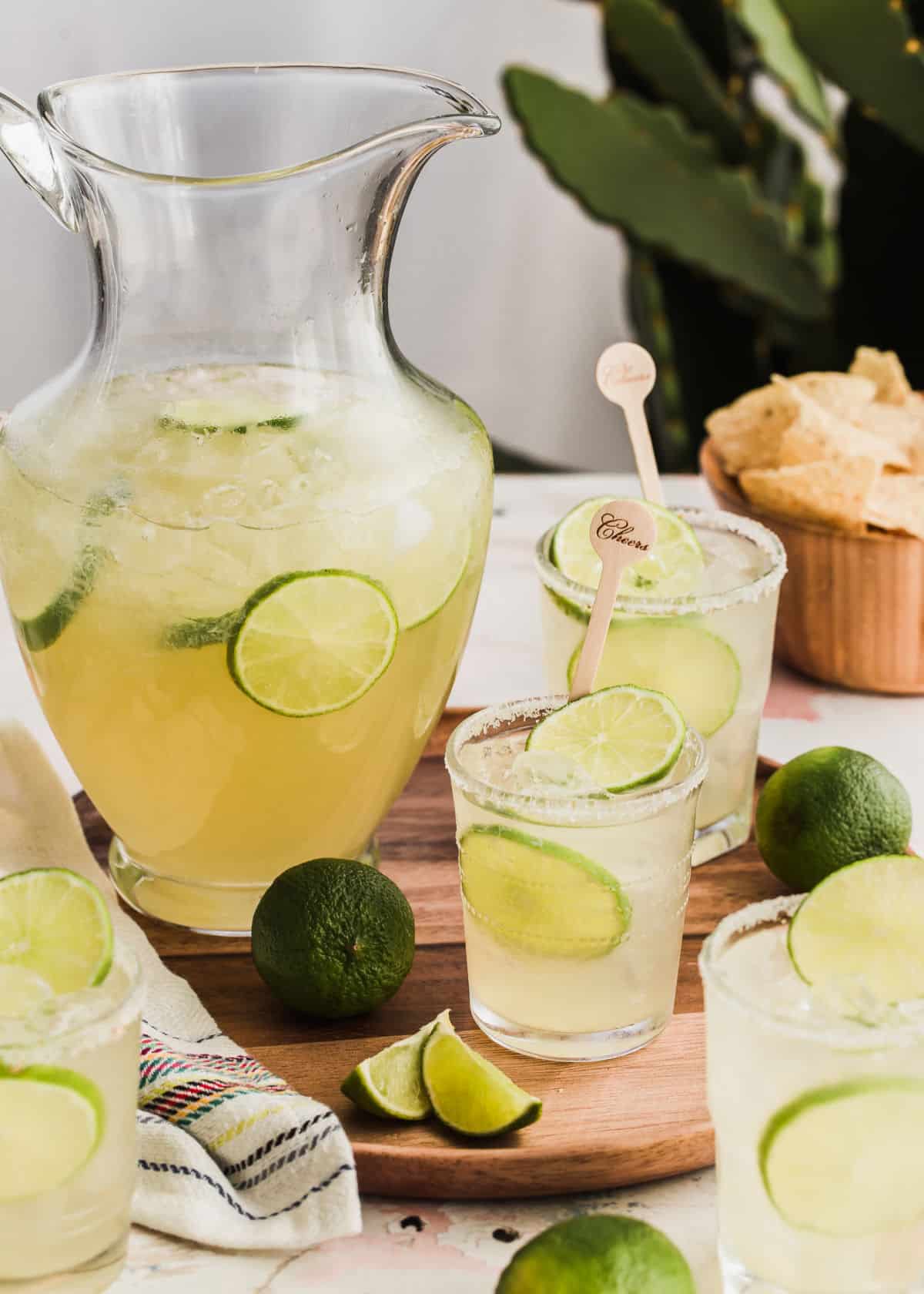 When you need to serve pitcher drinks for a party, this easy recipe is ideal. If the concept of beer and tequila is new to you, you're going to be amazed at how much this tastes like a classic margarita!
The combination of flavors is a marriage made in cocktail heaven. Clear tequila, fizzy light beer, and sweet-tart limeade create a pitcher of margaritas your guests will devour.
I suggest you have enough for 2 or 3 pitchers if you're serving a gathering of 8 to 10 adults.
Why you'll love it
This is an EASY recipe that starts with frozen limeade concentrate. And once you open the can you can use it to measure out each of the other ingredients.
It makes a full pitcher so it's great for serving at a party. You'll want to add it to your Mexican theme dinner party, or a Cinco de Mayo party ideas.
There are just 3 ingredients, plus water, so no triple sec is needed. And you serve it over ice so there's no special equipment needed to make it frozen.
This is a refreshing cocktail for backyard summer parties or guys night in. We even take to the beach in an insulated carafe or thermos.
This is another fantastic pitcher drink for a game day party and Super Bowl parties. You can take it tailgating too.
Beer
What's the best beer to use? For a good beer margarita you want to use something that has a light taste and is easy to drink on its own. You want to avoid anything heavy or dark because you don't want an overwhelming beer flavor in the margarita.
For more authentic flavor use a Mexican beer like Corona, Modelo, Tecate, or Sol Cerveza.
If you want to add a little more citrusy flavor try Bud Light Lime, or Shock Top for orange notes.
You can actually just use a regular lager beer too, like Budweiser, Miller, Michelob, Coors, Yuengling, etc.
Limeade
You need a 12-ounce can of frozen limeade concentrate. Thaw it in the refrigerator for a couple of hours or overnight so it's chilled and ready to use.
I like using the "less sugar" variety but you may not have it available, depending on your grocery store.
Tequila
Use clear tequila blanco rather than gold. This will give you a cleaner, smoother drink.
Use the best tequila for your budget. I like to use a mid-range brand like 1800 or Sauza. These are brands I usually have on my home bar.
Water
You'll need water to add to the pitcher even though we don't count it as an ingredient per se, because it's a household staple.
However, you can add a little extra sparkle and Mexican authenticity by adding Topo Chico bottled water.
PARTY TIP: Use chilled Topo Chico instead of tap water for extra fizziness and a Mexican touch.
How to make it
PRO TIP: Use the limeade can to measure out the other ingredients.
Pour limeade into the pitcher.
Use the can to measure out the tequila and add it to the pitcher.
Use the can again to measure out cold water, and add it in.
Finally, pour the whole bottle of beer into the pitcher and give it all a quick stir. Serve over ice with a lime garnish and enjoy.
Salted rim
Serve a beer margarita in tumblers or stemmed glasses with a salted rim for extra flavor. Just pour the salt into a shallow dish, rub the rim of the glass with a wedge of lime or dip in lime juice, and dip the rim into the salt.
What's the best salt to use? Use kosher salt or flaky sea salt since they have a course texture.
Add a sprinkle of chili powder or cayenne pepper to the salt mix for an extra kick.
If you want to add sweetness you can even dip the glass in fine sugar, or a salt and sugar mix.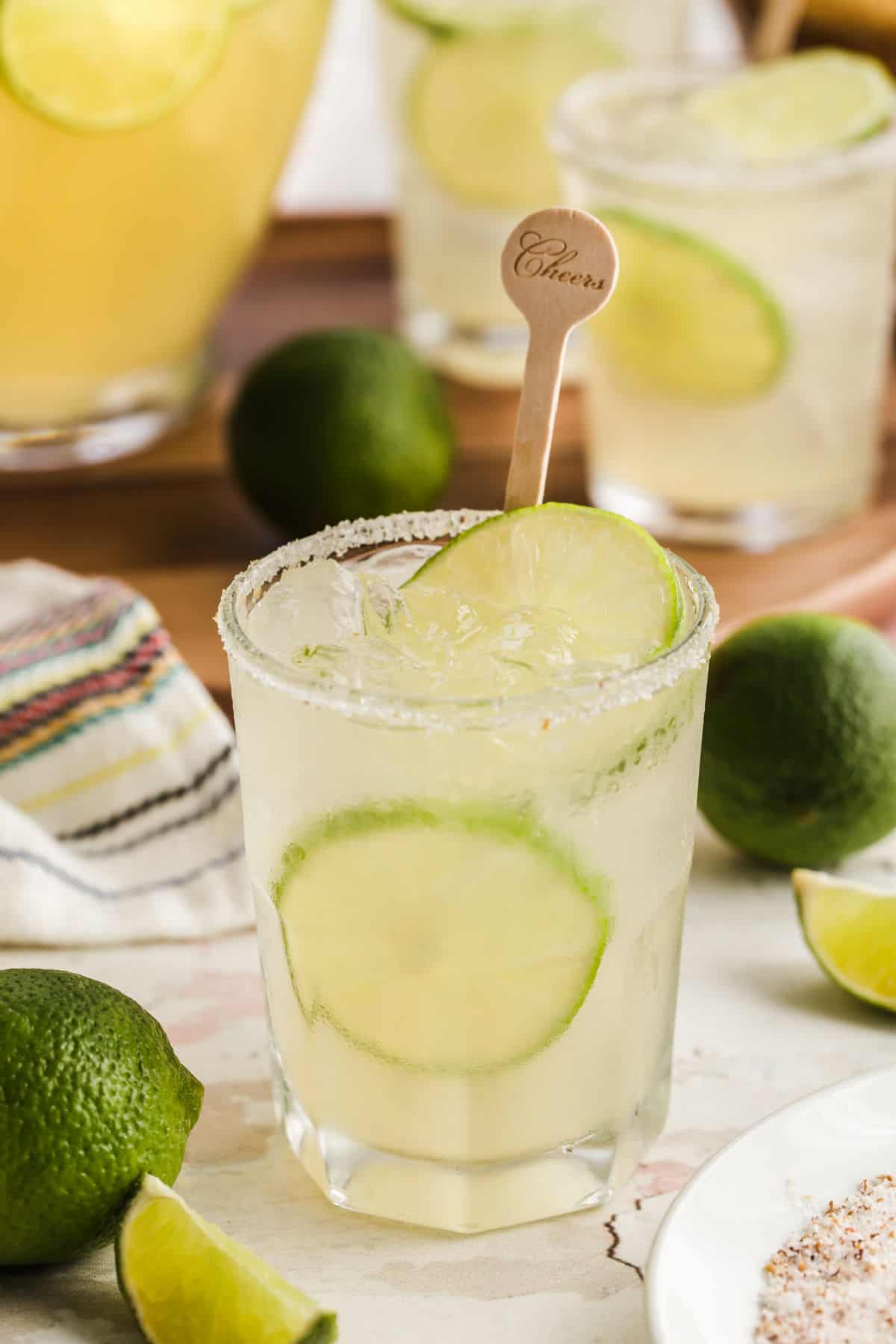 You simply MUST give this beer margarita pitcher recipe a try for your next party. They go down smooth and easy making them great for food and fun!
If you like this post, PIN, Share, or sign up for our Newsletter at the top of the page. And don't forget to follow CAH on Instagram or Facebook. Cheers!
Easy Beer Margarita Pitcher Recipe
Call it a beer margarita, a beergarita, or a beerita, this large batch pitcher recipe for a crowd is refreshing and easy to make. All you need is tequila, limeade concentrate, beer and water.
Ingredients
1 (12-ounces) can frozen limeade concentrate, thawed and chilled
12 ounces Tequila
12 ounces cold water
1 (12-ounces) cold beer, such as Corona
Instructions
Pour limeade, tequila, water and beer into a pitcher.
Stir to combine and add ice or pour over ice in salt-rimmed glasses..