Host a Mexican Fiesta happy hour for Cinco de Mayo or any time! You'll love these modern-boho touches paired with a classic theme. It's perfect for celebrating and toasting to good times with your girl friends. This is a great idea for entertaining at home because you prep everything ahead and then relax.
A Mexican fiesta happy hour is not just for Cinco de Mayo!
It's almost Cinco de Mayo, but honestly any time is a good time for a Mexican Fiesta happy hour! I've put together some modern tips for the hostess, and whipped up a pitcher of Sauza® Margaritas for the perfect patio party with friends.
There's no better way to wind down a work week than with a happy hour at home with friends. And since Cinco de Mayo falls on a Friday this year, the timing couldn't be better. Go ahead and invite some gal pals over, and get inspired with my tips and ideas, below.
Add chic bohemian style details to classic Mexican dishes for a gorgeous party bar
TIP 1: Add some boho design details to your Mexican fiesta happy hour for a style-marriage made in heaven! The 'traveled' feel of the bohemian trend blends perfectly with the Mexican cinco de mayo theme.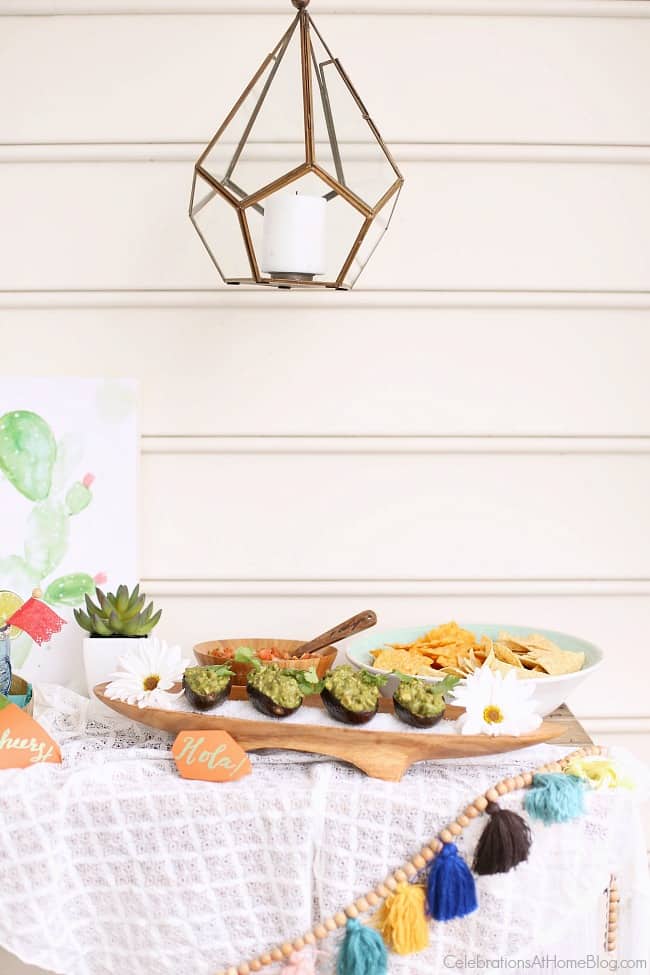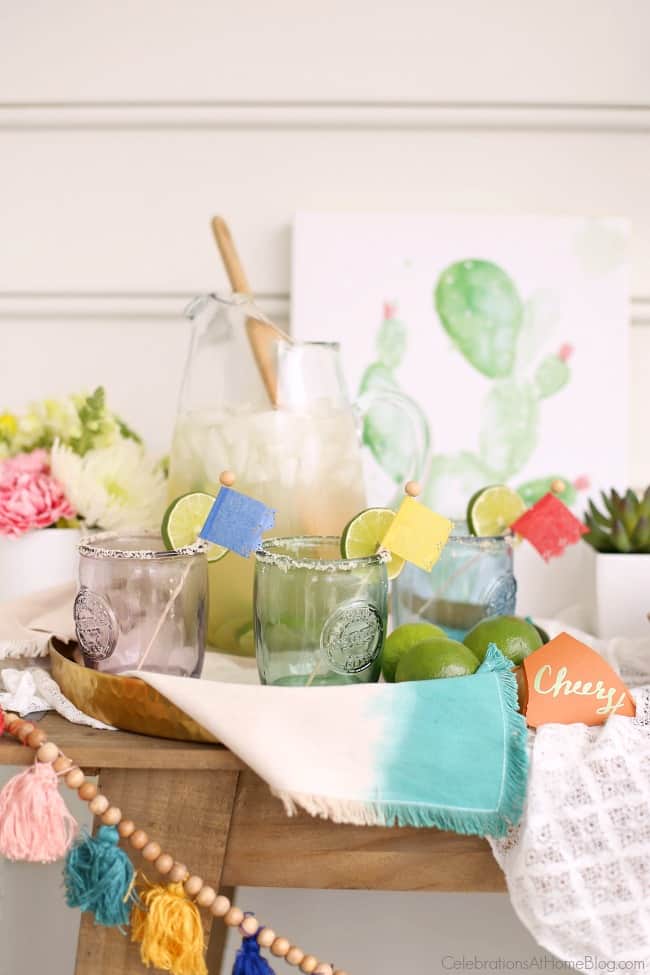 TIP 2: Make some fun mini signs using broken terra cotta pieces and markers. Wrap a terra cotta pot in a towel and use a hammer to tap on the pot to break it apart.
TIP 3: Make avocado bowls to serve individual portions of guacamole. Guests can double dip without worry! Place the "bowls" on a bed of course salt to keep them stable.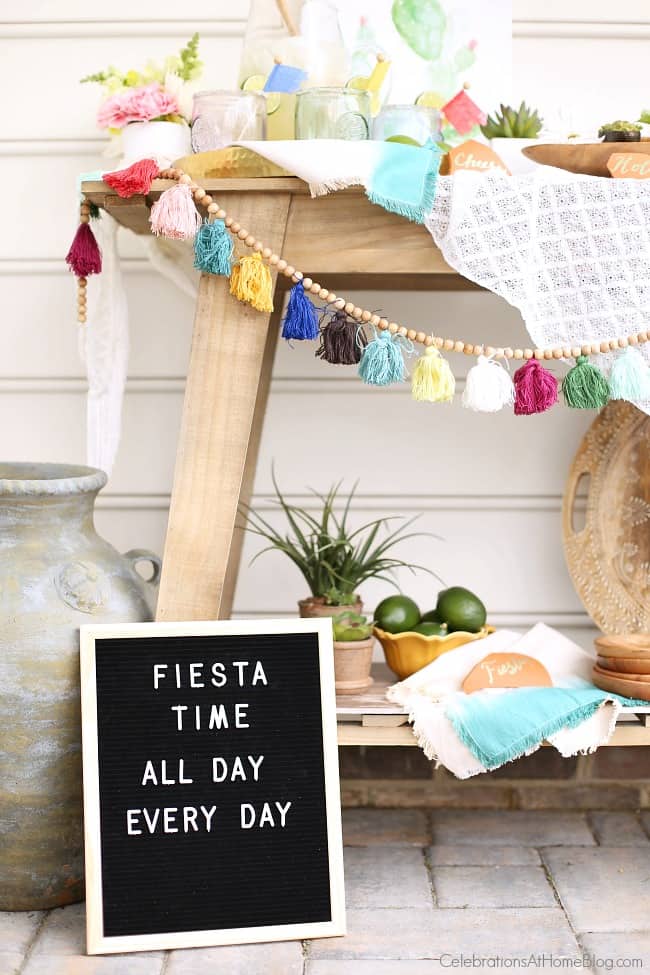 TIP 4: Use potted cactus and succulents in lieu of, or in addition to brightly colored flowers. The benefit is that the potted cacti will live on in your home.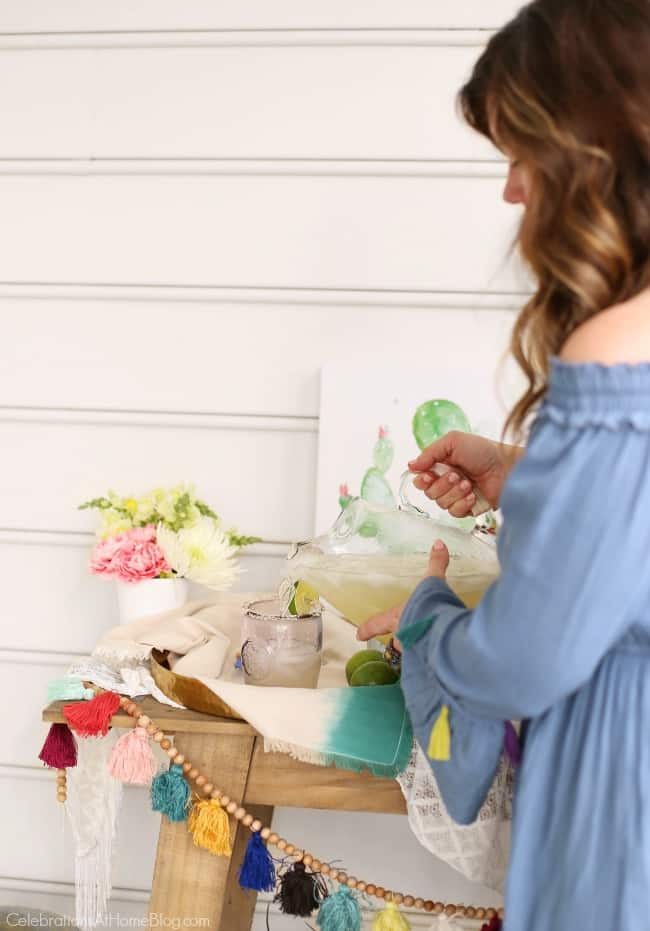 TIP 5: Mix and serve a pitcher of margaritas instead of one glass at a time. This way guests can serve themselves at their leisure.
TIP 6: Creating a festive lounge area is easy with the addition of a classic papel picado banner, and sombrero.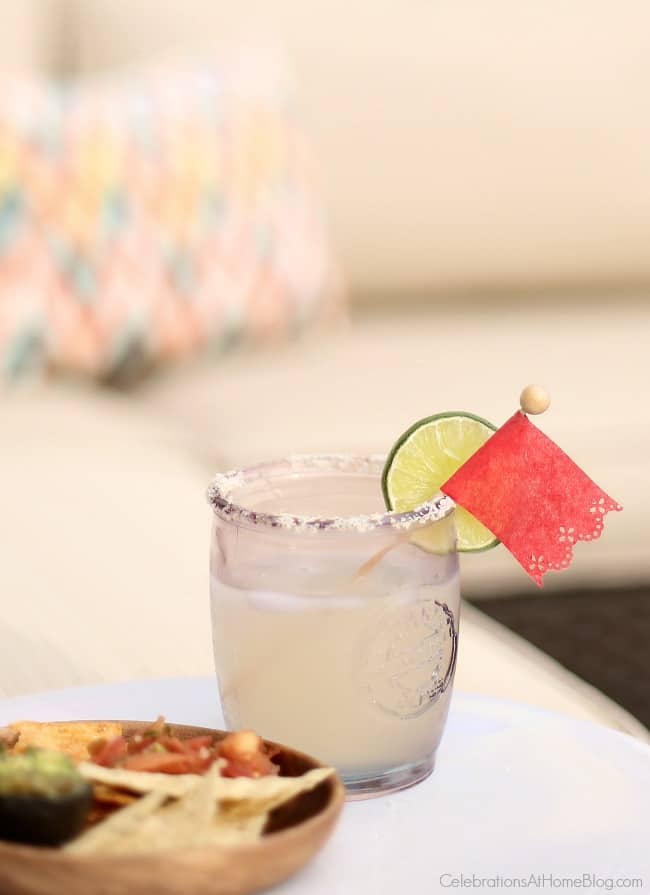 TIP 7: Make these easy DIY tissue paper papel picado drink stirs for each glass. They add instant "Fiesta flair"!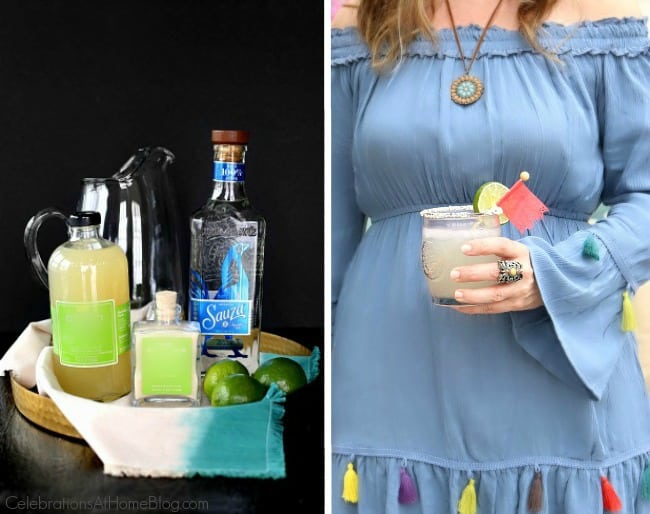 TIP 8: A salt-rimmed glass is a must when serving up a pitcher of margaritas for a Mexican fiesta happy hour. Make it extra tasty by mixing in a little cayenne powder or chili powder to the salt.
Serve a pitcher of margaritas so that pouring seconds is easy!
To keep your happy hour super simple, make a pitcher of Margaritas using the recipe below. Sauza® Signature Blue Silver Tequila is crafted in Jalisco, Mexico and is made with 100% blue weber agave. It's perfect for authentic pitcher–style margaritas to share with friends
1 1/2 cups

Sauza

® Signature Blue Silver 100% Agave Tequila
1 bottle (25.4 ounce/750 ml) Margarita Cocktail Mix
Salt for rimming
lime for garnish

Add all ingredients in a pitcher and stir. Pour over ice into a salt-rimmed glass and garnish with a lime wheel.

Makes 8 servings.
Drink responsibly. Sauza® is a trademark of Jim Beam Brands Co. ("Beam") and is used with permission. The information, comments and ideas expressed in this post do not necessarily reflect the views or opinions of Beam, its affiliated companies or any of their directors or employees.