Outdoor Thanksgiving Tablescape (Blue & White)
An outdoor Thanksgiving tablescape with blue and white dishes is also beautiful for Friendsgiving and dinner parties. Fall flowers in gold and orange hues make a gorgeous centerpiece, and easy DIY place cards highlight family.
Outdoor Fall Tablescape
I love setting the table for Thanksgiving entertaining, and this one checks several boxes. A gorgeous seasonal flower arrangement, place cards with a nod to family, and colors that scream fall!
There's a balance between simplicity, elegance, and even some rustic charm from the outdoor setting.
Update your fall table setting for Thanksgiving with these easy ideas that also work for hosting a fall dinner, a Friendsgiving party, or soup dinner party.
*Post contains affiliate links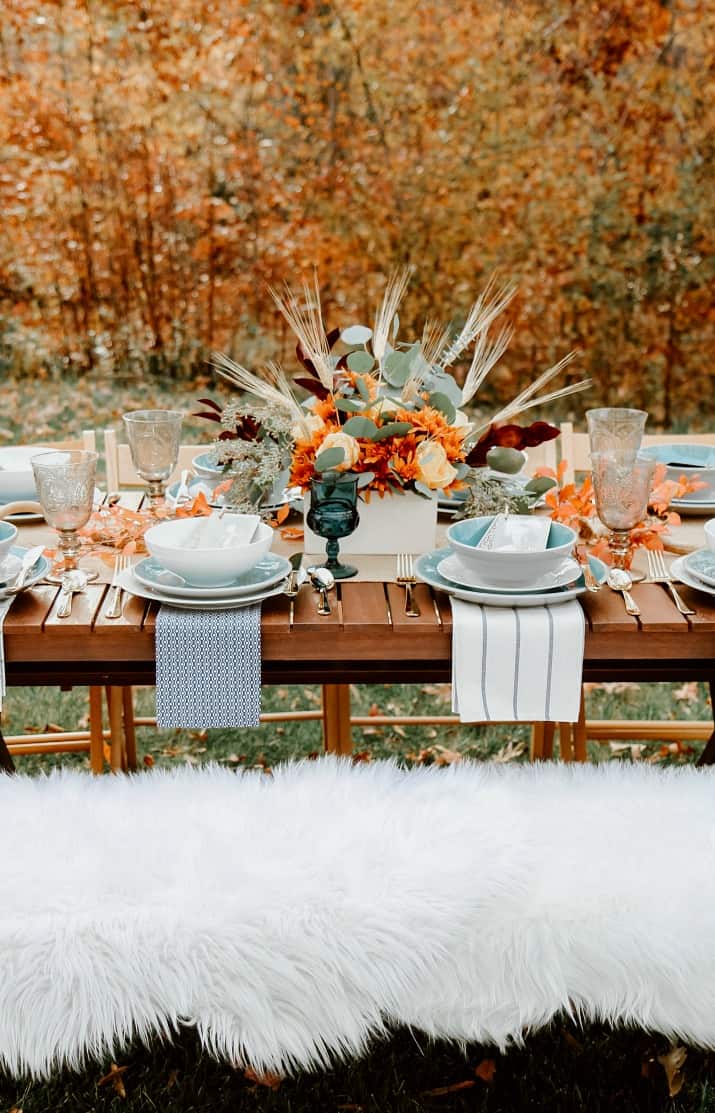 Elegant Table Setting
Blue and white place settings sit on a neutral base, while the flower centerpiece is designed with autumn colors like orange, gold, and deep rust tones.
The combination is beautiful and timeless.
PARTY TIP: Buy one new set of decorative dishes, and set each place in an alternating pattern with your everyday white dishes.
Blue & White Place Settings
When it comes to holiday tables, I never like doing the same thing twice so I mix and match what I have to make it look completely different. 
This process works really well for a blue and white place setting. If you have classic blue willow patterned dishes you can use those here. Or you can combine sets of blue dishes with sets of white dishes.
I've got some good tips for you on how to create a blue and white dinner setting below, with a special trick to extend your number of place settings. The idea is to make your everyday white dishes stretch so you can accommodate more people around the holiday table.
EXPERT TIP: I continually add new sets of dishes to my collection, but I never buy more than 6 or 8 place settings. You can get more mileage from them by combining them with your everyday white dinnerware pieces.
Mix & Match Dinnerware Ideas
You can work this method with as little as four place settings. Here's how it works.
Start with your everyday white dishes. You probably have all the pieces – dinner plate, salad plate, soup or cereal bowl. And you may have enough for 4, 6, or 8 guests. Great! You're off to a good start.
When you want to add some color or design to your table all you need to do is purchase a set of dishes that's half of what you need. Meaning if you're hosting 8 people you would only need to buy enough for 4 people.
The trick is to mix and match the layers of each place setting, alternating the colors. 
To show how this works I bought a blue dinnerware set. It's enough for 4 guests. The color is so pretty and the shape of the bowls and mugs matches my white set perfectly. By alternating the blue plates and bowls with the white plates and bowls, I now have 8 place settings instead of 4! AND the table is still perfectly coordinated!
This tip works great for patterned sets too. Mix a solid set with a patterned set and you'll have a fantastic looking table.
You'll notice I did the same with drink glasses and napkins. Half the places are set with my tan stems while the other half is set with my favorite vintage blue ones.
Table Décor
Now that you've got those basic white dishes all dressed up with a new color or pattern, let's talk about some of the other details.
Since the holiday is usually filled with family members of all ages, make vintage inspired place cards that reflect that generational span. You could also use real family photos to give them a more personal touch.
Add another fun family element to the table with these conversation ribbons. They will bring you so much joy as they recall family memories.
Centerpiece
Create a rustic-elegant floral centerpiece by spending less than $25 on flowers and greenery filler. Use floral foam and a low vase, and create a fall centerpiece for Thanksgiving.
See my shortcuts and secrets to flower arranging to help guide you.
The base for the table is a burlap runner with ruffled trim. The burlap adds a rustic feel while the ruffles add tailoring and dress it up.
To extend the centerpiece outward, lay small colorful branches along the table. Cut them from the yard and tuck in some organic antlers or pine cones. 
Adding a few candles is another good alternative to the antlers and pine cones.
More Thanksgiving Tablescape Ideas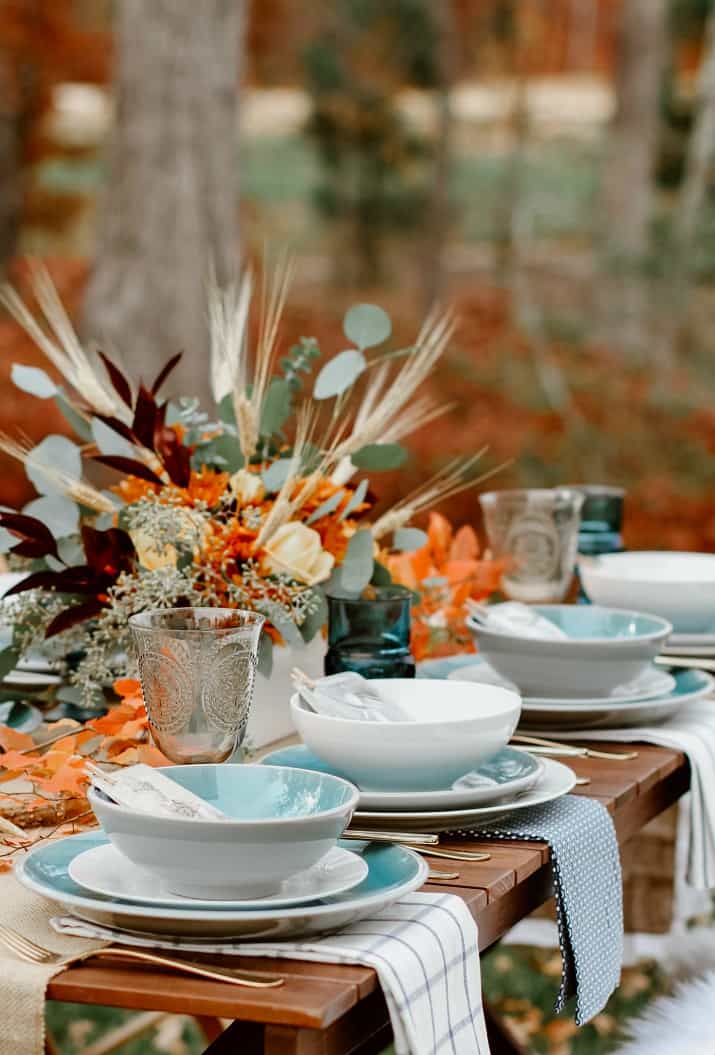 Expert Tips
I hope these tips help you in setting your own Thanksgiving table this year. Keep these party tips in mind.
You'll be serving more people than usual for the holidays, so you'll need more dishes, folding tables, and extra chairs.
Set up the dining table outside if weather permits, and enjoy being wrapped in nature's decoration.
It is 100% okay to mix and match colors or patterns when you're hosting a crowd.
You can set a simple and elegant Thanksgiving tablescape without spending a fortune. By investing in a single set of dinnerware you can double your place settings by layering it with your everyday white dishes.
Choose a color or pattern that speaks to you, or that goes with the décor you already have. I think you'll love the look!
If you like this post, PIN, Share, or sign up for our Newsletter at the top of the page. And don't forget to follow CAH on Instagram or Facebook. Cheers!