Creamy Cucumber Salad with Bacon
Make this creamy cucumber salad with bacon for summer parties and potluck meals. It's made with sour cream and yogurt, with crunchy radishes and celery. This light fresh salad is one of our favorite summer side dish recipes for cookouts and barbecues, too.
This is a great side salad recipe that's easy to make. The fresh crunchy vegetables are complimented by the creamy dressing and salty bacon. The addition of cilantro gives it a unique southwestern flavor that I particularly love.
Crunchy Cucumber Salad without Mayo
This cucumber salad with radishes and bacon is light and healthy because it's made with Greek yogurt and light sour cream instead of mayonnaise.
Ingredients & Substitutions
Whether you're entertaining a crowd or prepping a weeknight dinner, this cucumber salad is a welcome addition. The cool creamy dressing is a terrific balance to the salty bacon.
Fresh Cucumbers. Use seedless to make it easier to eat.
Radishes. These add more crunch and color.
Celery. Another crunchy element that works well with creamy dressing.
Bacon. Cook and crumble the bacon ahead of time so it's ready to use when you are.
Fresh Cilantro. This adds freshness and a little Tex-Mex flavor. Substitute with fresh parsley if you want, or try fresh dill!
Dressing
Plain Greek Yogurt. Greek style is thicker and creamier, and adds tanginess. You can substitute with traditional plain yogurt too.
Sour Cream. I use light sour cream but you can also use regular style. It helps balance the tangy flavor of the yogurt.
Fresh Lime Juice. squeeze half of a lime to get the fresh juice.
Salt, Pepper, Garlic Powder. These are your pantry staple seasonings you'll need.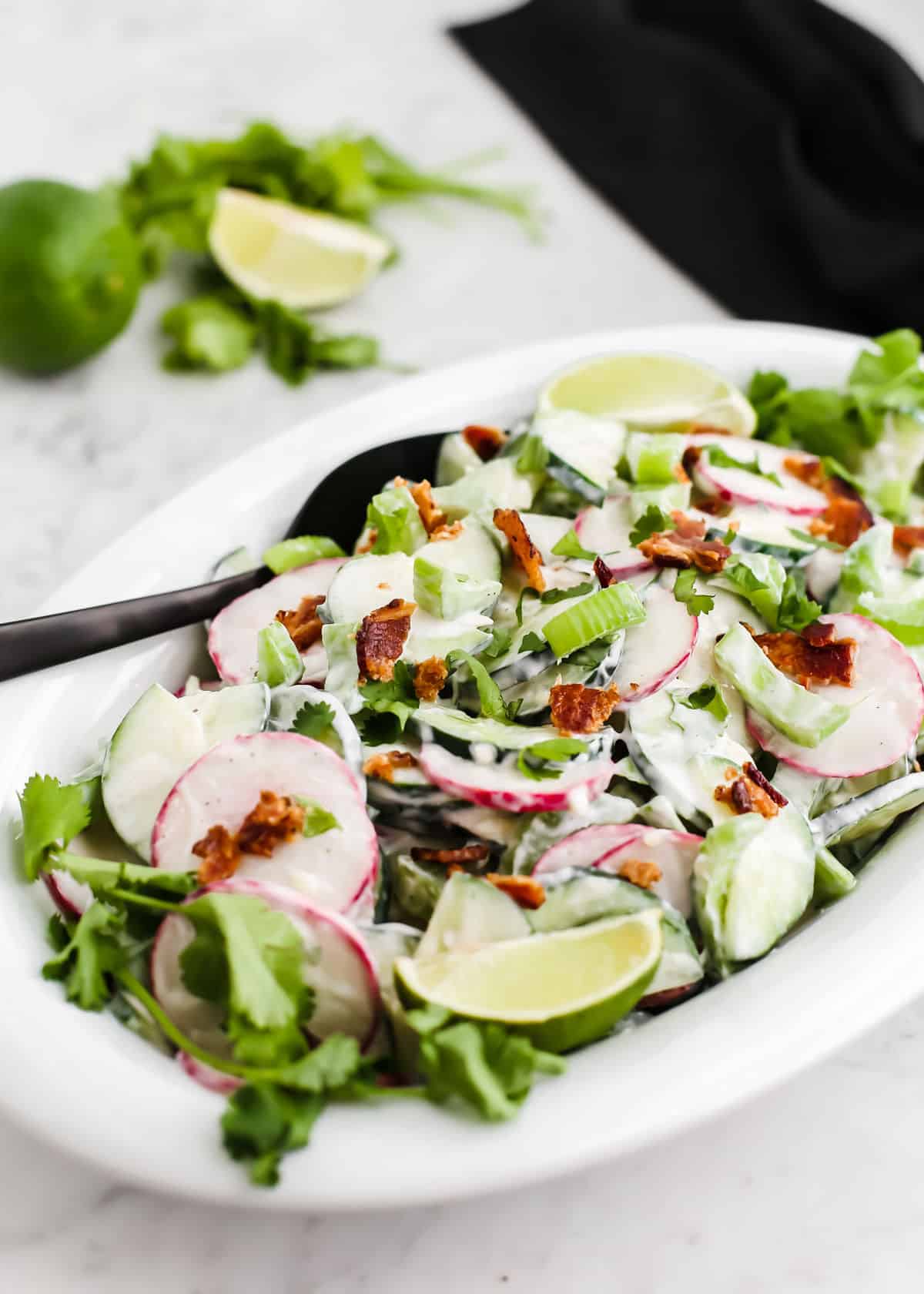 How to Make It
The first thing you'll need to do is prepare your cucumbers. If you don't drain the moisture from them with this first step, your salad will get very limp and watery after about a day.
If you're going to be eating the salad right away it's not that big of a deal, but if you're hoping to have leftovers or taking it to a potluck party you'll want to do this step.
Cook bacon until crisp. Drain and pat off any excess fat, and crumble the bacon. Set aside or store in the refrigerator until ready to use.
Thinly slice the cucumbers and sprinkle them with about 1/8 teaspoon of salt. Toss them together in a bowl and set aside for about 30 minutes.
While the cucumbers are set aside slice the radishes and celery, and prepare the dressing
Drain the liquid from the cucumber bowl or pour the cucumbers into a strainer to drain the liquid. Press the cucumbers dry with a paper towel and they're ready to use.
Combine the salad ingredients together, except for bacon and cilantro. Cover and refrigerate for at least an hour so the flavors can fully combine.
When ready to serve sprinkle with bacon and chopped cilantro.
Serving Suggestions
This creamy salad has a cooling quality to it's perfect to serve with spicy foods like Indian cuisine.
It's similar to Greek tzatziki sauce or Benedictine in the South, so it would pair well with lamb or Greek burgers.
It's also a good pairing for baked beans with ground beef as the freshness balances the richness of the beans.
Round out the green theme with this lime tartlets recipe for dessert.
If you like this post, PIN, Share, or sign up for our Newsletter at the top of the page. And don't forget to follow CAH on Instagram or Facebook. Cheers!
Creamy Cucumber Salad with Bacon
Additional Time:
30 minutes
This Creamy Crunchy Cucumber Salad with Bacon is delicious for summer parties and potlucks. This light fresh salad is the perfect side dish for easy entertaining.
Ingredients
1 1/2 cucumbers
5 radishes, thinly sliced
3 celery stalks, sliced
5 bacon strips, cooked and crumbled
1 bunch fresh cilantro, chopped
DRESSING
4 ounces plain Greek yogurt
1/4 cup light sour cream
1 Tablespoon fresh lime juice (1/2 lime, squeezed)
1/2 teaspoon salt
1/8 teaspoon pepper
1/8 teaspoon garlic powder
Instructions
PREP THE CUCUMBERS: Thinly slice cucumbers and place in a large bowl with about 1/8 teaspoon of salt. Toss to coat and set aside for about 30 minutes.
Meanwhile, combine dressing ingredients together and add in radishes and celery.
Drain cucumbers and press with a paper towel to remove excess moisture; add to salad mixture and toss to coat.
Cover and refrigerate for at least one hour to overnight.
Top with chopped cilantro and bacon when ready to serve.