Summer Party Side Dish Recipes
Need summer side dish recipes for a bbq party or backyard cookout? Here are some tried and true salads and sides that we've been making for years, and they always get rave reviews. Add these to your menu for summer party ideas and outdoor gatherings.
Easy Summer side dishes
These summer side dish recipes are perfect for casual cookouts, potluck parties & backyard BBQ parties. They'll even round out your 4th of July party menu with loads of flavor, texture, and color.
All those parties mean easy side dishes to bring. In fact, the sides are my favorite part of the meal and I know I'm not alone.
With that in mind I put together this roundup of summer side dish recipes that will have guests begging for more. Pick one or two you'd like to try and let us know how it goes.
My classic potato salad recipe is as good as it gets and it's a nice hearty option that men go for. This recipe has that creamy base, with bacon, and a subtle crunch we love.

Being from the South, I grew up eating fresh produce from the garden and

cucumber salad

was a Summer staple. This

creamy crunchy cucumber salad with bacon

is actually made with light ingredients so no guilt here!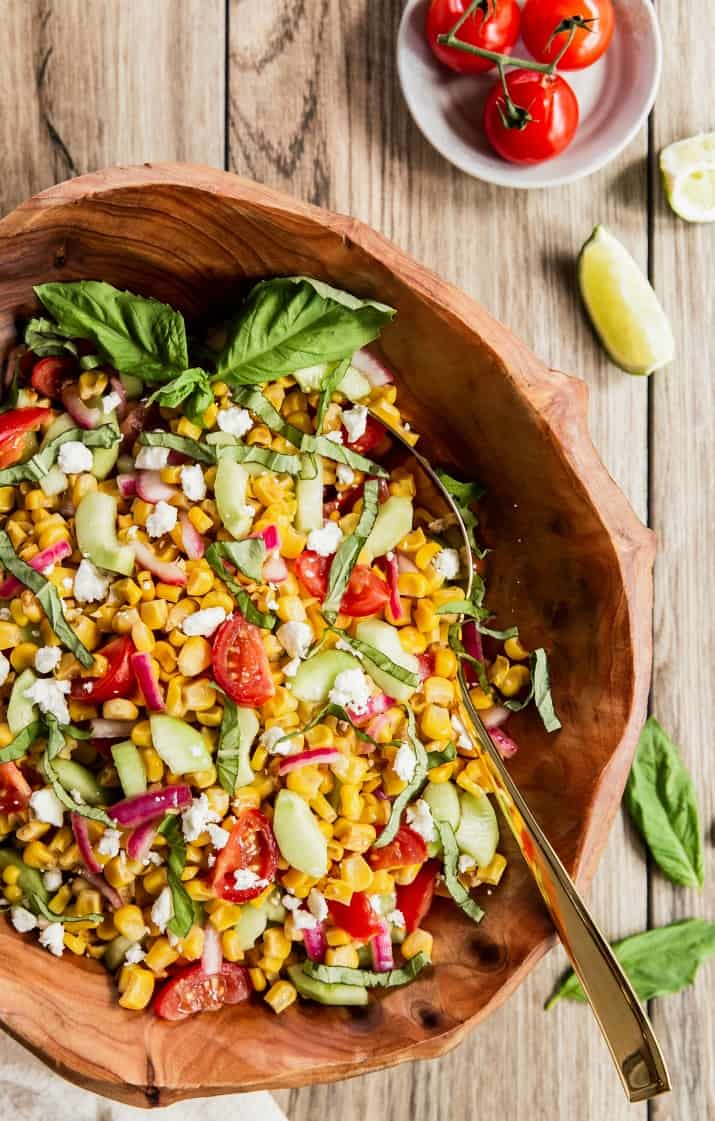 Corn is at its best during the summer months. Turn it into this fantastic corn salad that's perfect with barbecued and grilled meats.
Mix up this Asian style pasta salad with broccoli and peanuts. It's vegetarian and there's no cheese or cream sauce to worry about in the heat.
Another great way to lighten up the sides and get some fiber in the meal is to include a crunchy broccoli salad. When I make this savory & sweet broccoli salad I always bring home an empty bowl.
You can't have a cookout with baked beans can you? My sweet & spicy baked beans are full of flavor and have bacon on top!
Just as classic as potato salad, pasta salad always makes an appearance as well. My classic pasta salad recipe is one of my absolute favorites! It reminds me of my childhood.
This Mediterranean chickpea salad can double as an entrée for vegetarians. Garbanzo beans give it a protein boost while fresh vegetables add crunch.
Serve this easy pesto pasta salad for a non-creamy option.
Everyone's favorite side dish for a bbq is grilled corn. It's easy to make and when you serve it with my Parmesan flavored butter, it's next level good!
Try our marinated green bean salad for a light side dish that doesn't have any mayonnaise or creamy sauce added.
Most outdoor parties I've hosted or been a guest at, always seem to have a Southwestern element whether it's chips and salsa, margaritas, or a side salad. My easy bean and corn salsa gets rave reviews and it's hearty enough to be served as a salad too.
What to serve them with
Try some of our favorite main dishes with these side dish recipes.
So which one do you want to try first?