How to Host a Wimbledon Theme Brunch Party
Host a Wimbledon theme party to watch the big match over brunch with friends. These tennis party ideas include decorating tips, a themed brunch menu with recipes, and lots of inspiration for tennis teams or for a birthday party theme.
Wimbledon Brunch Party Ideas
Save these ideas for hosting a Wimbledon viewing party or a tennis theme birthday party for friends or family.
The brunch table has menu items that are a whimsical play on traditional English favorites, and I've incorporated tennis themed equipment and accessories as part of the décor.
I know there are plenty of tennis enthusiasts out there who would love to host this party with a few pals, and I've made it easy to do so with the following ideas and tips.
When to Host This Party
This is a favorite idea for adult theme parties all year long.
This is a fun theme to add to you summer party ideas.
If you're looking for brunch theme ideas, this is a fun one!
Keep in mind this brunch can easily translate into a viewing party for any of the major tournaments from the Australian Open to the French Open to Wimbledon and the U.S. Open.
If you know someone who loves to play tennis, this would make a great birthday celebration.
Host this party for your community tennis team or neighborhood group.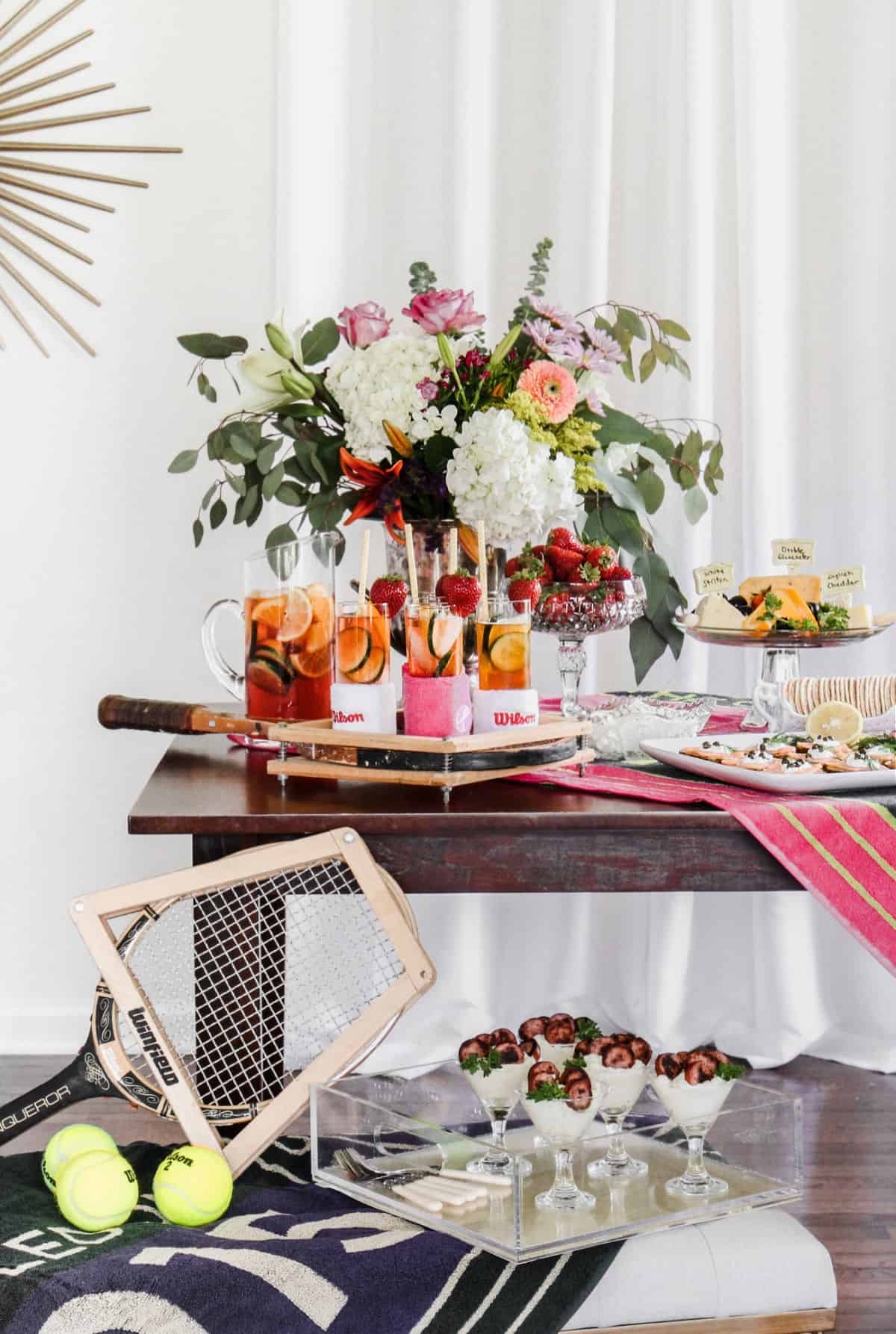 *Contains affiliate links*
Tennis Themed Decorations
The food buffet table is always a focal point and you can decorate it with tennis themed items like tennis balls, vintage tennis rackets, and tennis wrist bands.
Foundation – You can find Wimbledon themed towels to use as a tablecloth. Green and purple are the official colors of Wimbledon, while the pink and black adds a pop of color. Use them as casual table covers the same as you would use a table runner, toppers, or fabric.
Flowers – Flowers make any table more beautiful. I purchased 4 different bunches from Trader Joe's (about $20 worth), and mixed them together in a silver urn that resembles a trophy cup. I think they look fantastic and if a florist made this it would be a LOT more expensive!
Tennis Balls – Load up on tennis balls to fill wire baskets and have a few in other areas as well. After the party you can always use them on the court!
Tennis Rackets – Find vintage wooden tennis rackets with the wooden frame at places like Goodwill or thrift shops. You can also search online via Etsy or Ebay. They bring the feel of old tradition and character. Place them around the table, lean them against surfaces, and use one as a "tray" to hold our Pimm's cup drinks.
Tennis Wrist Bands – You can do lots of cool things with sweat bands! They make terrific glass koozies and napkin rings. Keep your mind open to the possibilities of new uses for classic items.
Menu Card – Print a menu card so your guests know what they're having. The food is great displayed on the table, but half the fun is reading the play on words and seeing all the English traditional foods listed out.
Themed Brunch Menu
If you're hosting this as a viewing party you want guests to be able to move around freely, similar to a cocktail party. This way they can watch, eat, and mingle at the same time.
Set up a food buffet so guests can help themselves. You can set up a seated table setting nearby or use a folding table placed near the tv for viewing.
This themed menu includes a twist on some English classics.
Bangers and Mash
Fish & Chips
English Cheeses
Scones & English Muffins or Crumpets
Strawberries & Cream
Pimm's Cup
Tea Service
Bangers and Mash
If you've heard of English food you've probably heard of bangers and mash as one of the quintessential comfort foods. I thought it would be fun to turn it into party food by serving mashed potatoes in mini martini glasses, and topping with cooked sausage medallions. They look adorable and taste delicious!
Fish and Chips
Another classic meal of the English is fish and chips, but they get an upscale twist for a brunch party. Serve smoked salmon potato bites, topped with sour cream, dill, and capers. Salmon is the fish, and sliced potatoes or waffle fries are the chips.
English Cheeses
Cheese is perfect for any entertaining, but for a Wimbledon brunch you want to stay true to the regional offerings. Look for Cheshire, Derby, Gloucester, Stilton, or English Cheddar. Stay away from feta, chevre, or brie as they are common to other areas. For this menu I found a delicious white Stilton with mango & ginger, double Gloucester with chives, and classic English cheddar.
Scones and English Muffins
You can't have an English brunch without scones! Serve them up with clotted cream, lemon curd, and strawberry preserves. Have softened butter for the English muffins, which is the American version of English crumpets. Clotted cream is delicious when paired with the lemon curd or preserves and piles onto scones.
Strawberries & Cream
Another classic choice for the Wimbledon set is strawberries and cream. They're served in England with a liquid cream but I like the tastier version linked here, with my cream cheese dip recipe. You can either stuff the strawberries if you have the time, or just put out a bowl of fresh berries and let guests dunk them in the dip.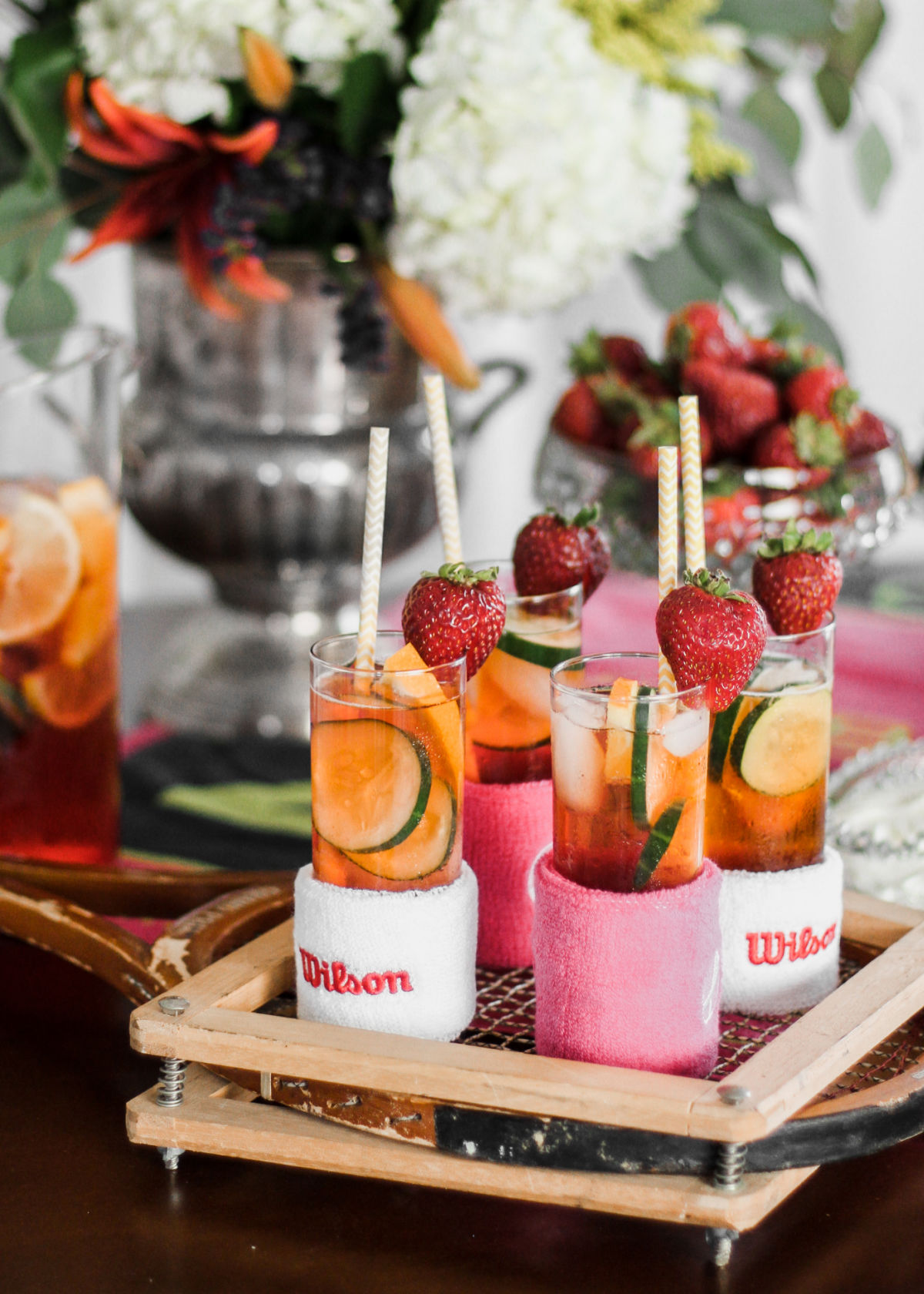 Pimm's Cup
You absolutely MUST serve a Pimm's cup at a Wimbledon brunch. EVERYone drinks them while they're watching the matches and they're as iconic as it gets. Get my recipe for a pitcher of Pimm's Cup here.
Hot Tea
The English love their tea! Have hot tea service available for your guests to sip on. Use your prettiest china or silver tea pots.
Champagne
Pop some bubbles to celebrate the winners! Everyone loves their bubbly for a festive brunch!
More Party Tips
You may want to set a formal table to make it easy to sit and eat. Set one up with easy view of the television so no one has to miss a thing. Use a tea pot to hold a small flower arrangement for the centerpiece.
Use small thin towels as napkins. They're emblematic of the towels the players use to wipe their brow while playing. Plus they're great for cleaning up dirty hands. Use wrist sweat bands like a napkin ring.
Use a tennis ball as a place card at each plate setting. Just use a sharpie marker to write on them.
Set up your bar cart with your tea service and champagne. Place a small wire basket of tennis balls to dress it up.
Are you ready to host your own Wimbledon theme party? Let me know if you'll be watching the matches and what you think of these brunch ideas.
If you like this post, PIN, Share, or sign up for our Newsletter at the top of the page. And don't forget to follow CAH on Instagram or Facebook. Cheers!