Gorgeous Dinner Party with Iced Tea Bar Ideas
You're going to love this gorgeous dinner Party with Iced Tea Bar Ideas. It's one of our most fun ideas for entertaining at home. This party has a cool, relaxed vibe with beautiful table setting, casual menu, and interactive beverage bar. The party decor and styling will inspire you to host a party for your best pals. See even more summer entertaining ideas here.
This refreshing beverage bar will 'wow' your guests with it's variety and beauty
I personally love today's dinner party plan. The casual, boho-chic vibe is carried out through the table setting, menu, party favors, and a cool iced tea bar. I created this party for an outdoor girls gathering, as the perfect way to celebrate friendship. This would also be a terrific way to celebrate a birthday, host a mothers day party with your mom friends, or a fun twist on tea party ideas.
Check out all the fun details of this dinner party with iced tea bar, and prep your own iced tea drinks and cocktails using bottled iced tea and fruit juice. Get the casual supper or dinner party menu plan & recipes here, and start sending out those invites!
And since this is an iced tea bar it would be a great idea to incorporate into this southern style dinner party. Just follow the southern party menu and ideas and incorporate the beverage bar with coordinating decor.
Set a summer dinner party table setting with these chic ideas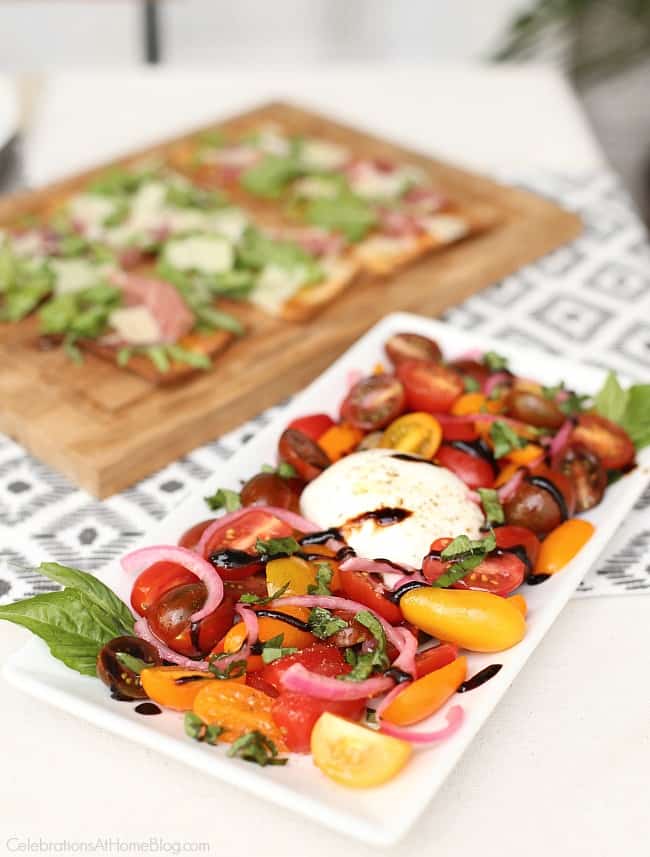 Host a party with an iced tea bar and follow these ideas for your summer table setting
Let's start by talking tablescapes, shall we. I've used a few interesting "hacks" to design this table. The tablecloth is a large canvas drop cloth from the home/diy store, the napkins are large tea towels (from Hobby Lobby) cut in half, and the tassel runner is a garland from Target that you've seen me use in my summer cocktail party and Mexican fiesta happy hour. Using items in a new and different way is ALWAYS a good idea.
TIP: Purchase a yard (or less) of tassel trim from the fabric department, and cut the tassels off to use as embellishments for gift bags, drink tags, stir sticks, etc.
I recently attended a styling/business workshop and learned how to make this lovely centerpiece with less than $30 worth of flowers. I think it turned out beautiful don't you! This one was made with two bunches of "farmer's blend" flowers, and one bunch of greenery.
To echo the iced tea bar I provided some bottles of Snapple Green Tea for guests to grab as they like. These are delicious and go really well with the food.
The party favors for the ladies blend in seamlessly with the theme and decor. I found these inexpensive bead & tassel bracelets (seem to be everywhere right now) and packaged them in drawstring bags. With some quick calligraphy the bags double as place cards for the guests. I added a colorful tassel detail to each one for extra embellishment.
Summer Party with Iced Tea Bar Ideas
This is where things get fun. An interactive beverage station is a great way to welcome guests, get them busy, and generate conversation. It doesn't take too much pre-planning either as I've used prepared tea, and three juices to add flavor and sweetness.
I poured prepared ice tea into a serving pitcher. Next I poured fruit juices like Lemonade, Orange, and Strawberry flavors into flip-top bottles. These are the basics for making your own flavored iced tea drinks. Set out sliced lemons, oranges, and whole strawberries as garnishes that indicate the juice flavors. Don't forget the fresh mint too!
HOSTESS TIP: Use shortcuts like prepared tea and juice, and pour them into pretty containers for serving. Put the time you've saved into making boho-chic drink labels embellished with tassels.
Also provide rum and bourbon to turn your flavored iced tea into a cocktail. See this bourbon iced tea cocktail for a great recipe.
For an extra thoughtful touch, freeze the juices into ice pops beforehand (get these here). You can add them to drinks to keep them cold and flavorful as it melts.
Use interesting glassware if you've got it. Using traditional Moroccan tea glasses for this beverage bar adds a charming touch.
Create your own flavored iced tea beverage:

Add ice and/or flavored ice pop to glass; Fill about 3/4 full with Snapple Straight Up Unsweetened or Sorta-Sweet Tea.
Add a flavor of juice to fill the glass; Leave room for adding rum or bourbon if desired.
Garnish with fresh fruit, mint, and serve.
These flavored teas are so tasty and you can make it however you like it. Use unsweetened tea base for a lighter drink, or use lightly sweetened tea for more sweetness – It's up to you! I personally go for the ease of prepared iced tea but you can make your own following this basic iced tea recipe.
Let me know your thoughts in the comments below. Cheers!