Italian Themed Party Ideas
Today I'm dreaming of Italy and Italian food! Here are some Italian themed party ideas that you can use to host your own Italian dinner party. With food and recipes, and table decorations to bring home that Italian lifestyle. These hostess tips will have you entertaining in style. While you're planning you don't want to miss these Italian dinner party menu & ideas directly inspired by our trip to Italy.
Here I'm sharing a simple Italian party with fun tables for dinner, a bruschetta bar, and dessert table. In addition to these you'll find some tasty recipes to incorporate into your dinner party menu.
Start planning your Italian dinner party with these ideas. First you'll find a list of related posts that showcase Italian tablescapes and party bars. Next I've got some classic dishes and recipes to add to your Italian menu. Plus there are tips on serving wine for entertaining. There's ALWAYS wine when hosting an Italian theme party!
Some of these ideas were inspired by our trip to Italy and our 5 days in Florence, as well as our fabulous wine tasting tour in Tuscany. Others are classic American takes on Italian themes. You're sure to find some inspiration for stylish entertaining.
Italian Themed Party Ideas
Find stylish ideas for entertaining the Italian way. With beautiful Italian themed tablescapes and tasty recipes you'll be ready for entertaining at home.
More Italian Themed Dinner Party Decorations
I created an easy and inviting table setting perfect for hosting a casual pasta dinner for friends. ANYONE can create this table setting! Next, I used a vintage ironing board to serve as a bruschetta bar, and finally a small rustic bench held dessert and wine.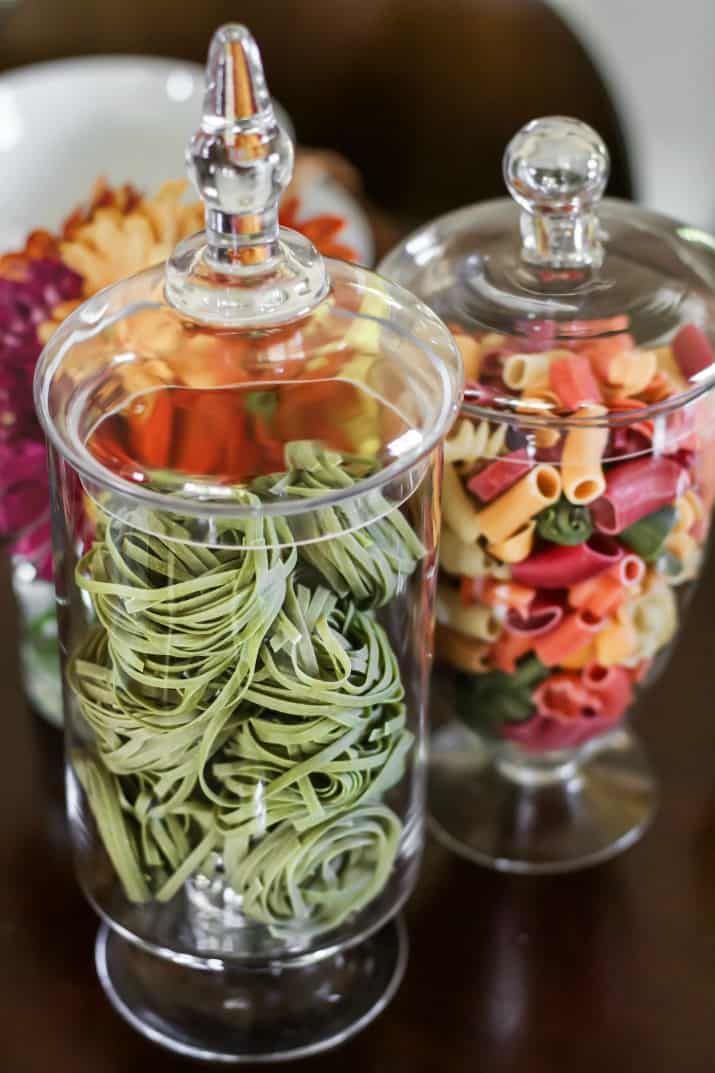 Setting the Table with Casual Italian themed Details
A simple table setting doesn't get much easier than this. For a centerpiece, I used

smaller scale apothecary jars and filled them with dry pasta

in various colors and shapes. I chose the most interesting shapes and colors for more eye appeal and I love the result. A small flower arrangement in Earthy colors completes the look.
I didn't think it necessary to cover the table in a tablecloth for this dinner. Rattan chargers add

monochromatic texture

against the table, while a collection of mismatched napkins in golden hues add color to the white dishes.
I'm obsessed with these carafes with the ball topper. This one is filled with lemon-basil water to accompany dinner. Just slice a lemon and add a bunch of basil leaves to chilled water. First rub the basic leaves in the palm of your hands to "bruise" them and release their flavor.

Vintage amber water tumblers

add color to the table. They also give the feeling of tradition and family which the Italian culture is all about.
Set up Food Tables using Rustic and Vintage Items
A vintage ironing board is used to set up a

Bruschetta Bar

using toppings like classic pesto, olive tapenade, and artichoke spread. In addition, there's cheese, prosciutto, and bread for a complete appetizer display.
A small bench is used to display dessert and wine. The wine is poured into the

large decanter

so it can breathe.
Tiramisu chocolate dessert trifles are sensational and a unique twist on an Italian classic.
Finally, a stack of

biscotti

is served up under a wire cloche. Biscotti goes great with red wine or Vin Santo, and sweet Italian dessert wine.
There's a sketch added, of the Trevi Fountain that I bought on our trip to Rome many years ago. Earth toned pottery pieces would also be nice to use if you have it.
HOSTESS TIP: Using rustic vintage items for display gives a party that old-world vibe that Italy is know for.
There's no red checkerboard tablecloth, candles in wine jugs, or Italian flag references here. I just wanted it to have an Italian "feel" through the food and wine, and subtle touches. If you want to add a fun activity to the party you can download & print these Roman Holiday printables from In Style.