Fall Apple Themed Engagement Party
Host an apple theme party for fall with these ideas. This "apple of my eye" harvest theme has tons of inspiration and ideas that are perfect for an engagement party, small wedding, bridal shower, or dinner party al fresco.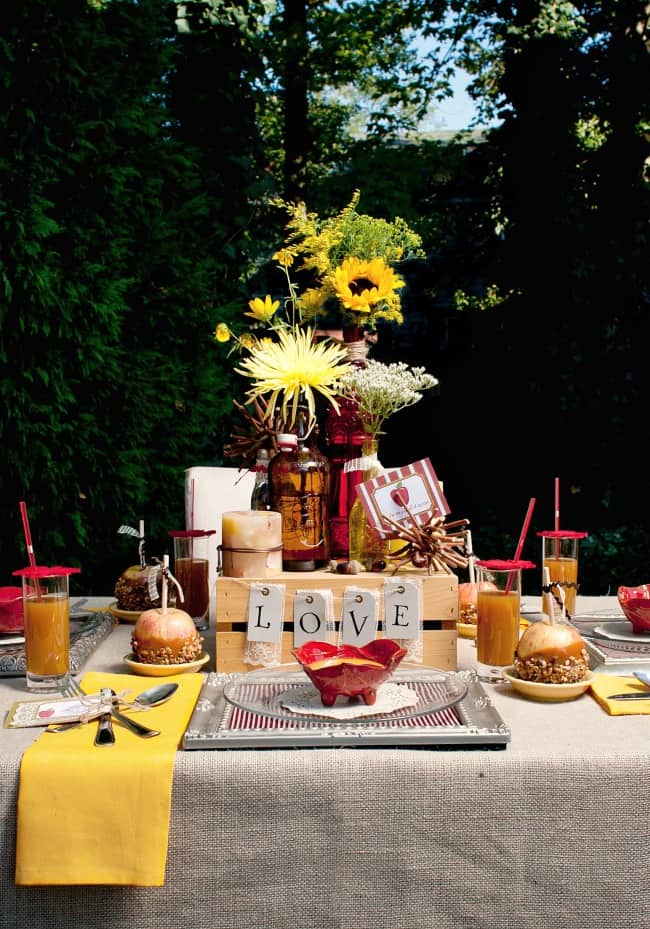 Fall engagement party theme
A fall engagement party for a couple has so many possibilities when it come to theme, food, decor, and colors. It's harvest season for many fruits, vegetables, and gourds, and the colors are rich and sumptuous.
Create an apple themed autumn engagement party with a color palette of red, gold, and brown. It's a classic combination and works so well for the season.
The apple theme gives you the opportunity for a fun play on words relating back to a couple in love. I've outlined the details and thoughts behind the design, below.
This bash has apple themed party food, apple themed favors, and apple themed signs that are great for any fall celebration.
Fall tablescape
Most of the decorative details are hand made and provide a balance of masculine and feminine.
Each place setting gets a caramel dipped apple

, which you could turn into diy caramel apple place cards too.
Create a centerpiece of wild flowers tucked into various jars, bottles, and vases.
Scatter some acorns on the table to add some texture and interest.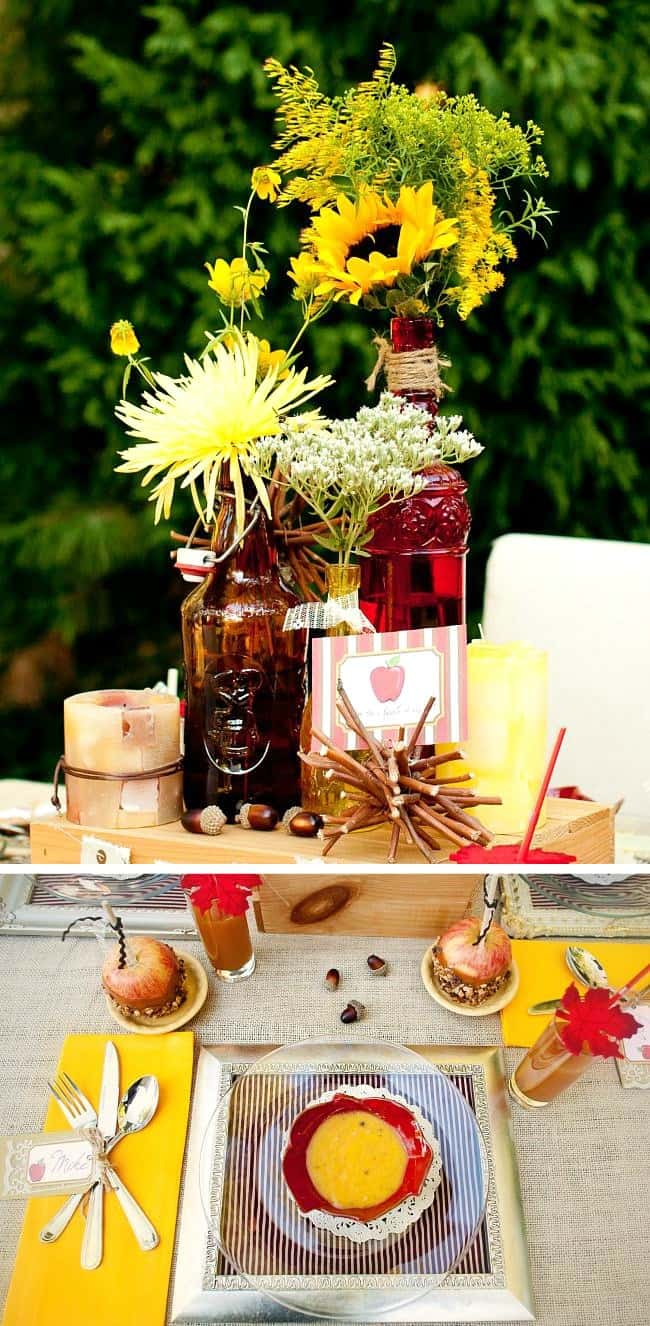 Apple themed party ideas
This design was inspired by crisp red apples and the idea of tying in the concept of "picking" apples, and "picking" a mate.
Printable signs are a key part of conveying the concept with special puns.
Framed signs read, "he Picked her," and "she Picked him."
Table cards read, "you're the Apple of my eye."
Favor jars of apple butter have a label that says, "we Picked this just for you."
Baskets of apples invite guests to "take your Pick" of apples to carry home.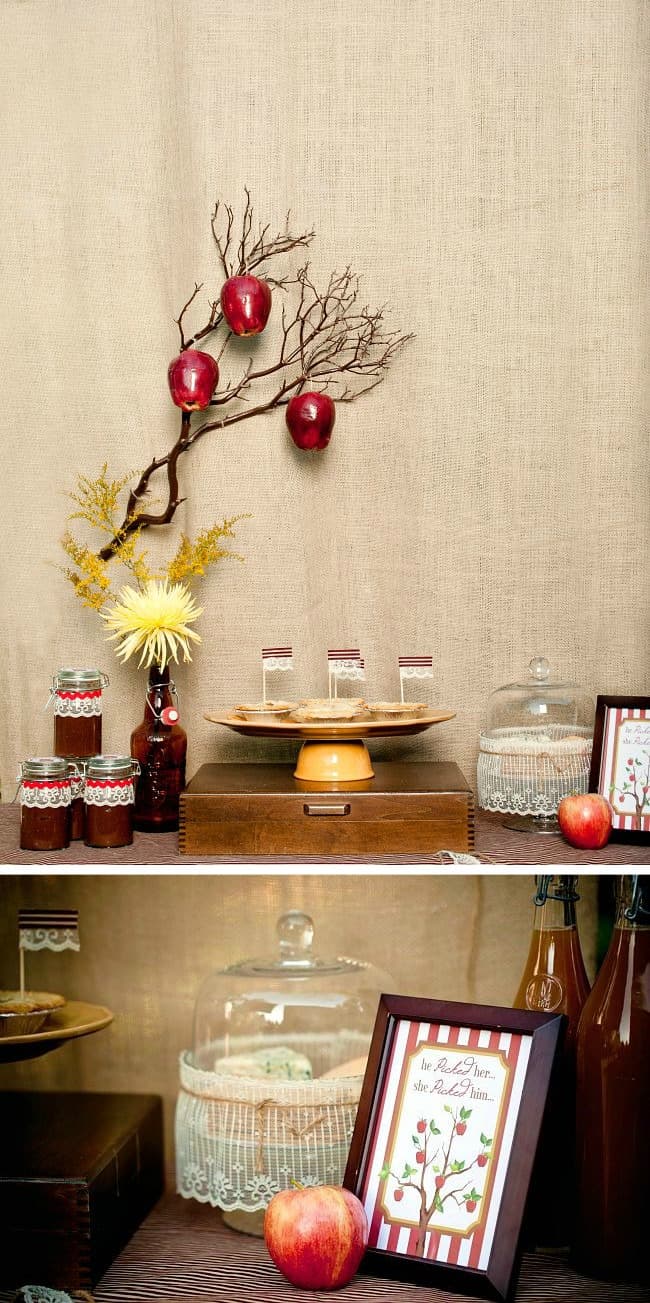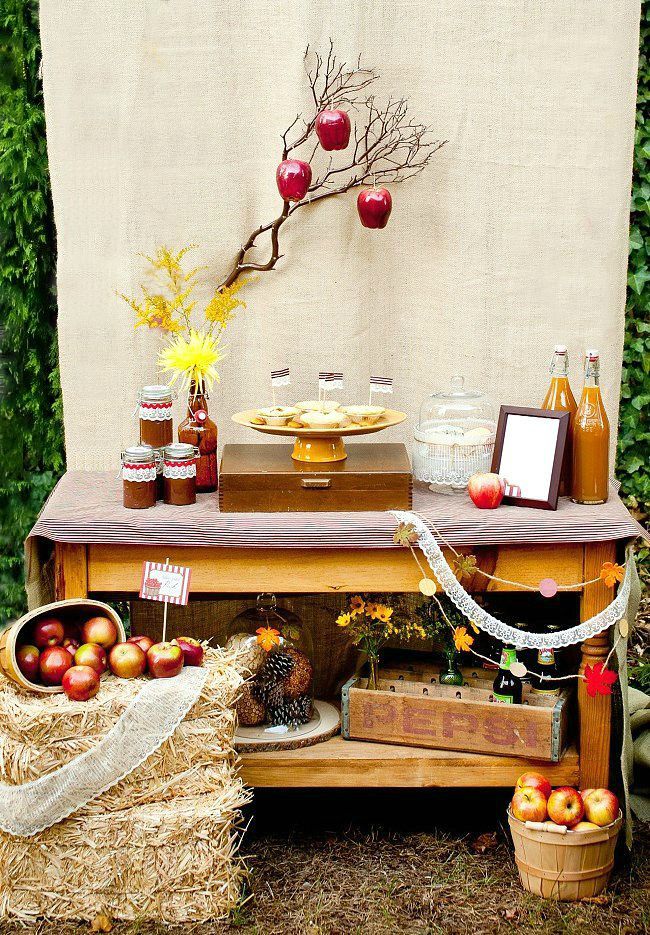 Party décor
Create a focal point to the dessert table with a simple burlap backdrop and manzanita branch attached.
Hang lightweight faux apples from the branches to mimic an apple tree.
Drape swags of lace, and banners made of twine and felt leaves, around the space.
Use bales of hay as part of the fall décor. Use them to set other decorations on, or use them as seating for guests. Just make sure to drape a piece of fabric over top for comfort.
Apple recipes
Match your food and menu to the theme with some easy apple appetizers, drinks, and desserts. Set out mini apple pies with apple shaped cutouts in the crust.
Apple theme party favors
Provide paper bags so guests can fill them with fresh apples to take home.
Small jars of apple butter are the perfect takeaway gift. You don't even have to make it homemade!
What to drink
Prepare a signature drink with a pitcher full of apple flavored cocktails and beverages.
Thanks to James Linkowitz Photography and Little Bean Boutique, for their contributions with photography and paper goods.
I hope you're inspired by this apple themed autumn engagement party. The design ideas would also be great for a small intimate wedding, an adult birthday, or a casual dinner party al fresco.