Easy Turkey-Wrapped Apple & Cheese Appetizer Bites
If you want a quick and easy party food that's light and delicious, these apple appetizers are the answer. With cheese and turkey deli meat, it's like a charcuterie board in a single bite-size serving. This keto-friendly finger food is great at appetizer parties, luncheons, and bridal showers.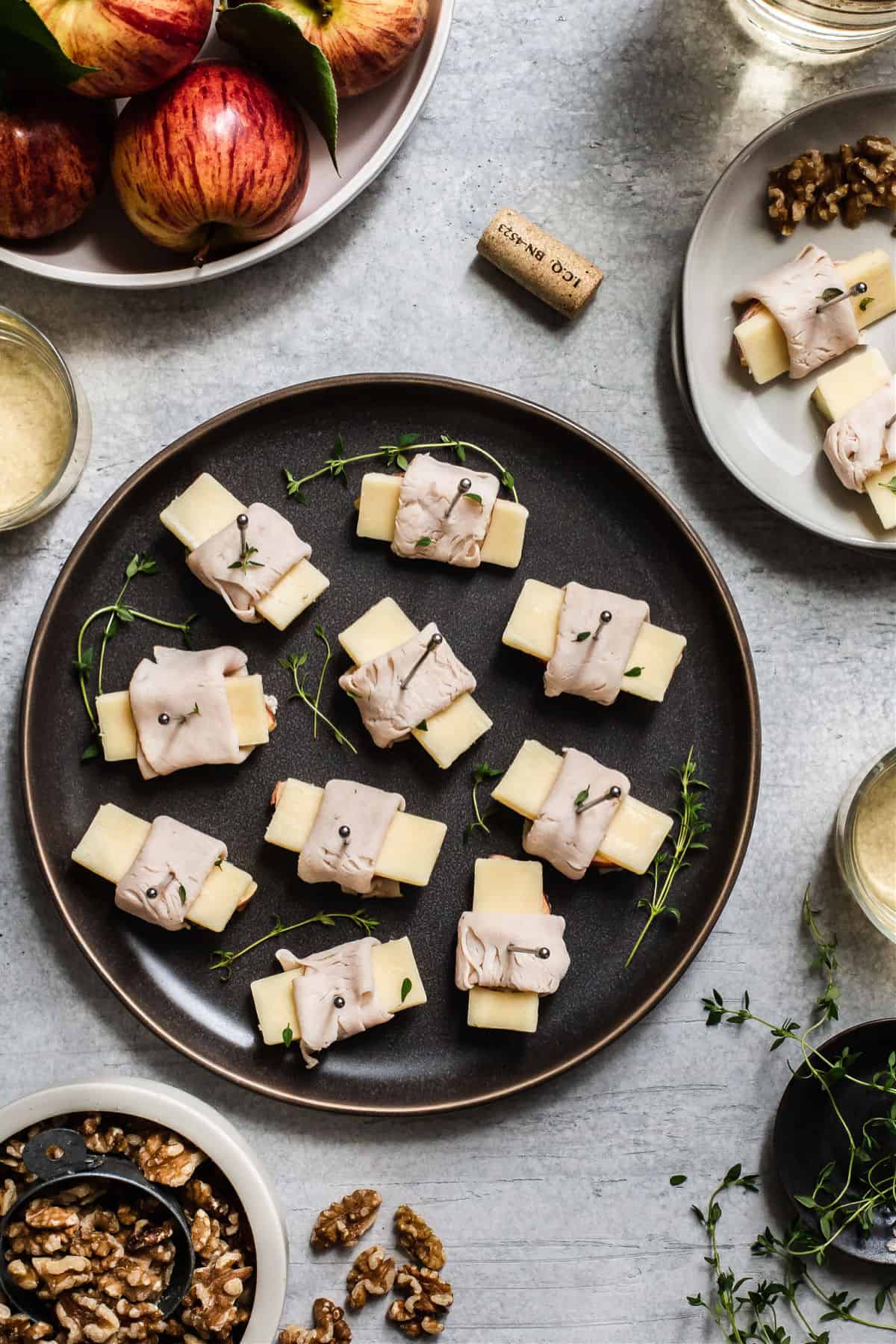 The fresh, crisp apple plus the saltiness of the cheese, and thin deli meat make this a delicious finger food for parties. Perfect to serve at room temperature with pretty picks to keep them together.
Light Appetizers
When you're entertaining, the party food is usually rich and indulgent. These turkey wrapped apple & cheese appetizer bites are an excellent hors d'oeuvres to help lighten the menu.
This savory recipe is less filling and can even help cleans your palate between bites of other snacks. Another great variation are these cold ham, cheese and fruit mini kabobs.
These are a terrific fall appetizer you can make after you've been apple picking on a fall picnic. Or you can serve them for an apple themed party.
Why You'll Love Them
These easy apple appetizer bites have several great qualities that make them ideal for parties and entertaining. Put them out for your Thanksgiving entertaining, or include them in girls night appetizers.
They're make-ahead appetizers. Just cover with saran wrap and refrigerate until you're ready to serve.
A great appetizer to serve at a theme dinner party. Light bites mean you won't get full before the meal!
A healthy addition to any appetizer or cocktail party.
No cooking or baking means they're a no-fuss party food. Perfect at room temperature.
These are kind of like a sandwich without the bread, making them ideal for a keto-friendly lifestyle.
There are only 3 ingredients but the flavors blend so well together. You can add them to your party cheese board.
Need more cheese-based appetizers? Try my goat cheese & pesto bites here or my feta & chopped tomato spread.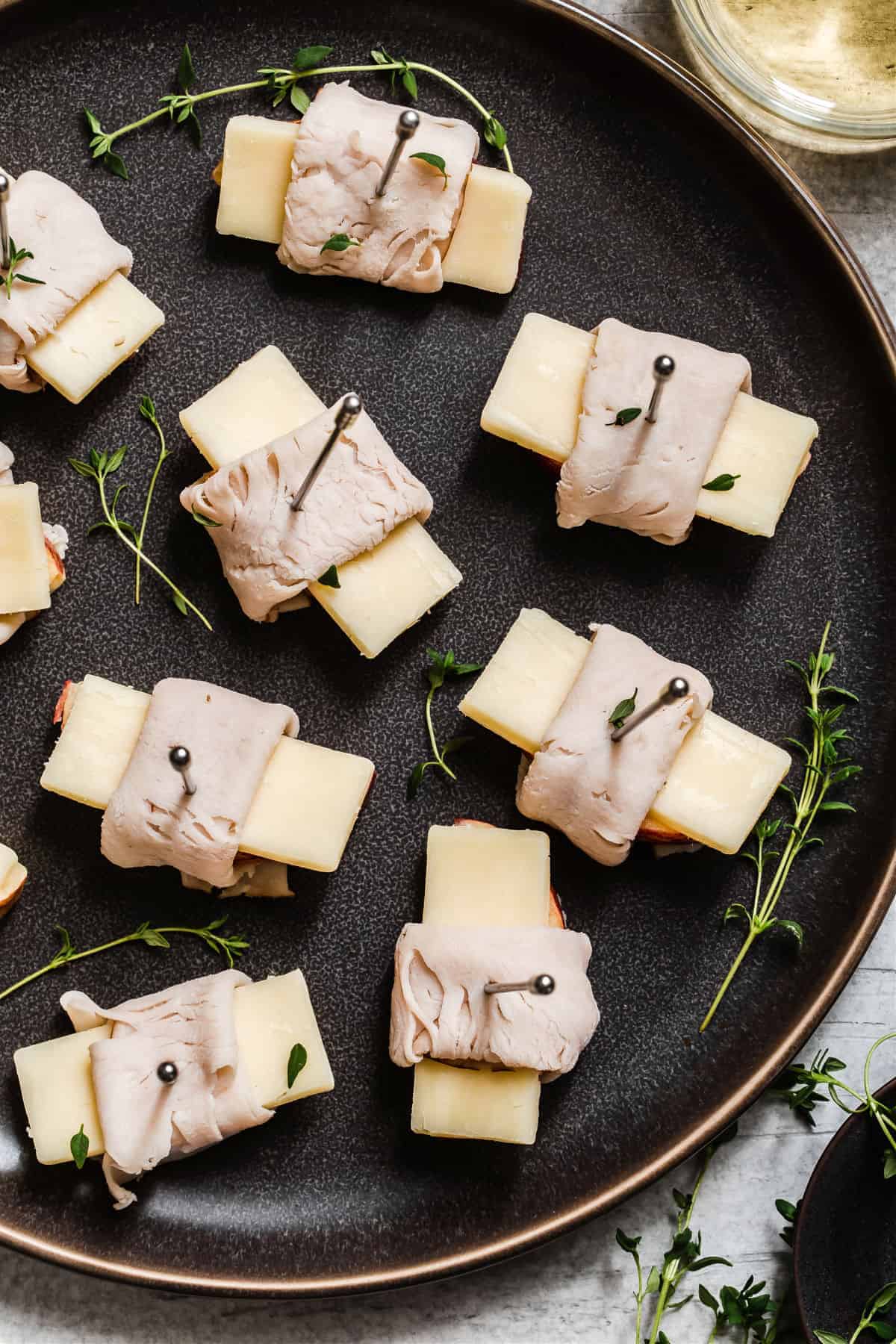 Apple Appetizers with Cheese & Turkey
This post contains affiliate links.
All you need are these three simple ingredients to make fall appetizers for a party or holiday gathering.
Crisp red apples – I like Roma or Gala apples for this because they're a medium size, they're crisp, and lightly sweet. Cut them into small wedges using this tool to make it quick and simple.
Sharp white cheddar cheese – use an 8-ounce block and sliced into thin rectangles.
Deli turkey breast – use oven-roasted deli-style sandwich meat that's thinly sliced.
Layer a piece of cheese on top of apple slice and wrap with the turkey slice.
Secure with a food pick and set on a tray to enjoy.
Substitutions
You can change things up for a slightly different flavor with these substitutions
Use honey ham for a bit more sweetness.
Smoked turkey will add rustic smoky flavor.
Prosciutto can give these an Italian spin.
You can use thin deli-style chicken slices.
Use pears instead of apples.
Use slices of Gouda cheese instead of cheddar.
Cut thin slices of brie for a classic pairing.
In fact, a tray of several different varieties would give guests multiple choices!
What to serve with them
Here are some great pairing suggestions for your party menu.
If you like this post, PIN, Share, or sign up for our Newsletter at the top of the page. And don't forget to follow CAH on Instagram or Facebook. Cheers!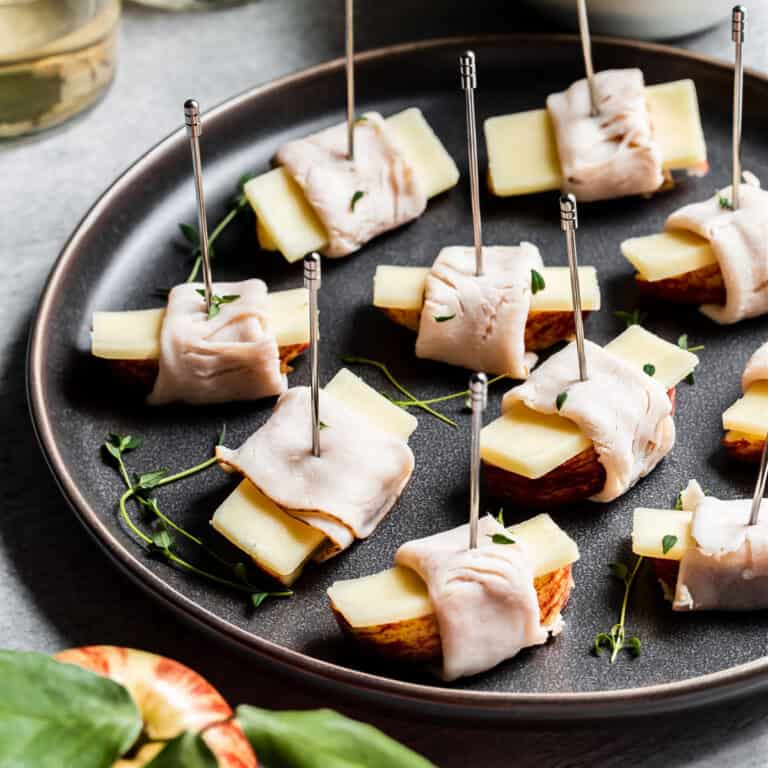 Apple Appetizers with Cheese and Turkey
An easy apple appetizer with cheese and deli turkey that's keto friendly and delicious. These savory bites get freshness from raw apples and are perfect for parties and entertaining.
Ingredients
2 red apples
16 pieces thin-sliced deli turkey
1 8-ounce block white cheddar cheese
lemon juice to spritz sliced apples with
Instructions
Slice each apple into 8 wedges, for a total of 16 pieces. Spray or dip into lemon juice to keep apple from browning.
Cut block of cheese into 16 rectangle pieces.
Lay cheese on top of apple slice and wrap with a turkey slice.
Secure with a toothpick or party pick and serve.