Spanakopita Cups Party Appetizers
Easy Spanakopita Cups party appetizers pack a lot of flavor into a little bite-sized portion. Make this Greek appetizer for a themed dinner party or party buffet. These help to complete a casual Greek Themed Dinner party. They are the perfect starter dish.
Phyllo Cup Appetizers
If you're a fan of the Greek pastry spanakopita, then I have a modern appetizer idea for you. I love those little triangles that are often served at cocktail parties, but the thought of working with layers and layers of phyllo sheets is daunting.
I do, however, LOVE to use the little filo cups that are sold in the freezer section. I decided to put a modern twist on an old classic and make spanakopita appetizer cups that are perfect to serve at your next party.
The concept is simple. I created a filling mixture, scooped it into the pastry cups, and baked. I think these are even easier to eat too, since the filling doesn't squirt out the side when you bit into it like the triangles usually do.
When to serve spanakopita cups
These Greek Appetizers are right at home on any cocktail party buffet.
Make Ahead Party Appetizers
Make these easy spanakopita phyllo cups ahead and freeze them for easy last minute parties. That's right, you can make them ahead and freeze them. Here's what to do.
Make the filling mixture, fill the cups, and bake as directed. When cool, wrap them tightly and freeze for up to 1 month. When ready to serve them, remove them from the freezer and heat them in a 350 degree oven for about 10 minutes or until heated through. No need to thaw ahead.
You can also make these a day ahead. Just combine the filling, cover, and refrigerate. When ready to serve them, fill the filo cups and bake as directed.
If you'd like to add a dip recipe to the buffet how about this brightly colored beet & walnut hummus.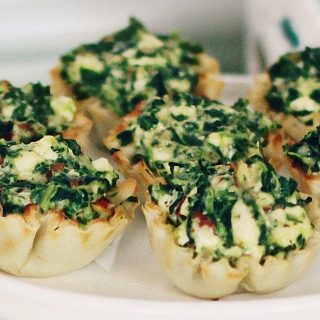 Spanakopita Cups Appetizers
Add big flavor to small bites with these spanakopita cups. Turn the classic Greek phyllo packets into an appetizer that's easy to eat and quick to make. A combination of fresh and frozen food items combines for a totally delectable party food.
Ingredients
2 packages frozen filo cups
10 ounces frozen creamed spinach
1/4 cup goat cheese, broken up into pieces
1/4 cup crumbled Feta cheese
1/2 cup chopped walnuts, toasted
1/8 teaspoon grated Nutmeg (I used a little more, but not quite 1/4)
Zest of half a lemon
Instructions
Cook frozen spinach according to package directions and let cool. Place in a mixing bowl.
Combine spinach with remaining ingredients until well combined. Use a small scoop or table spoon and place mixture inside each filo cup.
Bake spanakopita cups for about 8-10 minutes or until heated through.