Easy Chilled Raspberry Soup Recipe
This chilled raspberry soup recipe is perfect for a bridal luncheon, baby shower, or ladies tea party menu. It's quick and easy to make with fresh berries, yogurt, orange juice and honey. Serve this light and refreshing appetizer in pretty tea cups for a party.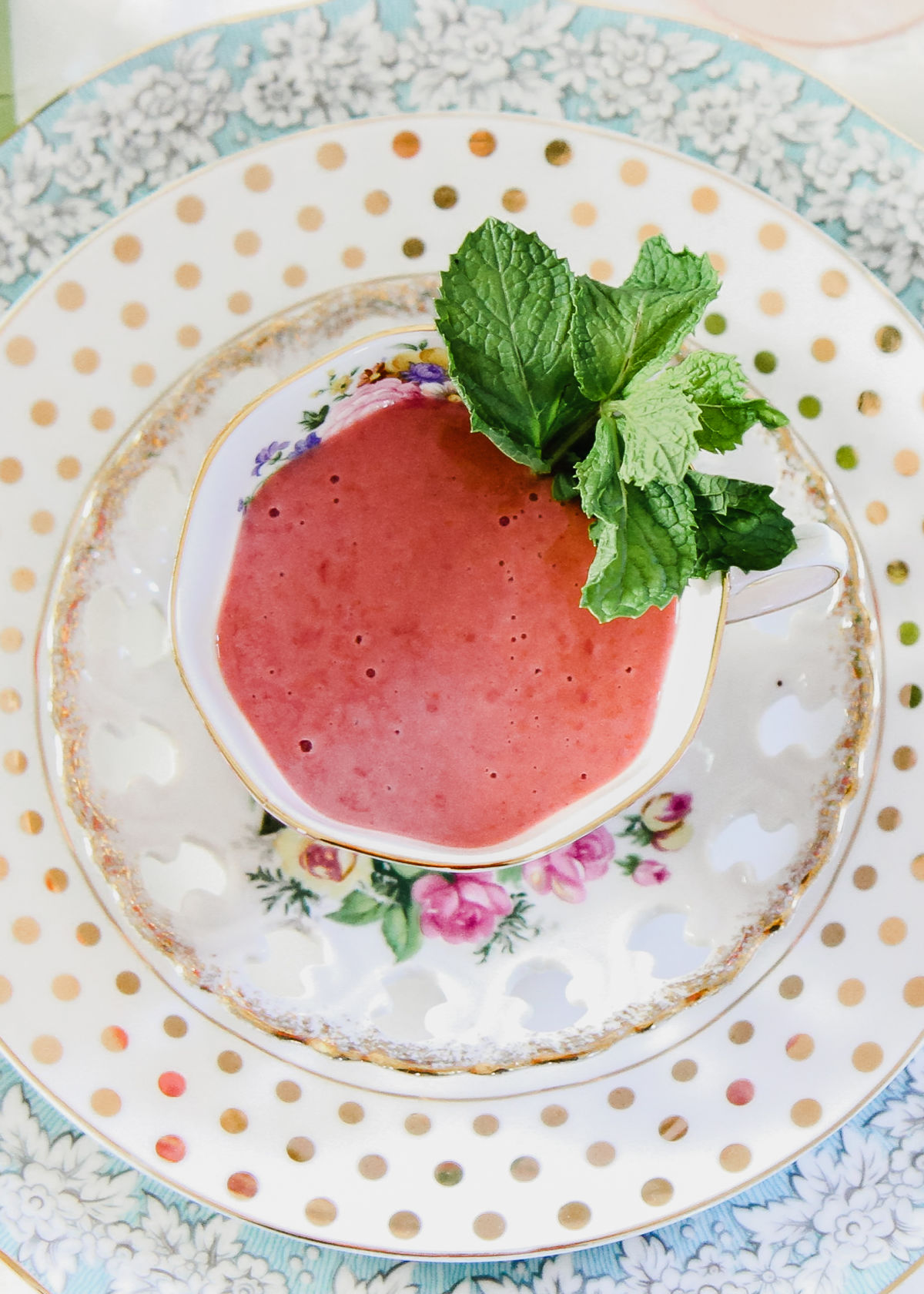 Easy Chilled Soup
I like sharing recipes for specific gatherings in hopes that it will help you in the planning of your showers and parties. And this chilled soup is great for a bridesmaids luncheon, a spring ladies luncheon, or baby showers.
It's pretty pink color matches the décor, and it looks lovely served in a collection of vintage tea cups.
This cold soup has health benefits too, as it's made with fresh berries, and yogurt. You can sort of compare it to a smoothie although the consistency is not as thick and frothy.
How to Make Raspberry Soup
You only need 6 simple ingredients to make this chilled soup.
Fresh raspberries
Vanilla yogurt
Orange juice
Honey
Vanilla
Fresh mint
You'll add all the ingredients to a blender or food processor and let it do all the work. Then make sure you chill it in the refrigerator for at least two hours before serving.
PRO TIP: Substitute other berries such as blueberries or strawberries in this recipe.
How to Serve Soup for a Party
There are several ways you could serve this.
Pour it into a mix and match set of vintage tea cups layered on coordinating plates.
Sip it from small modern demitasse cups.
Ladle it into small bowls and eat it with a spoon.
Pour it into mini shot glasses if you're not having a sit-down meal.
If you like this post, PIN, Share, or sign up for our Newsletter at the top of the page. And don't forget to follow CAH on Instagram or Facebook. Cheers!
Chilled Raspberry Soup
Total Time:
2 hours
10 minutes
Ingredients
2 cups fresh raspberries
3 ounces vanilla yogurt
1/2 cup orange juice
2 1/2 Tablespoons honey
1/2 teaspoon vanilla
Fresh mint, about 10 leaves + extra for garnish
Instructions
Add all ingredients to a blender or food processor and pulse until everything is integrated. You may need to stop and scrape down the edges to help it along.
Continue to blend on high speed until a smooth consistency is achieved.
Cover and refrigerate for at least 2 hours before serving.
Garnish with a sprig of mint.