Easter Dirt Cake (Easy Dessert)
An easy no-bake Easter dirt cake with Oreos, chocolate pudding, and creamy Cool Whip filling. This make-ahead Easter dessert has layers of flavor with a cute garden bunny decoration perfect for Easter entertaining at home.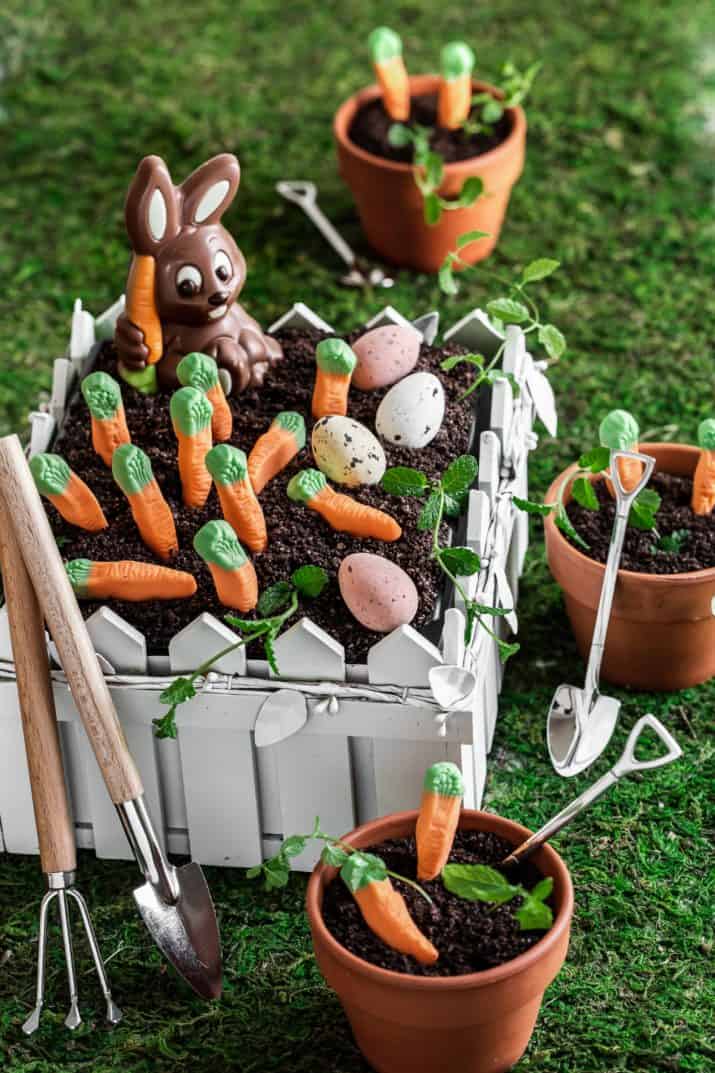 Easy Easter Dessert
You're going to love serving this Easter garden dessert cake so much that you may even make it the centerpiece of your Easter table.
It's got layers of chocolate pudding, Oreos, and cream cheese filling for a sweet treat that children and adults will love. But the real draw for this dessert is the cute presentation!
Assemble the layers and top with chocolate cookie crumbs so it resembles a garden of dirt. Then use Easter candies and a chocolate bunny to decorate with.
This dessert recipe is perfect for Easter brunch or a family Easter dinner party.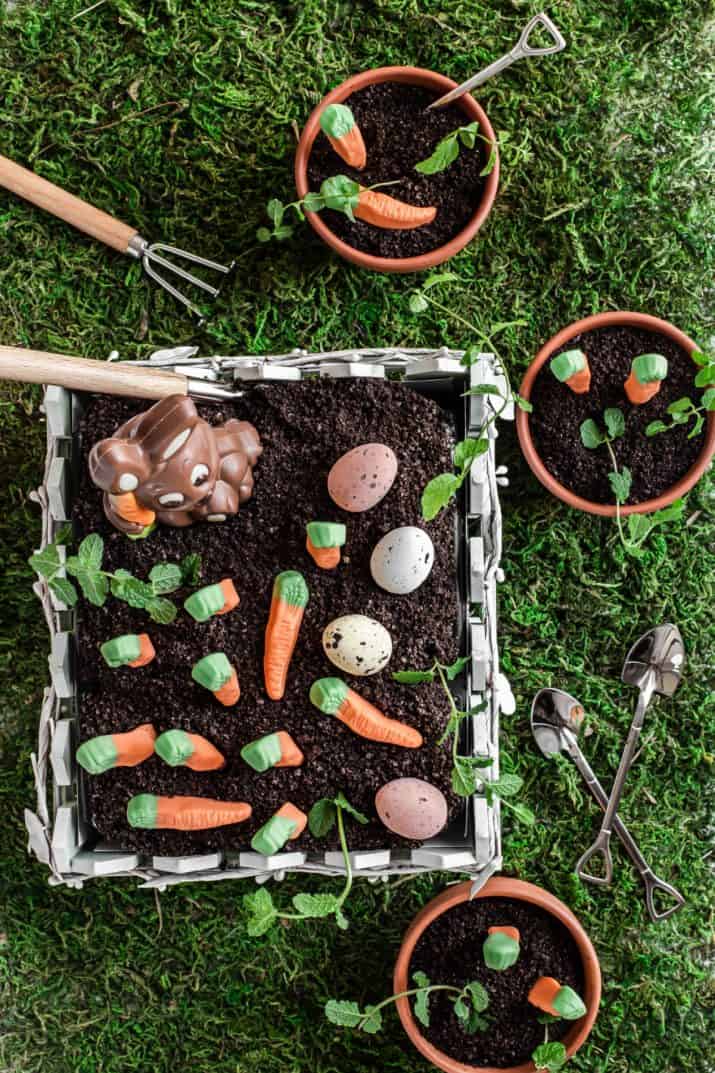 Why you'll love this recipe
Technically this is more of a pudding dessert than a cake, but the flavors and display are still delicious and festive!
It's make-ahead for easy entertaining.
The ingredients are simple and easy to find.
It's easy to prepare and there's no-baking or cooking.
You can make one large garden or several mini flower pots.
You can let the kids help you with the garden decorations.
Serving Suggestions
There are a number of ways you can serve this. I used an adorable planter box with a fence motif, and lined it with disposable food-safe containers. However, you can use any of these options to display your dirt cake in.
Make this in a glass trifle dish so you can see the layers.
Make it in small flower pots for individual mini desserts.
Serve it in a 2-quart bowl for a deep dish dessert.
Prepare it in a 2-quart baking dish for a more shallow pudding cake.
PARTY TIP: Use terrarium tools to serve the dirt cake with, and these mini shovel spoons to eat with.
How to make Easter dirt cake
Make this recipe a day ahead so flavors have time to blend. See detailed instructions in recipe card below.
Crush – use a mini food processor or blender to turn half the cookies into dirt crumbs. The other half will be broken into pieces.
Mix – combine pudding and cold milk, and refrigerate for 5 minutes so it can set.
Combine – stir the softened cream cheese and whipped topping together and mix well.
Assemble – layer the ingredients in this order: broken cookies, cream cheese mixture, pudding, peanut butter chips, crushed cookie dirt.
Decorate – top the dirt cake garden with a chocolate bunny, gummy candy carrots, and chocolate eggs or jelly beans. Add sprigs of fresh mint to look like vines.
Keep covered and stored in the refrigerator.
Best Tips & Substitutions
Make sure to use a Family Size package of cookies. You'll need them!
Make sure the cream cheese is very soft so it will combine easily with the whipped topping.
Use any baking chips you like: peanut butter chips, chocolate chips, butterscotch chips, or toffee bits.
Add an additional layer of broken Oreos instead of the peanut butter chips.
If you want, you can vary the order of the layers. For instance, add the chips in between the cream cheese and the chocolate layers.
Use peanut butter Oreos instead of traditional flavor.
Add in a layer of chopped nuts if you like.
More Easter Dessert Recipes
If you want to save this Easter dirt cake for the children or a kids party, then you can add one of these desserts for the adults.
If you like this post, PIN, Share, or sign up for our Newsletter at the top of the page. And don't forget to follow CAH on Instagram or Facebook. Cheers!
How to Make an Easter Dirt Cake Dessert
Total Time:
4 hours
40 minutes
Easy Easter dessert with a combination of chocolate cookies, pudding, and a cool whip-cream cheese filling. Decorate this dirt cake with Easter themed candies and serve.
Ingredients
2 - 3.9 ounce packages chocolate fudge (or chocolate) instant pudding mix
2 1/2 cups cold milk
3 ounces cream cheese, softened
1 - 8 ounce container frozen whipped topping, thawed
1 Family Size package Oreo cookies
1 cup peanut butter chips (or other baking chips of choice)
Decorations
Chocolate Easter bunny
Chocolate Easter eggs
Gummy candy carrots
mint sprigs to garnish
Instructions
Whisk the instant pudding and cold milk together for 2 minutes. Cover and chill for 5 minutes.
Stir softened cream cheese and whipped topping together until smooth.
Divide the package of Oreo cookies in half. Pulse half the cookies in a small processor until fine crumbs resemble dirt. Set aside.
Using remaining cookies, crumble them apart and place in the bottom of the container.
Spread cream cheese mixture over cookies.
Spread pudding mixture over cream layer.
Sprinkle peanut butter chips over chocolate layer.
Spread a layer of cookie dirt on top; cover and refrigerate for 3 to 4 hours or up to a day ahead.
Decorate the dirt cake with candy carrots, eggs, and chocolate bunny.
Use mint sprigs to garnish, as "vines."
Notes
Use chocolate chips, butterscotch chips, or toffee bits instead of peanut butter chips.