Brunch Sausage & Hash Browns Skillet Recipe
Serve this Brunch Skillet Recipe with Sausage & Hash Browns for a tasty all-in-one meal. It makes a terrific weeknight supper too! This is perfect for brunch entertaining or for family breakfast. It's a great way to start your weekend!
Sausage & Hash Brown Skillet Brunch
This one dish Brunch Skillet Recipe has some traditional Italian ingredients and can be served for breakfast OR dinner.
Around here, Sunday's are for brunch! We love to make a filling meal around 11 am and then carry on with the day at a leisurely pace. I recently developed this Brunch Skillet Recipe with Sausage & Hash Browns and the result was this one-dish brunch bake that also makes for a terrific dinner dish.
Once again I've teamed up with Mulay's Sausage, which I would describe as a 'premium' sausage without any weird fillers. It's paleo, and gluten free; has no sugar, nitrates, or MSG; and it's been raised on a vegetarian diet, without antibiotics.
It's perfect for using in your favorite recipes like these sausage empanadas or sausage cheese balls.
One Dish Skillet Brunch
My brunch recipe is similar to a breakfast casserole except that it's cooked in an iron skillet or other oven-safe pan. What I like about it is that you get the crust on the hash browns that a traditional casserole dish doesn't give you.
I love the goat cheese in this brunch recipe too. Add fresh basil and tomatoes on top of the cooked skillet for freshness. There are tons of Tex-Mex style breakfast dishes, but this one has an Italian spin!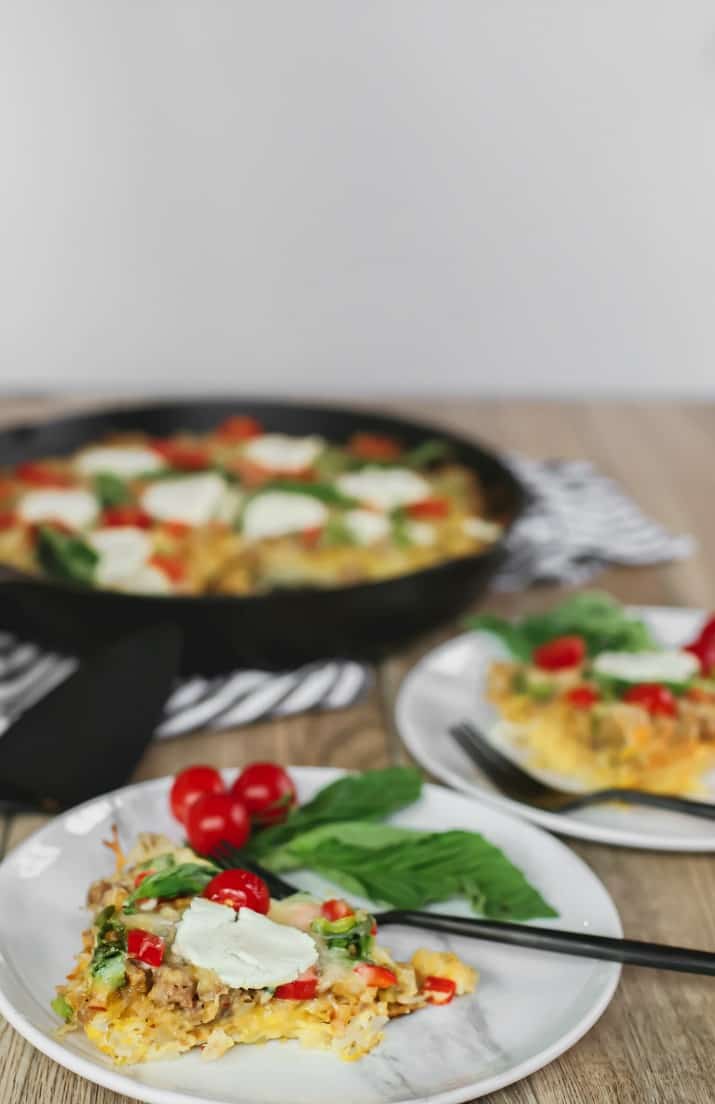 Benefits of using Cast Iron
There are some great arguments for using a cast iron skillet for cooking one-dish meals. I mean our grandmas and great, greats have been doing it for generations! Some people even pass them down to their daughters or granddaughters.
But other than the sentimental value, here are some fun facts about why cast iron is so great to cook with.
One of the best benefits health-wise is that it adds iron to your food.
It's the original non-stick surface. Once your pan is seasoned and has that nice sheen to it, food lifts up so easily! No chemical surfacing required.
Cast iron heats evenly making it ideal for frying or baking.
It cleans up easily. In fact you DON'T want to use soap on it or you'll strip the "seasoning" from it. Just wipe it down as soon as possible for easiest cleaning. But don't worry, you can always re-season it if you have to. Here's more on how to clean your cast iron pan.
It goes from stove top to oven making it perfect for this recipe.
HOSTESS TIP: Never, ever let your cast iron skillet sit in water or it can rust.
Brunch Skillet Recipe with Sausage & Hash Browns
Serve this Brunch Skillet Recipe with Sausage & Hash Browns for a tasty all-in-one meal. It makes a terrific weeknight supper too!
Ingredients
20 ounce package REFRIGERATED shredded hash browns
15 ounce pack Mulay's Mild Italian Sausage
8 eggs
1/4 cup milk
1/2 teaspoon salt
1/8 teaspoon pepper
1/3 diced cup red pepper
1/3 cup diced green pepper
2 Tablespoons chopped green onions
1 cup shredded Italian cheese blend
4 ounces goat cheese sliced into medallions
fresh basil and cherry tomatoes for topping/garnish
Instructions
Cook sausage in a cast iron skillet over medium-low heat, breaking it up as it cooks through. Removed cooked sausage onto paper towels to drain. Reserve the grease and use it to cook the hashbrowns.
Preheat oven to 350 degrees.
Place hash browns in cast iron skillet and cook according to package directions using grease rendered from sausage. Try to maintain a flat even "base" of hash browns as you flip during cooking.
Meanwhile combine eggs, milk, salt & pepper in a medium size bowl and set aside.
Once hash browns have been browned on both sides, remove from heat and top with sausage. Sprinkle diced peppers and green onions over top.
Pour egg mixture over hash browns & sausage, and top with shredded cheese and goat cheese medallions.
Place skillet into preheated oven and cook for 25 minutes or until eggs are cooked through.
Remove and top with fresh basil and cherry tomatoes to serve.