Serve this Brunch Skillet Recipe with Sausage & Hash Browns for a tasty all-in-one meal. It makes for a terrific weeknight supper too! Get the recipe here. I've created this recipe in partnership with Mulay's Sausage.
Around here, Sunday's are for brunch! We love to make a filling meal around 11 am and then carry on with the day at a leisurely pace. I recently developed this Brunch Skillet Recipe with Sausage & Hash Browns and the result was this one-dish brunch bake that also makes for a terrific dinner dish.
Once again I've teamed up with Mulay's Sausage, which I would describe as a 'premium' sausage without any weird fillers. It's paleo, and gluten free; has no sugar, nitrates, or MSG; and it's been raised on a vegetarian diet, without antibiotics. It's perfect for using in your favorite recipes like these sausage empanadas or sausage cheese balls.
My brunch skillet recipe is similar to a breakfast casserole except that it's cooked in an iron skillet or other oven-safe skillet. What I like about it is that you get the crust on the hash browns that a traditional casserole pan doesn't give you.
I love the goat cheese in this brunch recipe, as well as the fresh basil and cherry tomatoes added at the end. There are tons of Tex-Mex style breakfast dishes, but this one has an Italian spin!
This long holiday weekend is a great time to give this recipe a try.
Brunch Skillet Recipe with Sausage & Hash Browns

20 ounce package refrigerator shredded hash browns
15 ounce pack Mulay's Mild Italian Sausage
8 eggs
1/4 cup milk
1/2 teaspoon salt
1/8 teaspoon pepper
1/3 diced cup red pepper
1/3 cup diced green pepper
2 Tablespoons chopped green onions
1 cup shredded Italian cheese blend
4 ounces goat cheese sliced into medallions
fresh basil and cherry tomatoes for topping/garnish

Cook sausage in a cast iron skillet over medium-low heat, breaking it up as it cooks through. Removed cooked sausage onto paper towels to drain, and reserve grease in pan.

Preheat oven to 350 degrees.

Place hash browns in cast iron skillet and cook according to directions using grease rendered from sausage. Try to maintain a flat even "base" of hash browns as you flip during cooking.

Meanwhile combine eggs, milk, salt & pepper in a medium size bowl and set aside.

Once hash browns have been browned, remove from heat and top with sausage. Sprinkle diced peppers and green onions over top.

Pour egg mixture over hash browns & sausage, and top with shredded cheese and goat cheese medallions.

Place skillet into preheated oven and cook for 25 minutes or until eggs are cooked through.

Remove and top with fresh basil and cherry tomatoes to serve.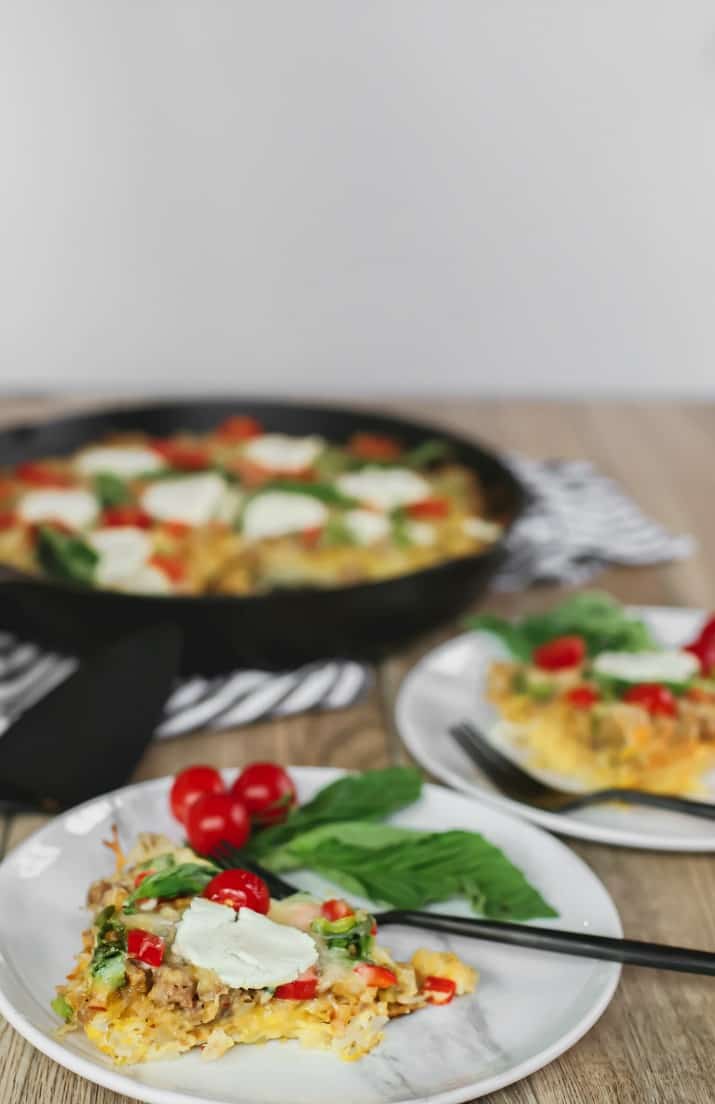 ---