Black and White Dinner Party
Host a black and white dinner party for any special celebration throughout the year. Get inspired with a creative black and white tablescape and bar, plus dinner party menu recipes that match the theme.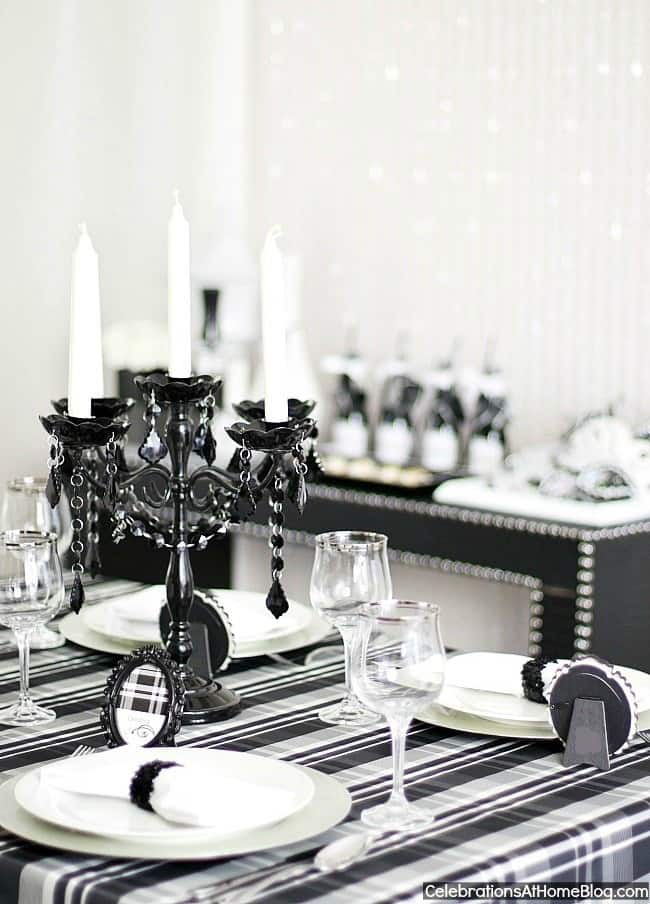 Black and White Dinner Party
Do you have something to celebrate? These black and white dinner party ideas are perfect for celebrating a special birthday, anniversary, or ringing in the new year.
It all starts with this black & white plaid taffeta I found at the fabric store.

Black & White tablescape
Use a couple of yards of fabric as a table topper and makes a statement with a bold pattern. There's no question that we're Mad for Plaid!
Silver goes great with black and white so use silver metallic chargers to layer on each place setting.

White napkins folded like bow ties

adds a sophisticated but whimsical touch. Make your own napkin w

rap with sequin trim from the fabric store

.
Printed out place cards and embellished them with a tiny adhesive gem. Place them in a mini frame that can

double as a party favor.
Set up a bar
Even for a sit down dinner I like to have a small bar set up to serve pre-dinner hors d'oeuvres and a signature cocktail. Provide some mini champagne bottles too, to kick off the celebration.
I got creative with my cocktail ingredients display and

used vases as decanters,

and a lidded ceramic vase holds ice. It's important to MAKE SURE YOUR POTTERY IS FOOD SAFE if you want to do this.

Mini champagne bottles

are one of my favorite things! I love to dress them up like I did here with swatches of leftover fabric. Cut squares from the same fabric used on the table topper. Drape them over the neck of each bottle and secure with a piece of ribbon tied in a bow. It's a great way to coordinate two separate tables at a party.
Tie on black straws so guests can sip the champagne without glassware. I printed a very simple label that says "Cheers!" and attached it to the front of the bottles to keep all the party display elements uniform. I even added a tiny adhesive gem to the exclamation point!
The perfect glass garnish for my Chocolate Cake Cocktail is a chocolate

Swiss roll cut into slices.

Just add it to the side of the glass!

Black and White Dinner Party Menu
Serve black and white food for a black and white dinner party. Here are some fun recipes that fit the theme.