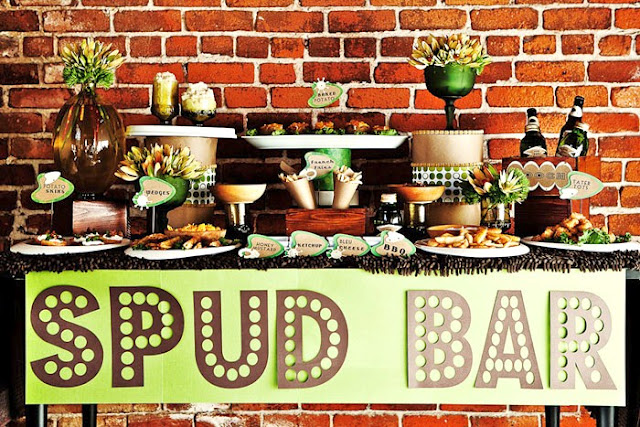 This

Spud Bar

makes me so happy – 1) I never met a potato I didn't love, and 2) the reference to the 1950's "sputnik" is just so genius and creative!  Designed by Botanica Florals, this potato bar includes everything: mashed potatoes, french fries, tater tots, potato wedges, potato skins, baked potatoes, and of course all the toppings to go with them. 
The fun "futuristic" labels for each item are a great touch too.  I am seriously craving a potato now!
This table display would be so great for any occasion, but especially for a males birthday or bachelor party, game day, or even Father's day.
Takeaway Tip:
This bar is particularly well suited to convenience foods.  No need to hassle with recipes, peeling or chopping here.  Just buy frozen or pre-made items and serve it up in style!
Vendors:
Photographer – Tiny Water Photography
Styling – Botanica Florals