Easy Valentines Rice Krispie Treats
Need easy Valentines treats? These heart-shaped rice krispies treats are a classic recipe with a twist. These cutouts are sprinkled with red specks throughout making them perfectly decorated for a Valentine's Day dessert, weddings and bridal showers.
This post is sponsored by BabbleBoxx on behalf of Ocean Spray
Easy Valentines treats
These rice krispie treat hearts are just what you need to add to your Valentines day celebration ideas. They're an easy no-bake dessert option for the holiday.
Whether you're planning a dinner for two at home, or a family gathering, these Valentines treats are sure to please the palate.
We're using Ocean Spray® Cranberry Seeds to add a red decorative detail, plus they support digestive health and immunity.
Why you'll love it
it's no-bake
classic dessert for adults or kids
quick and easy to make
the heart or love theme means you can serve them at a bridal shower or bridesmaid luncheon too
great for school or work parties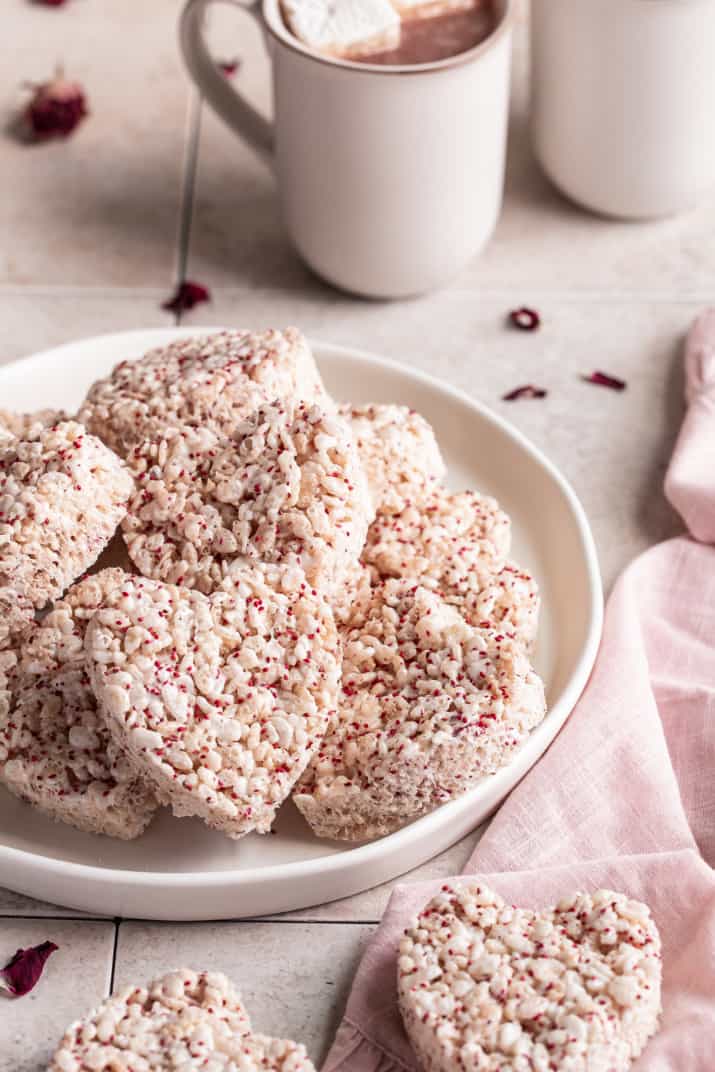 Are cranberry seeds edible?
Yes! They are edible and have several benefits to health. They have more fiber than chia and flax seeds, and supply zinc, magnesium, and Omega 3 fatty acids.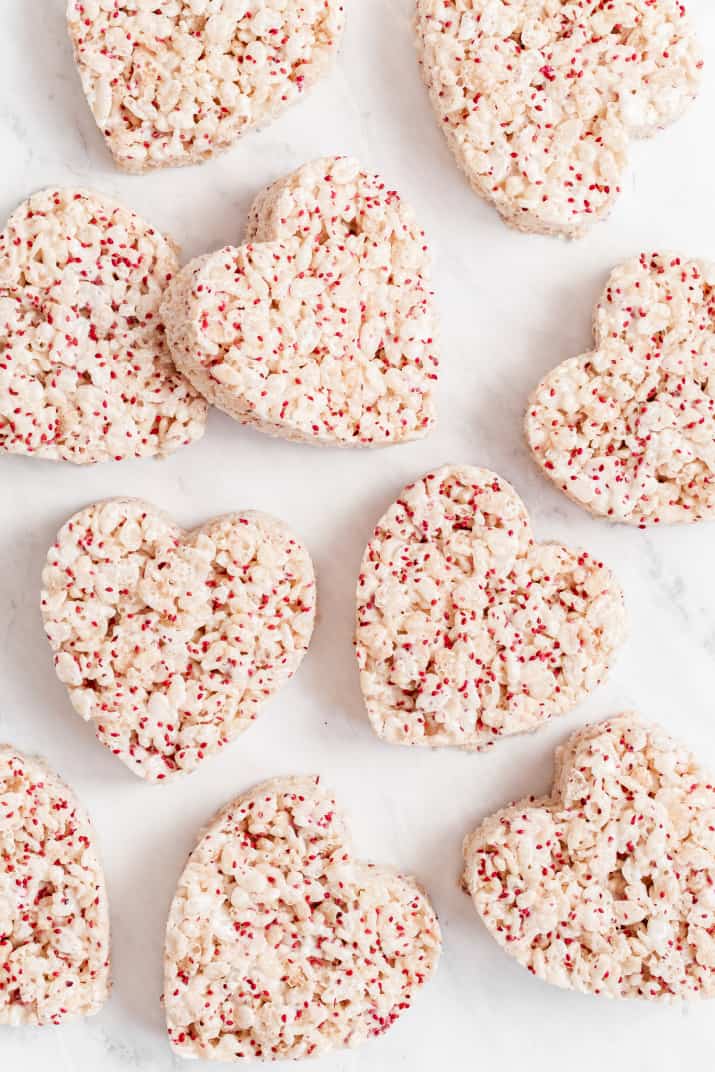 What do cranberry seeds taste like?
These tiny red seeds have a very subtle flavor and a crunchy texture. They're a bit tart like a cranberry at first, and the finish is neutral and a bit earthy.
The flavor and texture makes them ideal for adding into granola or granola bars, smoothies and breakfast bowls, and salads or dressings.
You can replace sugary red sprinkles with these cranberry seeds for a healthy boost. Sprinkle them on top of cupcakes or roll chocolate truffles in them.
Rice krispies treats decorating ideas
FAQs about cutout rice krispie treats
How to cut rice krispie treats neatly into shapes
Use a metal biscuit cuter and rub the cutting edge and sides with some butter. Press into the mixture in a straight down, even motion, then gently lift.
Should rice krispies treats be refrigerated
There's no need to refrigerate them. You can store them in an air tight container or wrap them in aluminum foil or saran wrap.
How many days in advance can you make Rice Crispy Treats?
These homemade treats stay nice and fresh for about 3 days…if they last that long!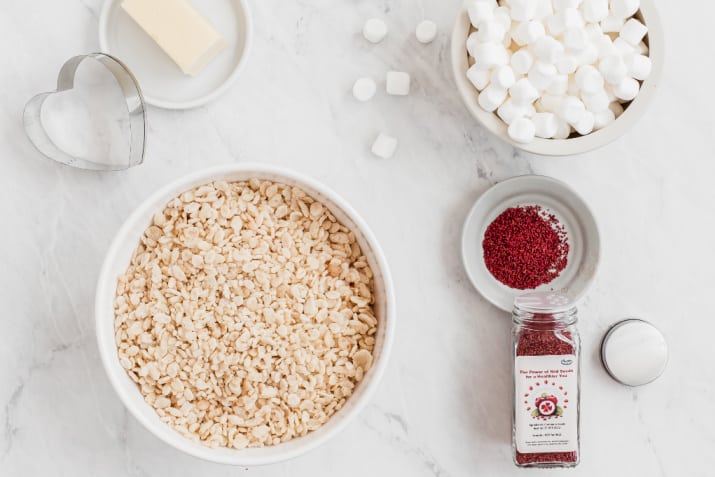 How to make heart shaped rice krispies treats
This classic recipe gets a Valentine's day vibe with sprinkles of red, and a heart shape cutout. See full instructions in recipe card.
You only need these 4 ingredients plus a cookie cutter to make Valentine day treats: butter, mini marshmallows, rice crispy puffed cereal, and naturally red cranberry seeds.
Melt – melt the butter over low to medium-low heat; add marshmallows and stir to melt.
Mix – add puffed cereal and cranberry seeds to butter mixture and stir to combine.
Press – pour mixture into a buttered baking dish and press evenly and firmly in place. Add a light sprinkle of red seeds over top and lightly press to adhere seeds to rice krispies.
Cut – once the bar mixture is set and firm, cut out heart shapes using a metal cookie cutter.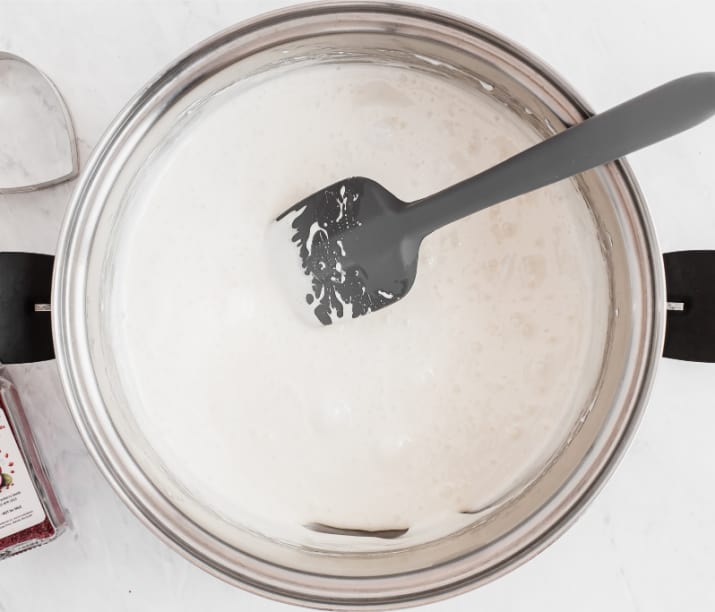 PRO TIP: Use your hands to press the mixture into the dish. Rub some butter on your hands, so you can work without having the mixture stick to you.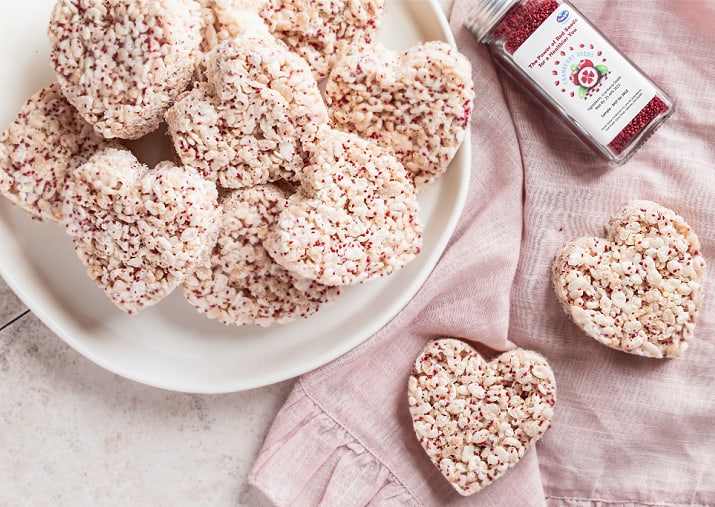 More Valentine's treats
If you like this post, PIN, Share, or sign up for our Newsletter at the top of the page. And don't forget to follow CAH on Instagram or Facebook. Cheers!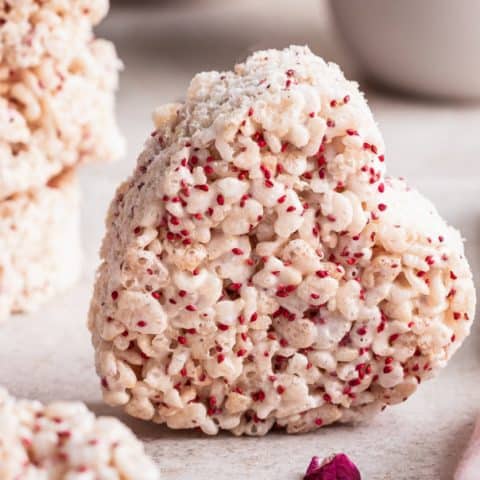 Valentines Rice Krispie Treats
Heart-shaped rice krispies treats are a classic recipe with a twist. These cutouts are sprinkled with red specks throughout making them perfectly decorated for Valentines day, or bridal parties.
Ingredients
4 Tablespoons unsalted butter (plus extra for coating the pan)
10 oz. mini marshmallows
6 cups rice krispies cereal
2 Tablespoons Ocean Spray Cranberry Seeds
Instructions
Melt butter in a large sauce pan over medium low heat.
Meanwhile, prepare a 9" x 11" baking dish by rubbing the bottom with a light coating of butter.
When the butter is melted, add the marshmallows and stir until melted.
Once melted, remove pan and add cereal and cranberry seeds. Combine well so everything is coated and integrated.
Press mixture into the prepared dish, and sprinkle some extra cranberry seeds over the top for decoration.
Let cool completely to set up.
Once cooled, use a heart-shaped cookie cutter to press out Valentines rice krispies treats.