I've been working with the color pink a lot lately so I thought I'd share some cocktail and mocktail drink options here. I think pink may be the most popular color used in party decor because it's appropriate for so many occasions – baby showers, bridal showers, ladies luncheons, little girls birthdays, Valentines day, etc. Serving a color coordinated signature drink for the party is a classic move and here are 3 different pink drink recipes you can try.
I've included two cocktails and one mocktail option. These are super simple and only require 2 ingredients each. How easy is that!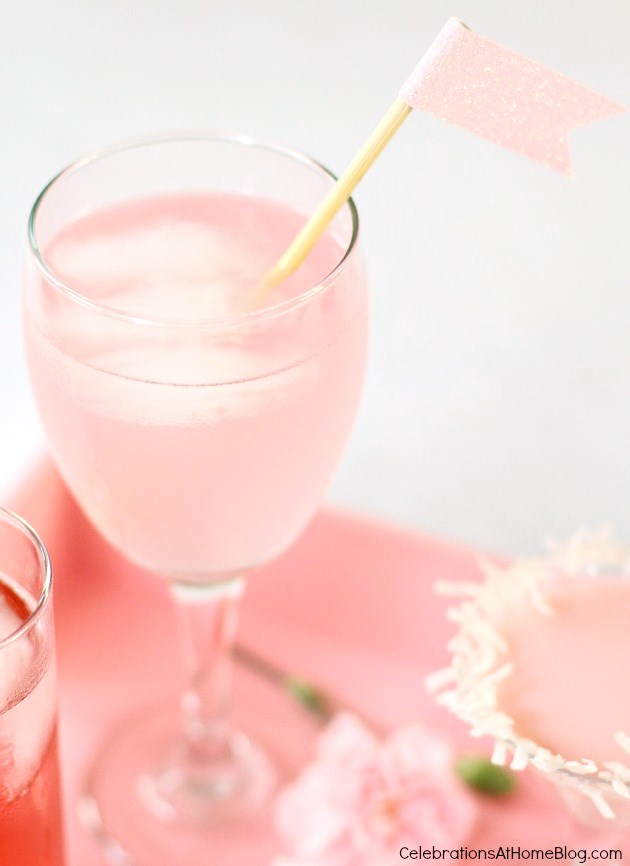 Pink Passion Cocktail

1 part Passion Fruit flavored rum
3 parts Raspberry Lemonade

Combine rum and lemonade over ice, and serve.
Pink Mocktail

6 oz. Ginger ale
1 Tablespoon Grenadine

Fill glass of ice with ginger ale and top off with grenadine. Serve with a straw.
Strawberry-Amaretto & Cream

4 oz. Strawberry flavored milk
1 oz. amaretto liqueur

Combine milk and amaretto over ice and stir.

Strain into a small glass and serve.

Garnish the rim of the glass with flaked coconut if you like.