Want to know what to make for a dinner party for friends? Here's a collection of dinner party menu ideas I've made for years including cocktails, appetizers, main courses, side dishes, and dessert. Whether you're hosting out of town guests or you need ideas for a monthly supper club, this guide gives you complete meals, recipes, and hosting tips to pull it off with ease.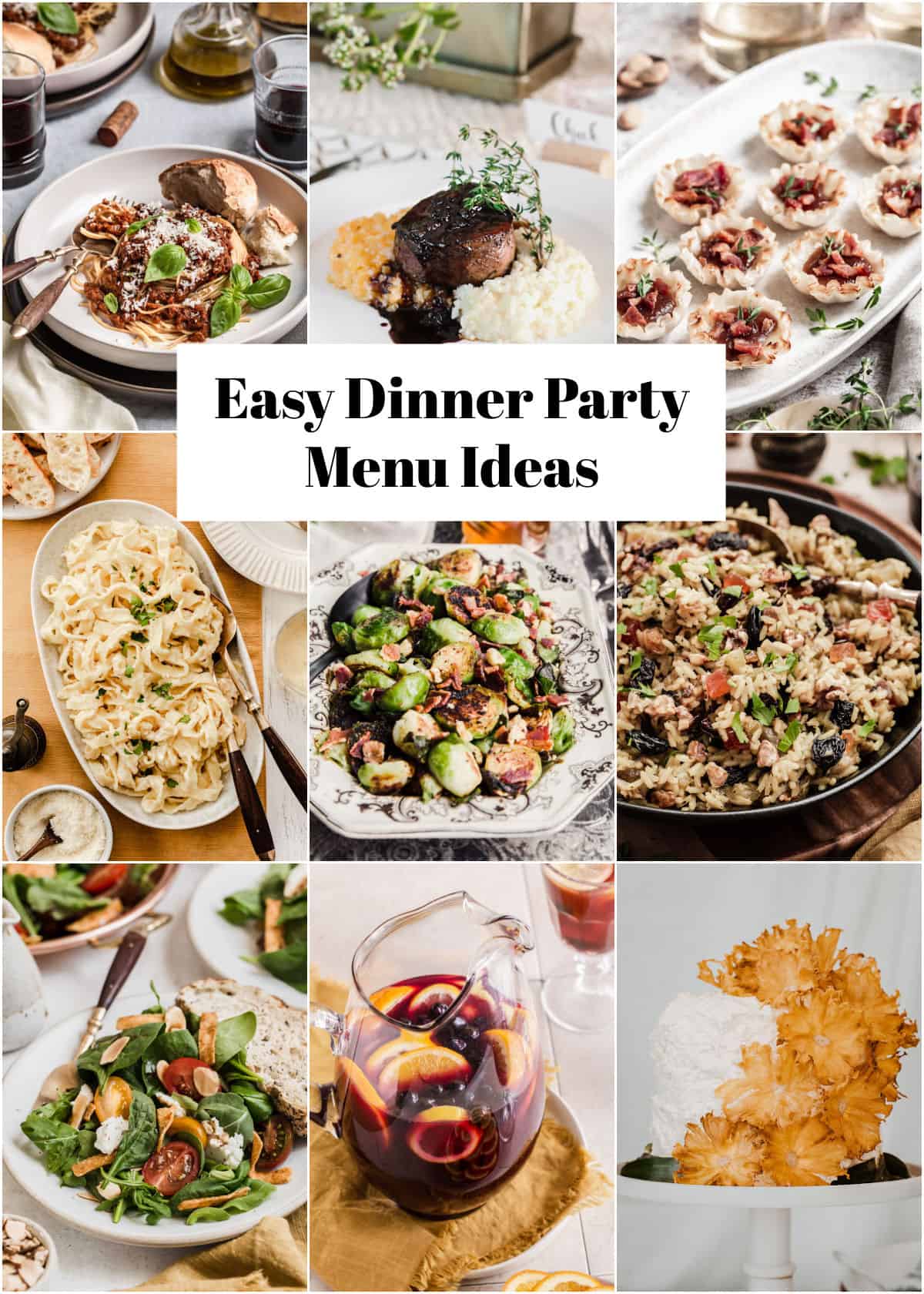 If you're looking for menus for entertaining you've come to the right place. In this guide you'll find menu ideas for 4, 6, or 8 people. And they're great for occasions like birthday celebrations, hosting overnight guests, or hosting a theme dinner party for no reason at all except for the love of gathering with friends.
What Do You Serve at a Dinner Party
When I'm planning a party menu I always follow a formula. I do this when I'm designing dessert tables, I do it for cocktail parties, and for themed dinner parties.
For a sit down dinner I usually include an entrée + starch + 1 or 2 vegetables or salad + dessert. However you can also serve a main dish casserole which incorporates both the entrée and the starch.
Drinks & Appetizers – I love serving a signature cocktail or pitcher drink for a party of 6 or more, but you can keep it simple with a few bottles of wine if you like. As for the appetizer, I love anything bite-size or light dips. You don't want them filling up before the main course!
Entrees – This is the main protein like beef, chicken, pork, or fish. It can also include plant based protein like beans and lentils for vegetarian diets. The general rule of thumb is to have 4 to 8 ounces of meat per guest.
Starch – Remember the classic dinner of steak and potatoes from decades past? Well, we still love the idea of serving a starch to round out our meal. Think couscous, pasta, crusty bread, potatoes, rice, etc. TIP: a bread basket is always acceptable even when served with a starchy dish like pasta.
Vegetables – A serving of vegetables can consist of a salad or a side dish. You can serve both or choose one; whichever rounds out the meal better. Some favorites are roasted carrots, sauteed brussels sprouts, roasted asparagus, green beans, and steamed broccoli.
Dessert – Doesn't everyone look forward to dessert at a dinner party? This is one course where you can go completely indulgent or keep it light and casual. I like to plan my dessert around the main meal. For instance, if the meal is heavy and filling it's probably a good idea to serve a lighter dessert. Likewise, if the main meal is simple and light, a decadent chocolate dessert is a welcome ending. You can choose from cakes, pies, trifles, brownies, or ice cream.
Dinner Party at Home
No matter what the occasion, here are some hostess tips to keep in mind as you're planning.
Expert Tips
Keep your budget in mind. If you don't want to spring for filet mignon for 8 people you can always serve pork tenderloin instead.
Pay attention to timing. There are some recipes that must be made ahead, and there are some that require you to be actively cooking right up until it's time to serve. It's always best to balance the menu according to prep time.
Remember guests dietary needs. This doesn't necessarily mean you have to make an entire vegan meal for one guest. It just means you'll need to plan for an alternative option for that guest to have while the rest of you are chowing on chicken. Other dietary restrictions can apply to food allergies like peanuts or shell fish, conditions like diabetes, or simple vegetarians.
Mix & Match. These party menus are categorized so that you can pick and choose according to the overall experience you want to create, or the amount of time and effort you can dedicate.
Where to start. If you have a tried and true recipe, that's a great place to start. You can always build around it.
1. Make-Ahead Menu for 8
When it comes to a make-ahead dinner, it doesn't get much better than slow cooker recipes you can prepare in advance. Everything from drinks to dessert can be fully made or prepped in advance.
2. Easy Dinner Party Menu for 6
This easy menu takes the labor out of preparation and cooking so you're a relaxed host.
3. Small Dinner Party for 4
These recipes are good to use for a small party because you can make them in smaller amounts.
4. Elegant Menu with Fancy Recipes
This party menu includes items you may not make every day. It's beginner to intermediate level "fancy."
5. Vegetarian Dinner Party Menu Ideas
This menu proves that plant based dinners can be just as flavorful as animal protein dishes.
6. Birthday Dinner Ideas for Adults
When it's time to celebrate a special birthday guy or gal!
If you like this post, PIN, Share, or sign up for our Newsletter at the top of the page. And don't forget to follow CAH on Instagram or Facebook. Cheers!