Best Mexican Pasta Bake (Crowd Pleaser)
This Mexican pasta bake is made with ground beef, picante sauce, and pasta for a delicious easy dinner party casserole. It makes the most of pantry ingredients with classic southwestern flavors, and it's a real crowd pleasing recipe!
Easy Beef Pasta Casserole
I love sharing old recipes that I've been making 'forever.' And this Mexican pasta casserole has been tried and true for over 20 years ago!
This is a great dish to add to your dinner party menu ideas because it makes enough to feed a crowd and everyone loves it. It also combines two of our favorite flavors: Mexican taco and Italian pasta.
You can serve it for Cinco de Mayo or weekend gatherings, but I like to make it when I have overnight guests to feed. The pantry staples used in this recipe make it super simple to prepare ahead and bake it when you're ready.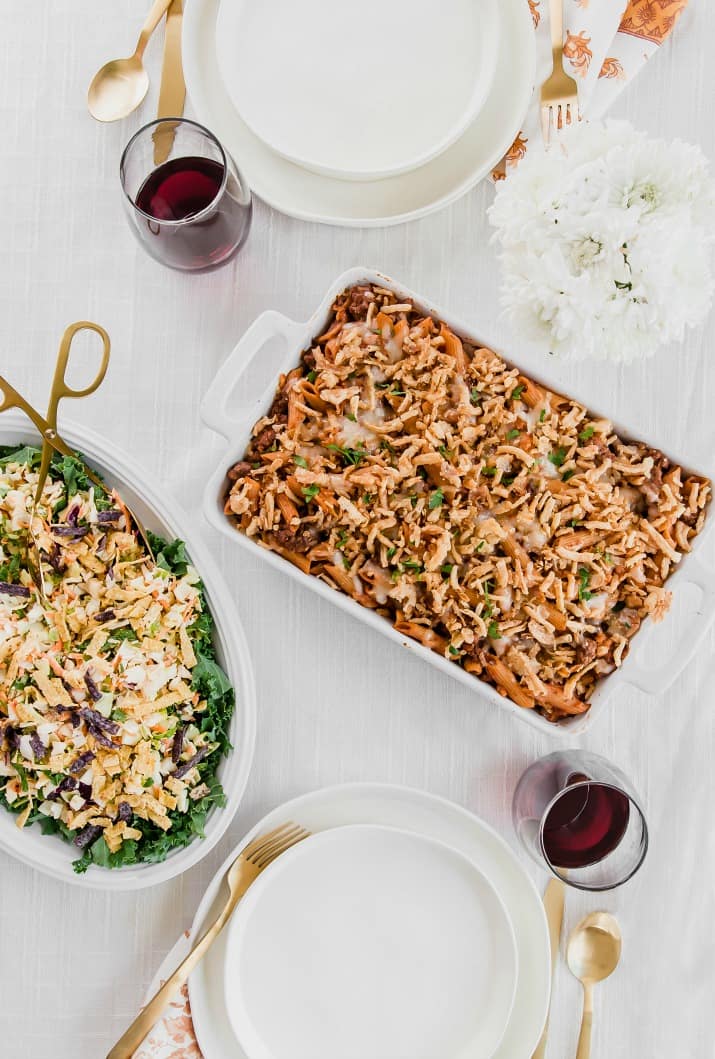 When to Serve It
This is a terrific dish to make during the holidays when you have company and family staying over. It's fantastic for weeknight dinner too. Plus, it's ideal as a make-ahead main dish for a potluck party.
Easy Pantry Meal
Between the refrigerator and the pantry you may just have everything you need to make this for dinner.
Ground beef. You can also use ground turkey, chicken, or sausage if you want to.
Cheese. You can change this up however you like. I typically use Monterey Jack or sharp cheddar, but you can also substitute with Pepper Jack for a spicier flavor.
Onion. If you don't have one on hand you can add more of the fried onions into the mixture before baking.
Pasta. We use penne but any small pasta will work. Try elbows, spirals, or shells.
Picante sauce. This gives you that yummy southwestern flavor.
Tomato sauce. Tomato sauce is a pantry staple we always have on hand.
French's fried onions. Use a large can for plenty of that tasty crunchy goodness. You'll mix some in and save some for the topping.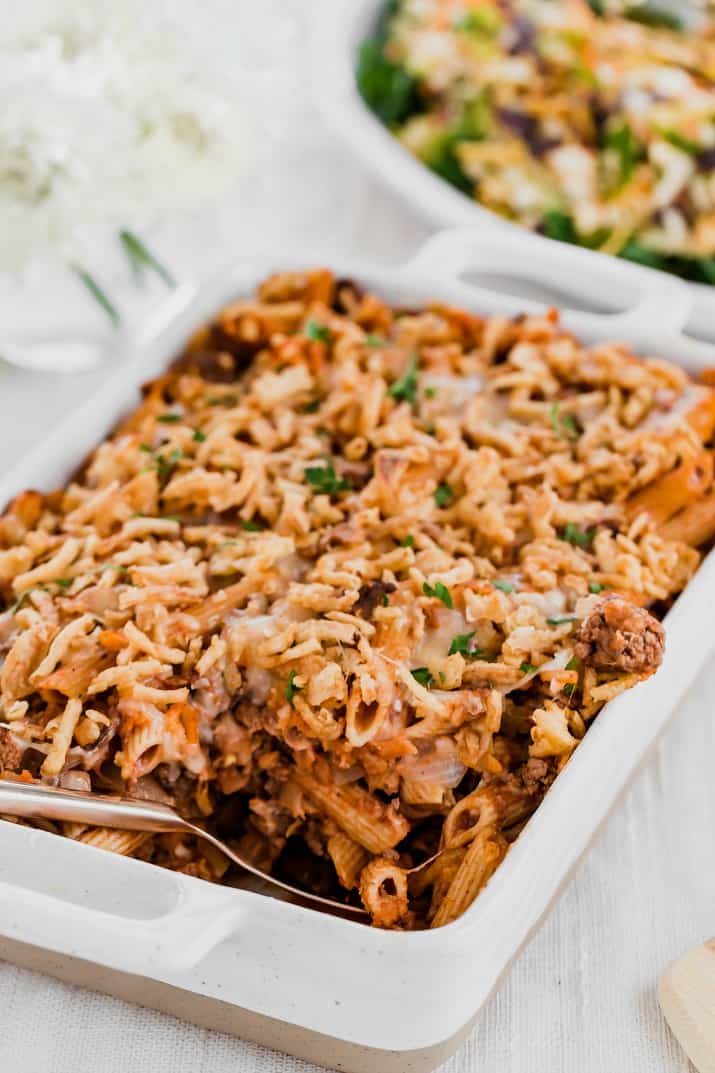 How to Make Mexican Pasta Bake
You can prepare the casserole ahead of time, but don't bake it. Cover and refrigerate until you're ready to cook. Take it out of the fridge and place it in a cold oven. You don't want to shock the glass or ceramic dish by going from cold to hot. Turn the oven on and bake as directed, adding about 5 minutes for the preheating time.
Cook pasta in a large sauce pan until it is al dente. Drain it and set aside.
While the pasta is cooking, use a large skillet and cook the ground beef and onion together until the meat is no longer pink. Make sure you drain any excess fat that is rendered and pat dry with a paper towel if you want.
Grab a large mixing bowl and combine the pasta, meat mixture, the sauces, and 1/2 cup of water until well combined.
Once those are combined, add the cheese and fried onions and mix those in. Pour everything into a 4-quart glass or ceramic baking dish.
Cover the casserole with aluminum foil and bake for 30 minutes.
Remove the cover and top the pasta bake with remaining cheese and onions and cook for 5 more minutes so the cheese can melt and the fried onions will get golden and crisp.
Can I freeze it?
Yes, this is a fantastic meal to freeze for the future. The easiest way to freeze casserole is to line the baking dish with foil before you add the combined ingredients.
Then freeze it (don't bake it first) in the dish just until it's all firm. Then remove the casserole from the freezer and lift it out of the dish. Wrap it tightly with more aluminum foil and plastic wrap, and put it back into the freezer until ready to bake. This way you can still have your baking dish available, and you can unwrap the casserole and easily pop it back into the dish when ready. It will look much nicer on the table than serving a meal from a disposable baking pan.
When you're ready to bake, heat the oven to 350 degrees and cover the pasta bake loosely with the foil. Cook for about an hour or until heated through.
Best Casserole for Entertaining
The story behind this dish is that it was served by one of my oldest girl friends when we were all young and single. It was one of the first dinner parties we went to as "grown ups" and I'll never forget it. I love that food and dinner parties can create memories like that!
I think you're going to love this Mexican pasta bake as much as we do. It's a fantastic blend of southwestern flavor with the comfort of pasta, and it's easy to make.
More Dinner Party Casserole Recipes
Here are some more dinner casserole recipes to make.
If you like this post, PIN, Share, or sign up for our Newsletter at the top of the page. And don't forget to follow CAH on Instagram or Facebook. Cheers!
Mexican Pasta Bake recipe
This easy Mexican pasta bake casserole makes the most of pantry ingredients by combining two classic flavors - Italian and Mexican. A delicious one dish dinner recipe.
Ingredients
2 pounds ground beef
1 small onion, chopped
2 teaspoons salt
1 can (16-ounce) Tomato Sauce
1 jar (15-ounce) Picante Sauce
1/2 cup water
2 cups shredded Monterey Jack cheese
Large can French's Fried Onions
16-ounce box Penne Pasta
Instructions
Preheat oven to 350 degrees.
Crumble and cook the ground beef, chopped onion and salt together in a large skillet over medium-low heat, until meat is no longer pink. Drain excess fat if necessary.
Meanwhile, cook pasta al dente according to package directions. Drain but do not rinse when done.
In a large mixing bowl, combine beef mixture with the tomato sauce, picante sauce, and 1/2 cup of water.
Add pasta, 1/2 of the fried onions, and 3/4 of the cheese; mix well.
Pour into a large baking dish and cover with aluminum foil. Bake for 30 minutes.
Remove foil and top with remaining cheese and fried onions and cook for another 3 – 5 minutes or until melting & browning occurs.
Serve with a salad and enjoy!