Thanksgiving Punch Cocktails
Quick and easy Thanksgiving punch with apple cider, ginger beer, and bourbon serves a crowd for the fall holiday.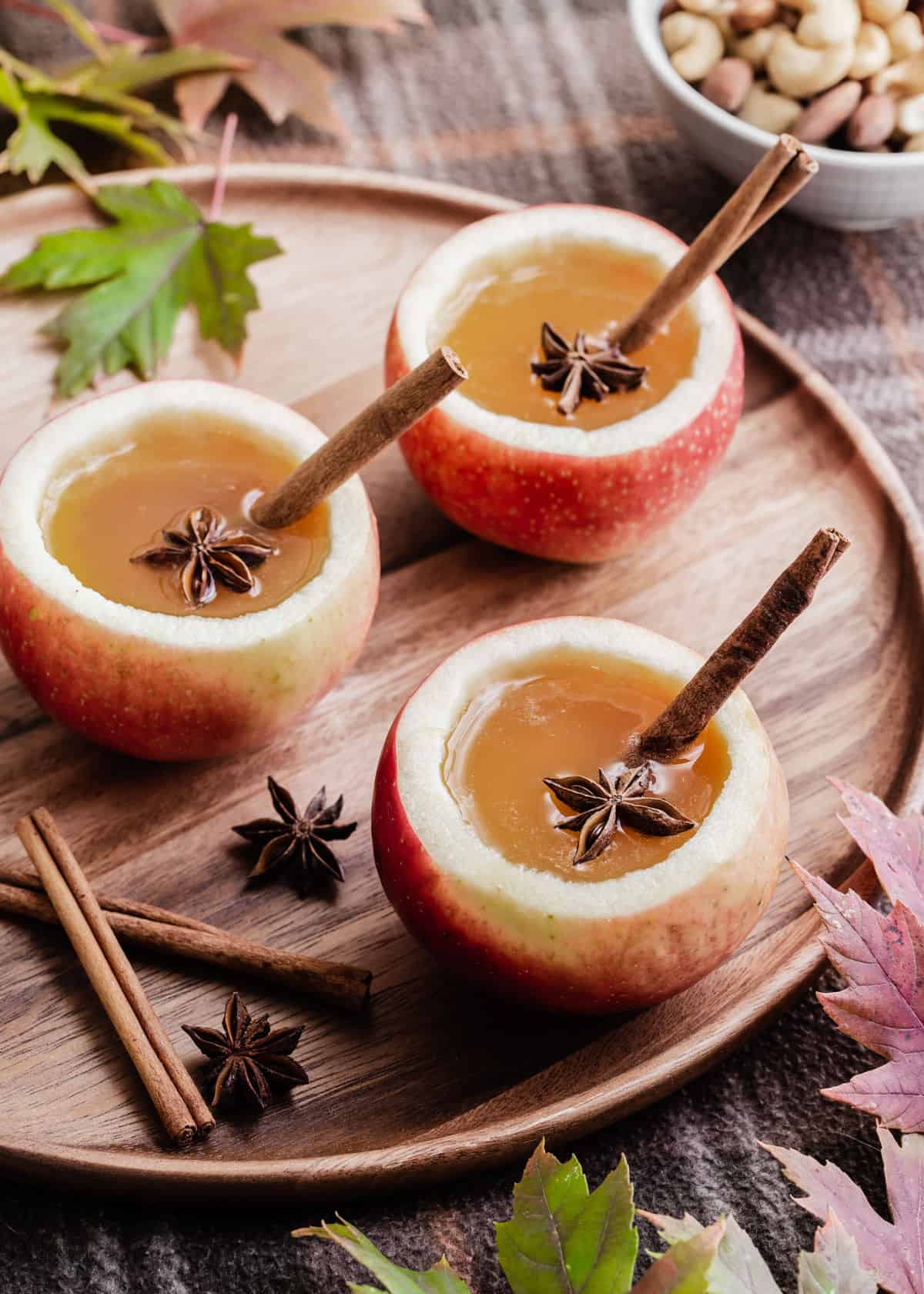 Welcome your adult guests with this yummy batch cocktail. The recipe is so simple so it makes entertaining easy when you host Thanksgiving.
It's got the flavors you want in fall cocktails including apple cider and spicy ginger. The addition of bourbon makes it festive and fun for grown ups!
It's on the sweeter side since it uses bourbon, but the addition of lemon juice helps balance that.
Why You'll Love It
This punch recipe is versatile as you'll see below, and you can serve it for a Thanksgiving party or a Friendsgiving dinner party.
It serves a crowd but you can double the recipe for an even larger gathering.
Make a non-alcoholic version with bourbon on the side to pour in.
It's quick and easy to make. No cooking involved.
This recipe has just 4 simple ingredients.
Ingredients
The overall taste of this drink is sweet with a citrusy note. I don't typically go for sweeter cocktails but this one gets a refreshing boost from ginger beer and lemon which balances it out for me.
Apple Cider. Make sure you use real apple cider, not apple juice.
Ginger Beer. I like the addition of ginger beer because it kicks up the spicy ginger flavor. It's a non-alcoholic carbonated beverage you can find in the soda aisle or the mixers section.
Bourbon. Bourbon is a southern tradition as far as liquor goes. It's rich and sweet and is really nice for holiday cocktails. Use your favorite brand. We typically use Jim Beam for a mid-range bottle, or Knob Creek for an elevated drink.
Fresh lemon juice. With the sweetness of the cider and bourbon, the lemon juices helps to balance that and add a citrus note. Fresh squeezed is always preferred. You'll need 3 or 4 lemons depending on the size.
Variations
Customize this recipe to your alcohol preference.
Use dark rum if you prefer it over bourbon.
Spiced Rum will add even more seasonal spice.
Add Fireball to give this drink a cinnamon flavor boost.
Use rye whiskey for a more earthy flavor.
Sparkling wine (dry or brut) will make this more festive!
Add ¼ cup cinnamon schnapps.
Omit the ginger beer and add ginger liqueur instead, about ¼ cup.
Pour in orange juice instead of lemon for a twist.
Can You Make It Ahead?
Since this pitcher drink has a carbonated ingredient, you want to wait to add that just before serving.
Get a head start on the day by refrigerating everything overnight, and having your punch bowl or pitcher clean and ready.
You can mix the apple cider, alcohol and lemon juice together early and chill again. Then when you're ready to serve, pour in the ginger beer.
Serving Suggestions
Set up a beverage station where guests can help themselves.
Serve from a drink dispenser, a pitcher, a punch bowl, or ceramic tureen.
Make an ice ring using apple juice and lemon slices. Pour into a bundt pan and freeze overnight or the weekend before.
Pour into large apple cups, mason jars, or copper mule cups for drinking.
How to Make Apple Cups
Use large firm apples like Honeycrisp or Autumn Glory apples. Cut about 1/2 inch off the top and remove the inside using a melon-baller.
Leave a border at least ¼ to ½-inch thick all the way around. If you need to balance the apples to sit straight, cut a thin slice off the bottom to create a flat base.
PARTY TIP: Dip the top rim in lemon juice to keep it from browning.
Garnishes:
Sliced apples, lemon or orange slices floating in the punch
Cinnamon sticks
Star Anise
Fresh or frozen whole cranberries
More Thanksgiving Batch Cocktails
If you like this post, PIN, Share, or sign up for our Newsletter at the top of the page. And don't forget to follow CAH on Instagram or Facebook. Cheers!
Thanksgiving Punch Cocktail Recipe
Welcome adult guests with a Thanksgiving cocktail punch with bourbon, apple cider, and ginger beer. It's a delicious drink for holidays and appetizers.
Ingredients
6 cups Apple Cider, chilled
6 cups Ginger Beer, chilled
1 cup Bourbon, chilled
⅓ cup fresh-squeezed lemon juice
Instructions
Add apple cider, bourbon and lemon juice to a pitcher or punch bowl, and combine.
When ready to serve, add the ginger beer.
Notes
Substitute the bourbon for Dark Rum or Fireball if you want.