Easter Table Setting Ideas with Pink and Green
Are you looking for simple Easter table decoration and centerpiece ideas? You'll find them here in this elegant pink and green Easter tablescape that's perfect for brunch or dinner. These easy ideas will transform your table setting into a beautiful holiday celebration. And you'll find even more tips in our Easter entertaining guide.
Pastel Easter Table Setting
I love setting the Easter table for holiday celebrations at home. It's the first glimpse of spring, with light pastel colors and pretty hues. I just know you'll gather plenty of inspiration from this year's Easter table setting.
I decided on pink and green for the color theme. It's a classic combination as it represents the greenery in nature as well as the pink in flowers.
Putting the Easter table décor together is simple. Just work in layers and let the beauty unfold! And what's great about this table is that it's perfect for an Easter dinner as well as brunch.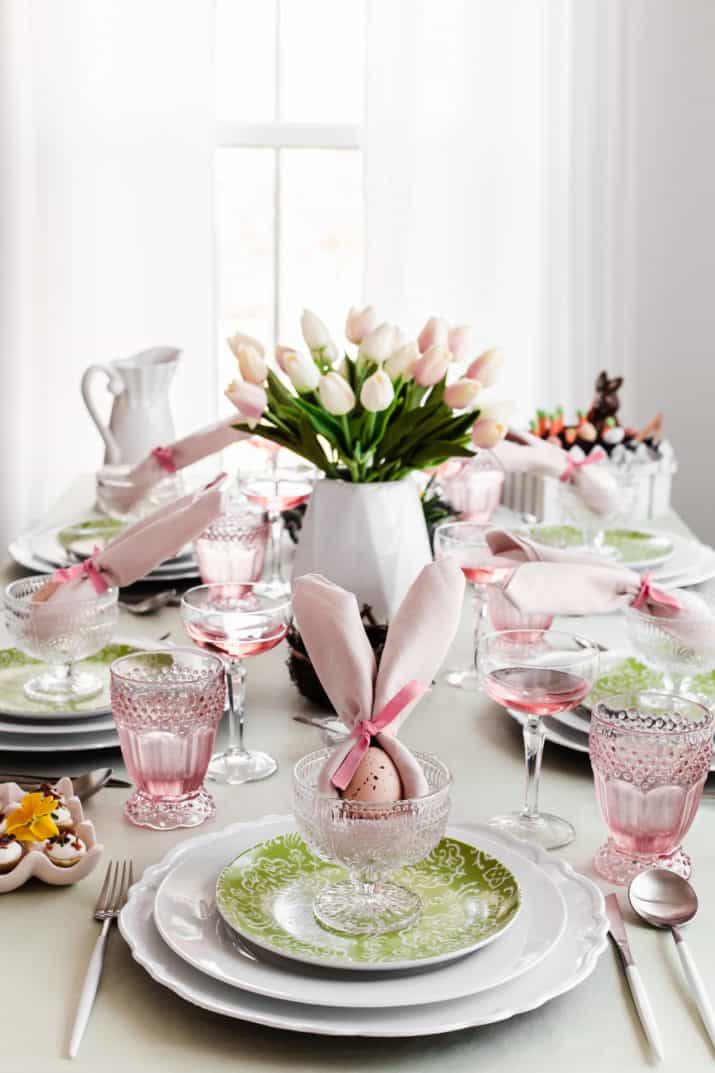 Pink and Green Easter Tablescape
Set a pastel Easter table with pink and green table décor. This table setting works for brunch or dinner!
It's easy to bring in the colors when you start with a tinted tablecloth. From there you can add complimentary colors with plate and dishes, and colorful glasses.
The flowers you choose can also bring in the hues you're using. Tulips come in a variety of colors and they just scream "SPRING!"
Roses are another great flower that comes in a range of colors. And there are many white flowers you can use as neutrals.
Easy Centerpiece
If you want Easter table ideas that are simple to create at home, then you have to start with the centerpiece. Keep it sleek and streamlined with these 3 items.
Flowers – Save time, money, and styling by placing a bunch of tulips in a white vase. Tulips are great because they spread out and hang nicely in a vase. There's no fussing with 'arranging' them, and they seem to add more mass with less flowers.
Birds nests – Add a few rustic style birds nests on either side of the flowers. You may already have some as part of your Christmas decorations! They add a lovely nod to the season and take no skill to place on the table! 😉
Easter eggs – Can you even call it an Easter table without eggs? Add them – real or fake – to the table, in birds nests, in bowls, and on place settings.
PARTY TIP: Tulips continue to grow after they've been cut and placed in water. Make sure to trim them every few days or they will get too "leggy."
Simple place settings
Begin setting your Easter tablescape with classic white dinner plates and build out from there. Layering is the key to a beautiful and interesting place setting.
Chargers – Use white chargers to frame the white plates.
Salad plate – Add green salad plates or dessert plates on top.
Dessert dish – Place a compote dish for dessert, on top of the plates.
Napkins – Fold pink napkins into bunny ears for Easter. Add a faux or real Easter egg to the center and write names on it if you like.
Silverware – Modern utensils with white handles look much prettier than traditional styles, and coordinates with all the white on the table.
Glassware – Pink water glasses help add color to the table. Use vintage sets or buy online. Fill modern coupes with sparkling Rosé to further emphasize the theme. If you're serving kids, serve pink lemonade. Or you could serve this champagne and Midori drink recipe for a green cocktail.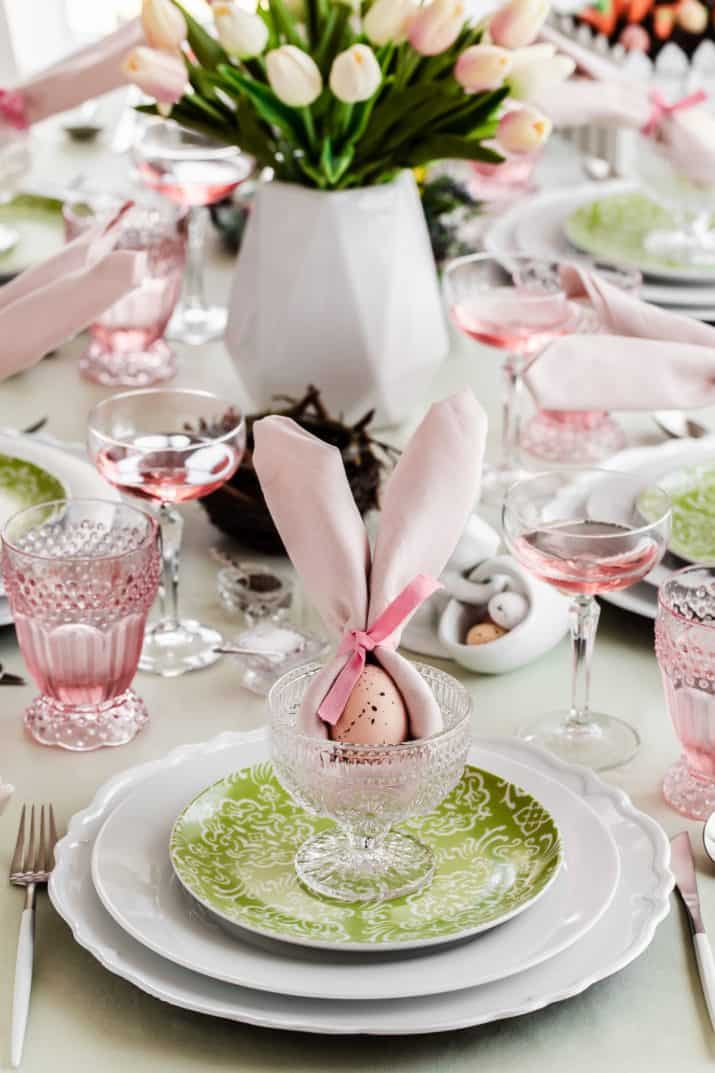 Bunny Ear Napkin Folds
You can add so much personality to a tablescape just by adding one unique feature. Here, I folded the napkins into Easter bunny ear folds.
Without the bunny ears this table would translate well for any Spring ladies luncheon. The napkin folds make it specific to Easter.
Incorporate Food
You may be serving the main meal buffet style or plated, but you can still add a few food items to the table where it makes sense.
Easter Table decoration ideas
For more Easter table setting ideas, check out these themes from past years.
Are you ready to create your own Easter table setting? Let me know what you think in the comments below.
If you like this post, PIN, Share, or sign up for our Newsletter at the top of the page. And don't forget to follow CAH on Instagram or Facebook. Cheers!