Blue Cocktail for Parties (3 Ingredients)
Celebrate summer with this 3-ingredient blue cocktail that's perfect for 4th of July, Memorial day, Labor day, and more. It has blue curacao and coconut rum so it's great for tropical or nautical themes too.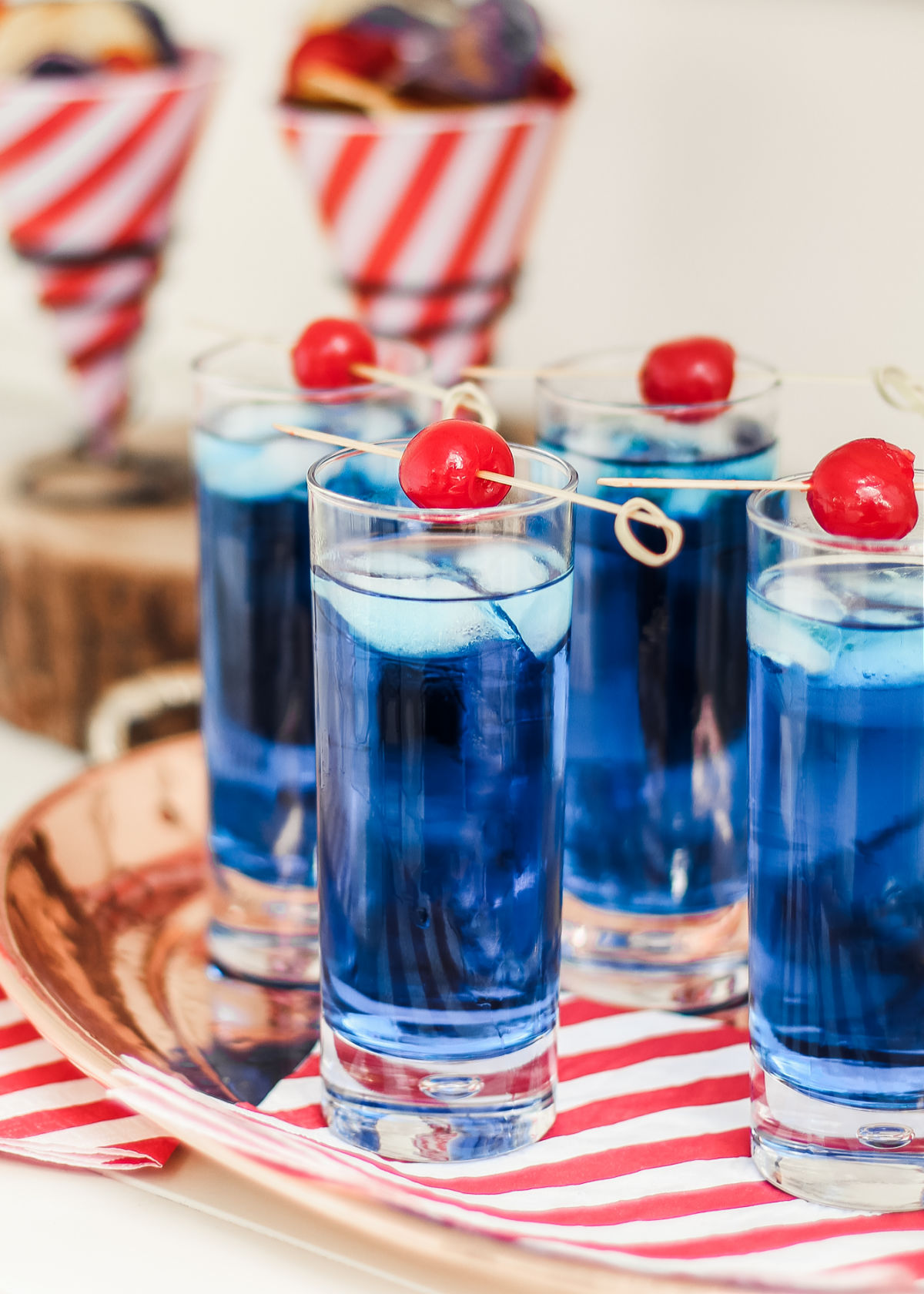 This drink gets it's color from blue curacao liqueur. It's easy to make and the flavor tastes a bit like vanilla. Garnish with a bright red maraschino cherry to makes it just right for summer holidays.
Summer Signature Drink
What's a theme party without a signature cocktail? It's one of my favorite ways to carry out the colors or flavors of a party.
Want to Name Your Drink?
If you're serving this for a theme party, give it a theme name, especially if you're going to add a sign, a menu, or food markers. Here are some fun ideas.
Blue Whale or Blue Dolphin for a beach party theme.
Blue Wave for a coastal theme or a political party theme.
Sea Breeze or Ocean Breeze for a tropical party.
Blue Hawaiian for a luau.
Blue Lagoon for a tropical theme.
Rain Water for a western theme or garden theme.
Blue Sky or Blue Angel for a flying or travel theme.
"Royal" blue cocktail for an English royalty, king or queen party.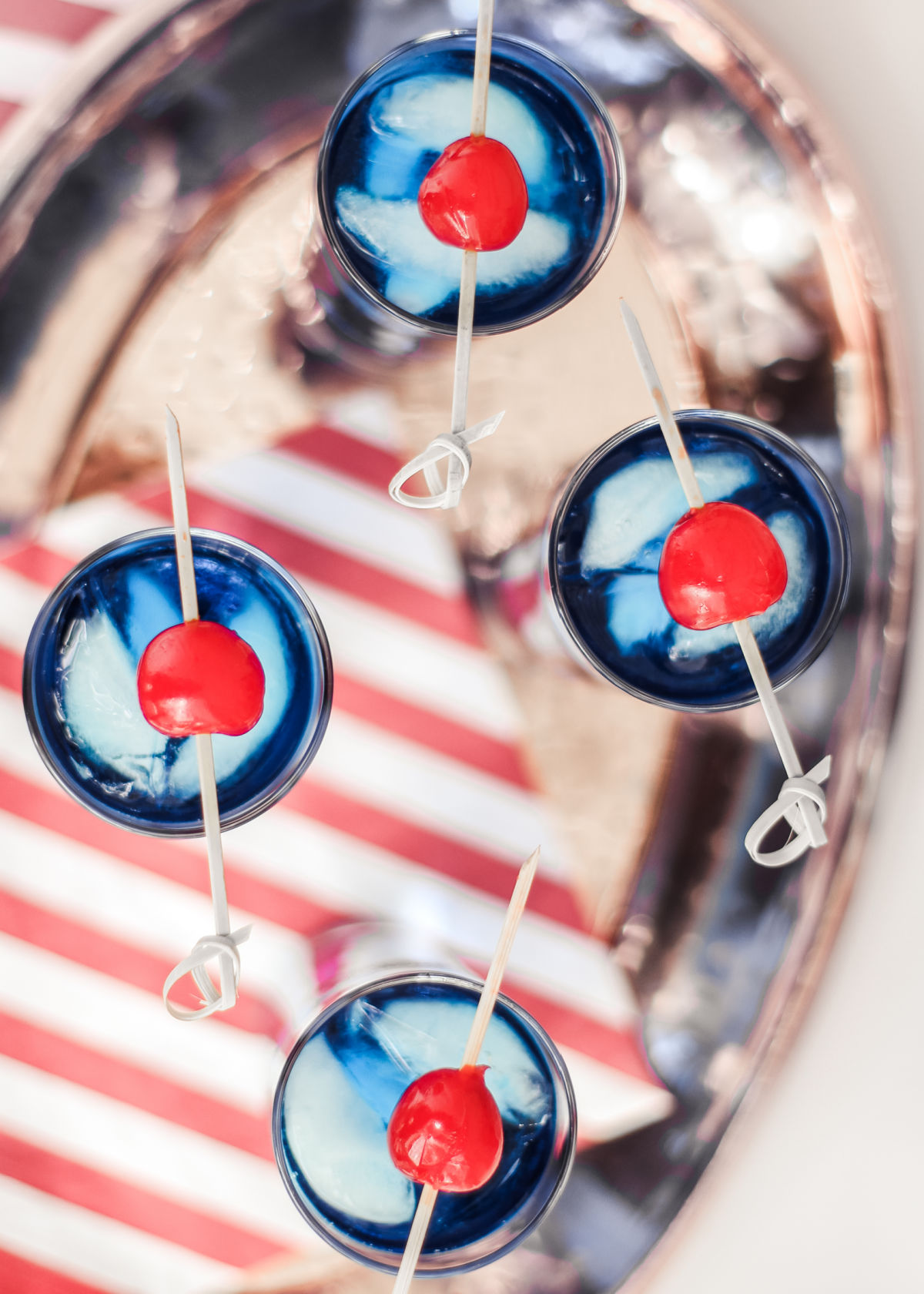 PARTY TIP: You can adjust the intensify of the blue color by adding more rum or ginger ale. And if you want it even bluer you can always add a drop of food coloring.
3 Ingredients
This recipe is quick and easy to make with just three simple ingredients.
Blue Curacao liqueur
Malibu Coconut Rum
Ginger Ale
Everything is mixed together over ice and garnished with a cherry if desired. The orange liqueur and coconut liqueur combine well together, while the ginger ale adds effervescence and cuts the alcohol without being too sweet.
You can pour it into shot glasses for a quick shooter too. You may want to omit the ginger ale because the bubbles might be hard to drink quickly.
What is Blue Curacao
Blue Curacao liqueur is made from the citrus peel of a fruit grown on the island of Curacao. It's an easy substitute for Triple Sec in recipes when you want to add the blue tint to your drinks. It's pronounced ku-ra-sow.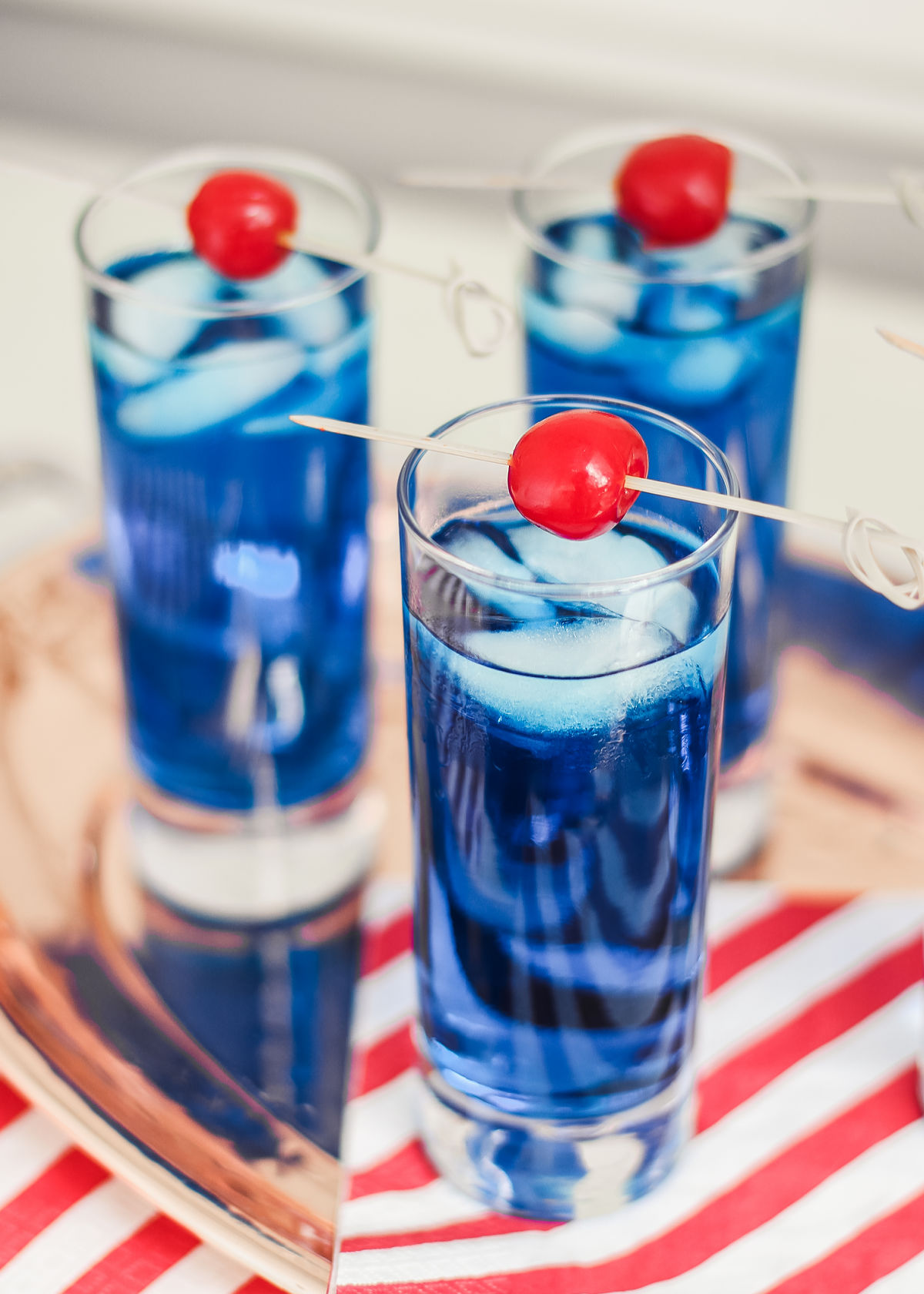 What to Serve it With
When it comes to party food, I think you always need something savory to pair with cocktails. Especially if this is prepared for a happy hour gathering, or pre-dinner. Here are some tasty appetizers that would go great with this recipe.
More Summer Cocktails
If you like this post, PIN, Share, or sign up for our Newsletter at the top of the page. And don't forget to follow CAH on Instagram or Facebook. Cheers!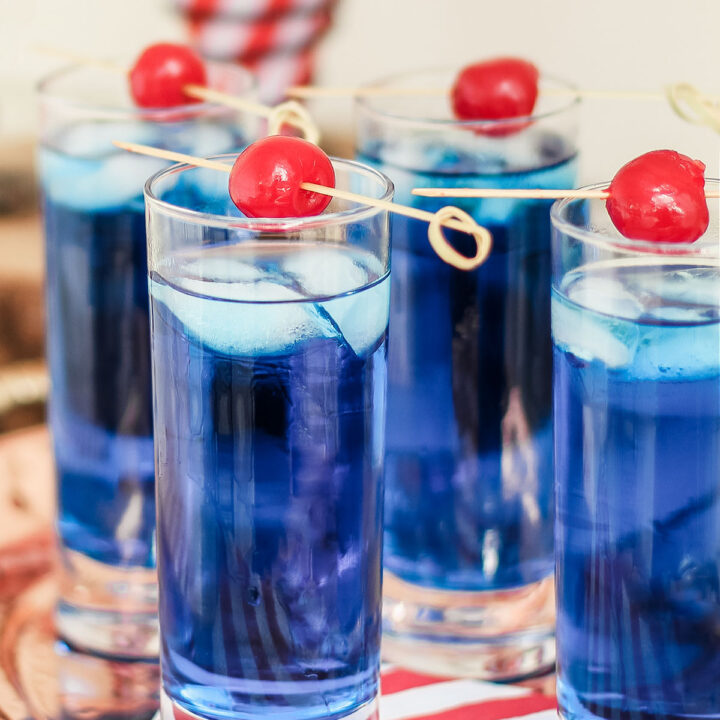 Blue Cocktail Recipe
Festive blue cocktail for summer or nautical theme party. The color is perfect for Memorial day or 4th of July signature cocktail, and coconut rum makes it great for a tropical theme. Make this your summer party drink!
Ingredients
2 ounces blue curacao
1/2 ounce coconut rum
3 ounces ginger ale
Instructions
Combine ingredients and serve over ice.
Garnish with maraschino cherry or sliced star fruit.