4th of July Tablescape to WOW Your Party Guests
Set a 4th of July tablescape with simple red, white, and blue table decorations and centerpiece. If you're hosting a patriotic celebration, get ready to be inspired with easy table setting ideas for a 4th of July party at home.
4th of July tablescape ideas
The July 4th holiday is a great time to host a summer party outside. And whether it's small or large, with family or friends, you can make it festive and fun!
This is how you create a table setting that's simple but more elegant than using traditional decorations from the party supply store. These ideas are easy to pull together even if you don't have much time.
For this 4th of July tablescape we used everyday items perfect for a red, white & blue party. All you have to do is use color and pattern in a focused way, and resist the urge to buy themed holiday-specific pieces that will sit in storage for another year (or be thrown away after the party).
These tablescape ideas would be beautiful for any backyard cookout or July themed dinner party. Just follow our step by step budget-savvy decorating tips that can be applied to any holiday.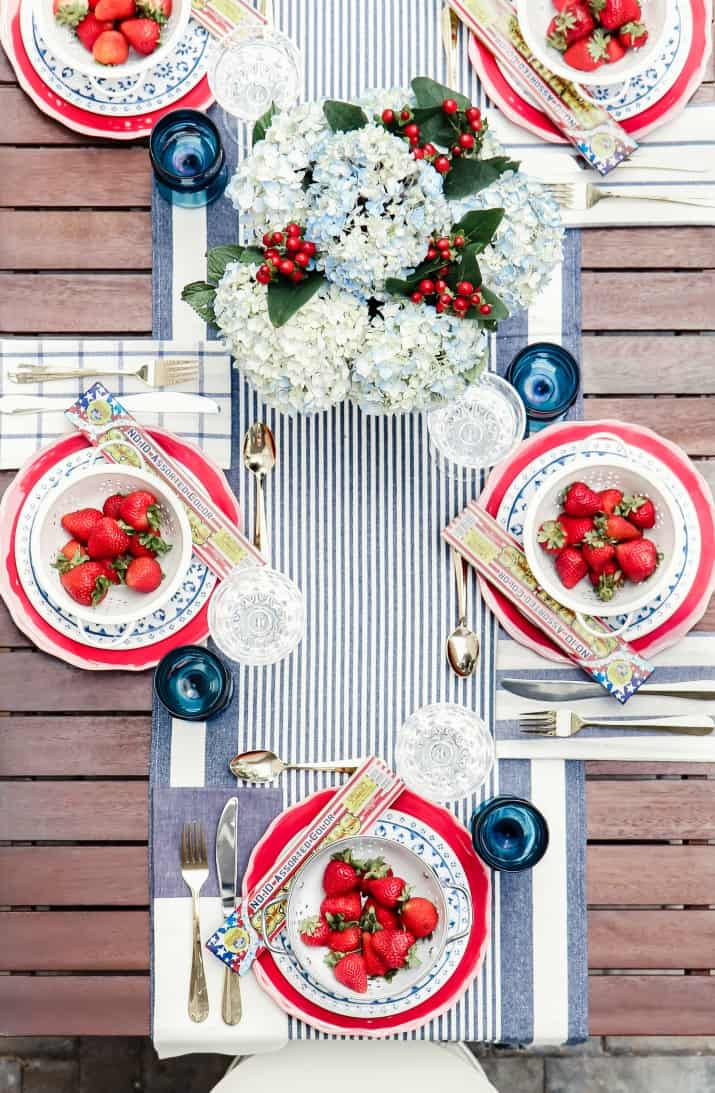 Festive table runner or tablecloth
Setting the table starts with laying a foundation. You can use a tablecloth, a table runner, or even place mats. Any of these textiles add softness to the table as well as decoration. Even if you apply a plain solid colored tablecloth in blue, red, or white it provides a canvas in which you build the rest of the table setting.
A blue and white striped table runner like this or this is a great choice as it echos the design of the American flag.
4th of July centerpiece
Creating a tablescape centerpiece doesn't have to be difficult or expensive. Especially for an outdoor party. Blue hydrangeas are one of my favorite flowers to use in summer tablescapes. The color is perfect for the Fourth of July and you get a lot of bang for your buck with them. Put them in a white vase and add some red hypericum berries to complete the holiday color scheme.
Red, white, and blue place settings
There are four main components that go into a complete place setting: dishes, drink ware, utensils, and napkins. Here's how you can put them together with style for a July 4th themed tablescape.
This is where you start to get really smart with your table setting decor. The secret to an elegant 4th of July tablescape is to use color-coordinated everyday dishes instead of disposable holiday themed dishes. That way you can use them year after year, plus you can use them for multiple occasions and themes throughout the year.
This is especially true with these red melamine plates. They're non-breakable making them great for outdoors. And you can use them again for kids parties, for Christmas, Valentine's day, Memorial day and Labor day, etc. Layer them with smaller blue and white plates – also melamine – and you have the perfect color scheme for a patriotic party without looking kitschy.
Alternate color layers to make a table setting go further. For example, layer the blue salad plates on top of white dinner plates for half of the guests, and red salad plates on white dinner plates for the other half of guests. See how that works on this Thanksgiving tablescape.
Colorful cups & glassware 
The same concept applies to drink ware. Use a combination of melamine or plastic glasses and colorful vintage glasses. The blue vintage glasses we used here are sturdy enough that we don't worry too much about breakage. However you can certainly find blue or red plastic glasses that look just a good on the table.
Flatware
To finish out the place settings you can stock up on silverware for $1 a piece at the dollar store or big box stores like Walmart. Again, you can use these over and over, and there's no waist to go into landfills. I can guarantee your party guests will appreciate the sturdy flatware over disposable plastic, any day! And if you're a frequent host then you will use these over and over and they will end up paying for themselves.
Napkins
Napkins can add another layer of fabric, softness, color, and design to a table. I love using these Ikea tea towels at each place setting. They're blue and white so they fit our color theme, and they're only $1 each. That's super affordable and chic. Plus they're larger than traditional napkins making them smart too! You can find a similar version with a red stripe here, and they're even cheaper. Again, think of this as a long term investment if you frequently entertain at home. If you don't want to use cloth napkins, I recommend using the higher quality paper dinner napkins instead of those paper square ones. They look nicer and are sturdier.
Add something unexpected
Now that the table is set with the basics it's time to add something unique or unexpected. It doesn't have to be over the top; just some detail that takes your tablescape up a notch.
In this case we've added small white colanders filled with strawberries. The berries add fresh summer vibes and may give visual cues at what's for dessert, like a red, white & blue trifle or strawberry angel food dessert. Guests can also nibble on them as a snack.
These biodegradable berry baskets would also work well in place of the colanders.
Table party favors
Give your guests a fun party favor to take home, or to use during the celebration. A 4th of July dinner party calls for a box of sparklers to be placed at each guests place setting. Once the sun goes down you can light them up for a festive light show. You can do a local search to find out where to buy these as each state has different laws regarding them.
In addition to the sparklers, guests can take home the mini colander too. They are useful and decorative for the long term.
More outdoor tablescape ideas
Setting a 4th of July tablescape is easy to do with these tips and decorations. Here are some other inspirational table settings and summer party ideas.