Hamptons Entertaining by Annie Falk
I was recently sent a copy of Hamptons Entertaining by Annie Falk to review, and share a peak inside with you guys. No matter how much web searching I do, nothing can quite compare to a good ole fashioned book that I can hold in my lap, turn the pages, write down notes in the margins, etc. So I'm always excited to look through books on entertaining.
This book takes you inside life in the Hamptons, which I've never been to but get a taste of via my Real Housewives of New York 😉  Annie shares more than 15 parties complete with recipes, from A Preppy Picnic, to Lobster & Libations by the Sea, to a 4th of July Celebration.
Here's a sneak peek of the 4th of July party from her book, plus sharing her recipe for Watermelon Gazpacho. For more ideas checkout our festive and chic 4th of July tablescape.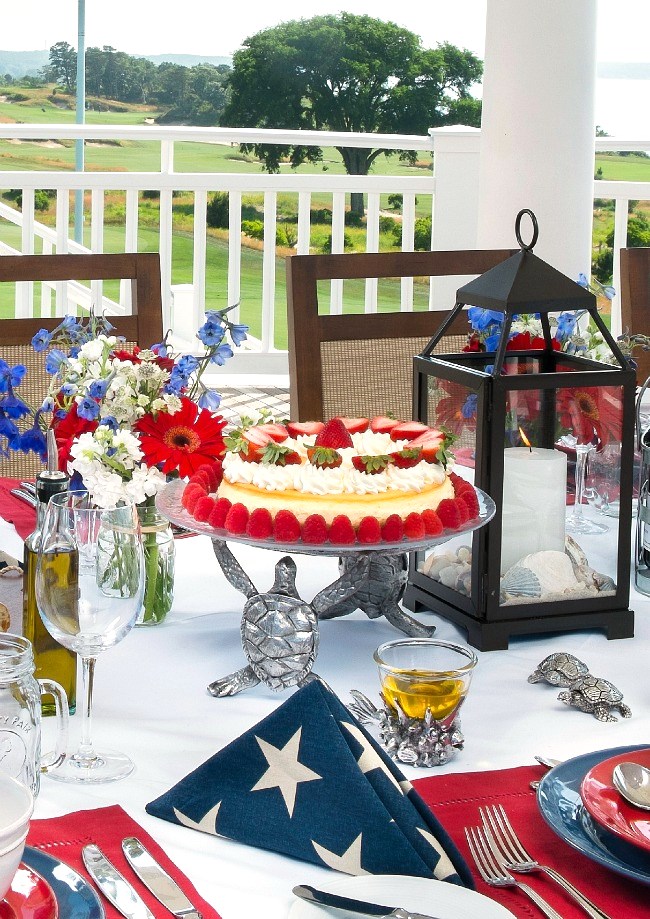 This beautiful tablescape captures the holiday beautifully and works equally well for Memorial Day. The casual flowers down the center of the table along with lanterns and accessories that echo the coastal vibe are easy to recreate. Red and white place settings can be achieved with earthenware, melamine, or even paper. I love the look of the napkins which mimics the look of our flag so well.
I also enjoy matching the food to the party design when possible. The dessert makes a fabulous centerpiece to the table, and the watermelon gazpacho is a festive starter. The rest of the menu for this party consists of Heirloom tomato & mozzarella salad, Gemelli a la Creole, steamed lobsters, Jo's carrot cake with cream cheese frosting, and the Pascuccis' classic cheesecake. There are also wine paring suggestions for the perfect meal.
If you're inspired by beautiful tablescapes and elegant menus then you'll love this book. I like the full menus provided for each party, but I also love that I can mix and match as desired. There's also a "bonus" section filled with tasty cocktail recipes.
Now here's the watermelon gazpacho recipe:
Watermelon Gazpacho

1 seedless watermelon (3 1/2 pounds)
4 English (seedless) cucumbers, peeled and roughly chopped (about 8 cups)
1/2 bunch cilantro
2 teaspoons Tobasco sauce
2 red bell peppers, diced
3 cups roughly chopped tomatoes
2 Tablespoons raspberry vinegar
1 teaspoon sea salt
1/4 teaspoon ground black pepper

Combine the watermelon, cucumbers, cilantro, Tobasco, bell peppers, tomatoes, vinegar, salt and pepper in a large bowl. Working n batches,  puree three-quarters of the mixture in a blender and pulse the the remaining one-quarter until well combined, but slightly chunky.

Transfer the gazpacho to a large bowl and cover. Refrigerate until is is cold, at least 1 hour and up to 4 hours..

Ladle into bowls when ready to serve. Garnish with chopped herbs.