Cherry Almond Cream Cocktail
This delicious Cherry Almond Cream cocktail tastes amazing! It's slightly sweet with a wonderful taste combination of cherries and almonds. Serve it for brunch entertaining, cocktail hour, or as an after dinner drink.
Cherry Almond Cream cocktail for entertaining
What better way to welcome the weekend than with a tasty cocktail? And this combination of ingredients is so well balanced. It's not too sweet and the creaminess from the half-and-half makes this a yummy starter cocktail or a great after dinner drink. It's like milk for grownups, similar to this winter white cocktail!
In my early twenties I used to love these types of milky drinks. They just seemed so "adult" and indulgent. Although my taste has evolved, I still love a good creamy cocktail once in a while. This would be so nice to sip by the fire during the long cold winter months.
For this cherry almond cocktail you could substitute regular milk if you don't have half-and-half. Either way I'm sure you'll love it.
If your hosting a white party like P-Diddy, then this drink should be on your menu. This is also a good option for a brunch cocktail. Serve it with this winter brunch plaid tablescape & menu. Or with the ultimate bagel bar brunch!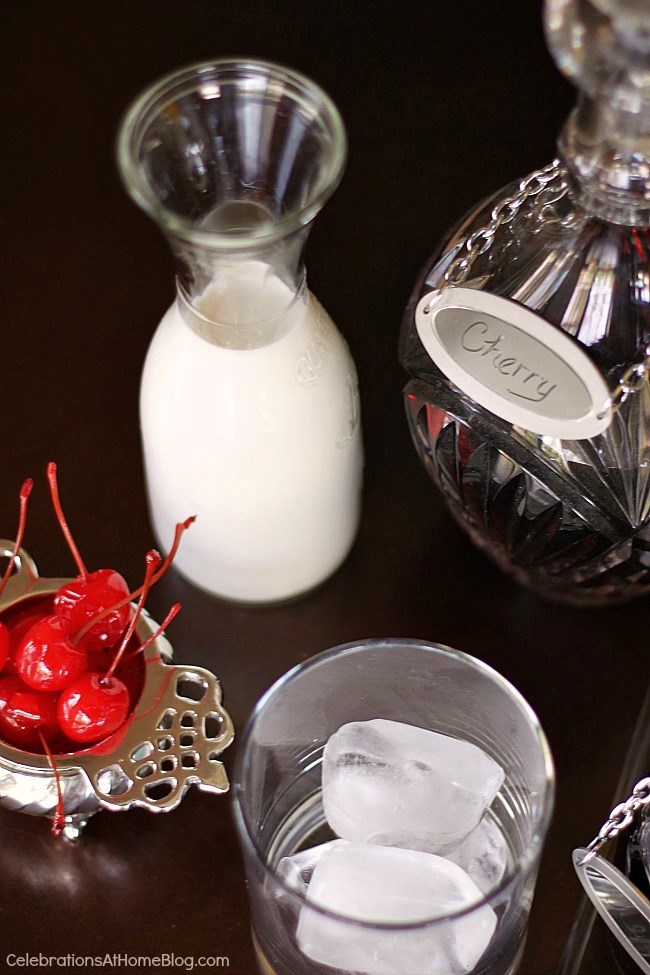 The cherry brandy is great to have on hand. You can use it again when making a Sangria recipe too.
Don't forget to garnish with a a cherry! The red and white would look so pretty for Christmas or Valentines day, don't' you think?
If you like creamy cocktails then you can also try this nuts and berries drink.
Cherry Almond Cream Cocktail recipe
Add this white colored cocktail to your list of cocktails for entertaining. The flavors are rich and delicious for brunch or after dinner drinks. It's also a wonderful winter cocktail for happy hour.
Ingredients
3/4 ounces Cherry Brandy
3/4 ounces Amaretto
half and half
ice
cherries for garnish
Instructions
Add liqueurs to a tumbler glass filled with ice.
Add half and half to fill up glass. Stir to mix, and enjoy!