Simply Beautiful Easter Tablescape (Pastels)
A beautiful Easter tablescape with simple table décor, place settings and pastel flowers centerpiece. Easy ideas to create, plus themed food for Easter entertaining at home.
Beautiful Easter tablescape
Set a beautiful Easter tablescape with pastels, themed details, and pretty flowers. These Easter entertaining ideas for the table are sure to delight your family or guests!
Easter is mere weeks away so it's time to start thinking about your Easter table setting. For this table we're focusing on a floral theme, using a soft pastel color palette.
The foundation pieces are white or neutral, so the decorative themed items pop with color. At first glance it may look like a full table but it's really quite simple to create.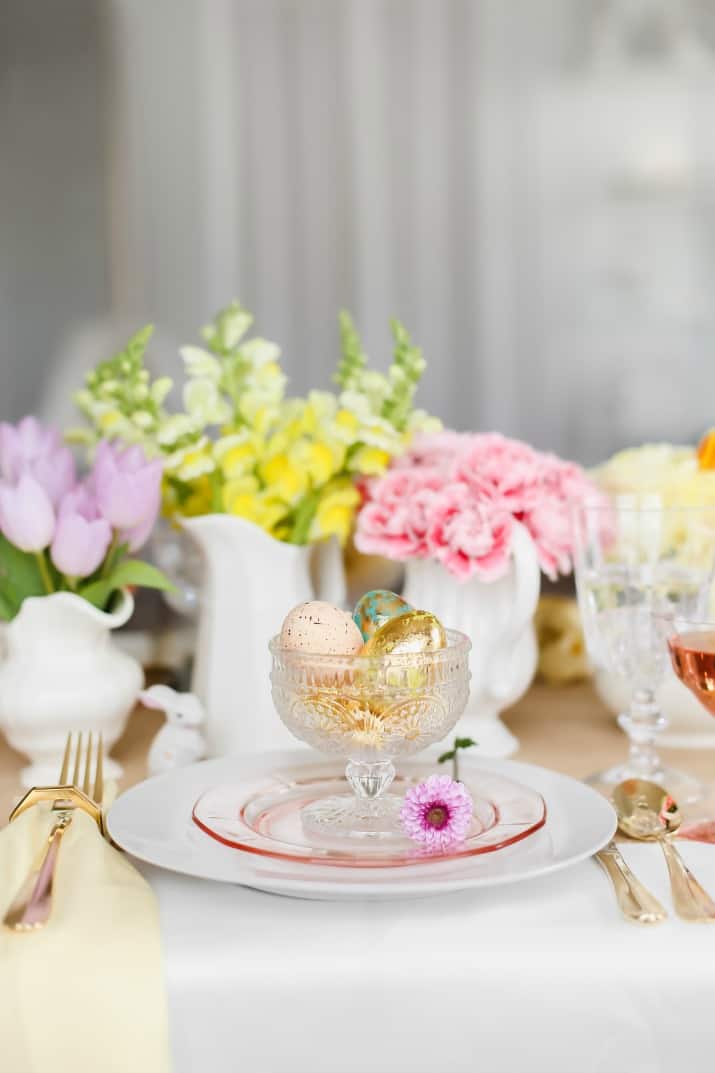 Easter place settings
I know I've said it over and over, but I love mixing basic white plates with vintage decorative plates. Layering them gives your table a 'collected' look. That's what we did here with vintage pink glass salad plates.
Place a modern version of an Easter basket, so to speak. Use mini compotes to hold basket filler and decorative eggs. You can find speckled eggs or gold-leafed eggs at craft stores and home goods stores.
Use modern water goblets alongside pink vintage champagne coupes for the same effect. The pink pieces actually become "neutral" in this tablescape filled with spring flowers and colorful Easter eggs.
TIP 1: Use a fresh flower stem to decorate each plate. Heartier flowers like chrysanthemums or carnations hold up well without being in water.
Easter centerpiece
Pretty decorated eggs and a mix of flowers creates a beautiful Easter table centerpiece.
Decorate with Easter eggs to reinforce the theme of the day. Use mini egg crates with gilded eggs to combine natural and glam together. Use a mix of speckled eggs along with gold-leafed eggs in order to keep it interesting.
Tip 2: Use real eggshells as mini flower vases. Gently crack them open and spray paint them gold to dress them up!
How to make egg shell vases
Tuck small flowers into egg crates, using real eggshells as a vase. Making them is easy!
Use a sharp serrated knife to crack and break off the top portion of the egg. TIP: Cracking the egg shells is easier when you let the egg come to room temperature first.
Drain the egg into a bowl so you can cook it up later, and rinse out the inside of the shell. Let air dry upside down on a paper towel.
Use spray paint to paint the shells. Gold metallic paint will add a dressed up gilded look.
When paint is dry, fill the shell with water and place it into the crate. Pop in a single flower that has been cut down to size.
TIP 3: Instead of creating one large floral centerpiece with a mix of flowers, arrange several smaller vessels with each one holding a single type of flower.
Create a centerpiece of Spring flowers using mini pitchers or other small vases.
Here, tulips, carnations, and snapdragons are displayed separately to give them each more impact. The mix of colors and textures keeps the Easter table décor more beautiful and interesting.
Tip 4: Decorating with flowers doesn't stop at the centerpiece. Add a floral accent to serving dishes by adding a single bloom at opposite corners of the platter.
Easter themed recipes
Serve an Easter menu with classic recipes and themed appetizers. I love to offer light appetizers to guests while waiting on the meal to cook. Food becomes part of your Easter tablescape when it's presented in an attractive way.
TIP 5: Make a 'BUNNY TAIL' cocktail by shaping white cotton candy into a ball shape and displaying on the side of the glass. When ready to drink, place the 'bunny tail' in the glass and pour some sparkling Rosé over top.
In keeping with the neutrals and pink idea, serve some Rosé bubbly to celebrate the occasion.
If you're serving children, serve some sparkling cider with the cotton candy "bunny tails" or a delicious sparkling fruit punch.
Cute appetizers
Cheese & crackers gets an Easter spin with these slightly sweet bites that are decorated to look like little carrots. You're going to want to grab this recipe for Easter appetizers creamy carrot bites. Aren't they adorable!
Of course you can always serve my favorite delicious deviled eggs with bacon because they're a hit with everyone!
Our ham & cheese phyllo cups are another great snack idea. These small bites can be served for Easter brunch or an appetizer before dinner.
TIP 6: Use your egg server for something besides deviled eggs. Phyllo cup appetizers fit perfectly inside the compartments!
Add flower accents
Use flower stems in an unexpected way to 'wow' your guests.
It's always fun to add something unexpected to your party or celebration at home. In this case I took the floral accents from the Easter tablescape, to the wall!
TIP 7: Add a wall of flowers for a fun and festive backdrop, using hearty blooms that will last outside of water.
To create an accent wall, simply attached strips of ribbon to the wall, using tape. Then, using mini clothes pins, attach small flowers at varying high and low intervals.
If you use these small "poms," the installment actually lasts a few days. You could also add greenery stems to the mix for a lush look.
Easter dessert
There's always room for dessert, especially when it's something as cute as these chocolate nests or Easter dirt cake.
Or you can add a beautiful cake centerpiece by serving this easy pineapple white layer cake recipe.
TIP 8: Send guests home with chocolate nests filled with candy eggs. Wrap them up in clear bags along with a couple of lemon leaves or bay leaves for a pretty accent.
These chocolate nests can be part of a bigger dessert table, or can be used as party favors. They're sure to be a hit with adults and children alike.
There you have it. Loads of inspiration for a beautiful Easter tablescape, and 8 tips to bring it all to life. Make sure you follow the links for the recipes and how-to's.
If you like this post, PIN, Share, or sign up for our Newsletter at the top of the page. And don't forget to follow CAH on Instagram or Facebook. Cheers!
Cheers!