This is the BEST Easter Egg Hunt Idea for toddlers! What do you do when they're too young to hunt for Easter eggs? This is an adorable solution they will love! You don't want to miss this creative tip. Find even more holiday party tips in our Easter entertaining guide and start planning!
This is the BEST Easter Egg Hunt Idea for Toddlers!
As spring is on the horizon I've created an Easter egg hunt idea that you're going to love. It's truly one of my favorite original ideas to date.
Everyone loves an Easter egg hunt. We have them in our neighborhoods, our back yards, at churches and preschools, even city parks. It's a fun tradition that children love….except for the toddlers.
Lets face facts. We want to include the little ones but they really don't know what to do, or why they're doing it. Mom and dad try to coach them and nudge them in the right direction but it's mostly futile. Well, now I've got the BEST solution for you instead!
The secret is helium-filled balloons!
Here are more Easter ideas to help you celebrate Easter at home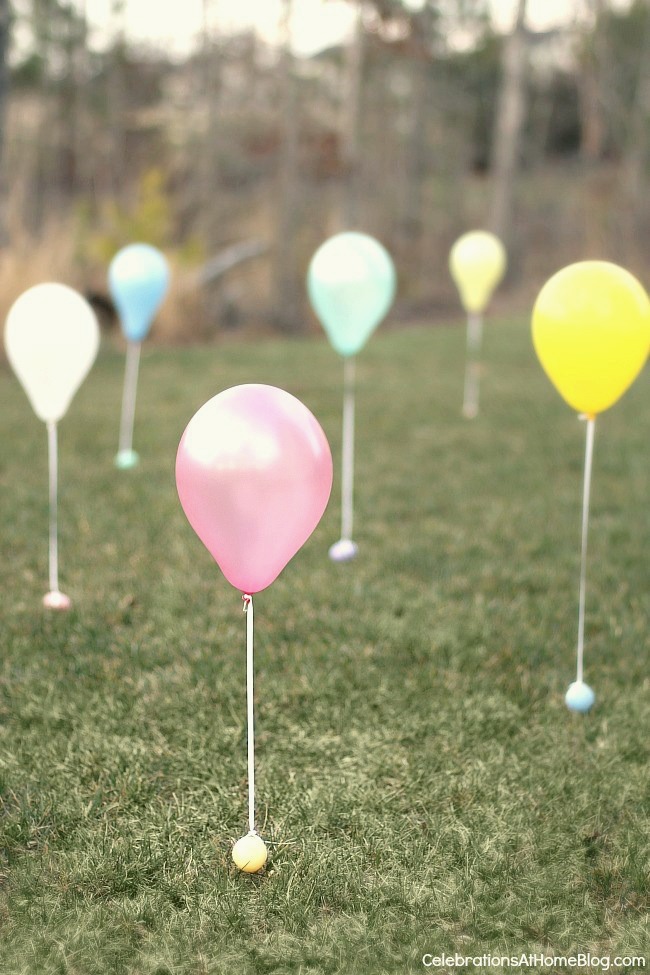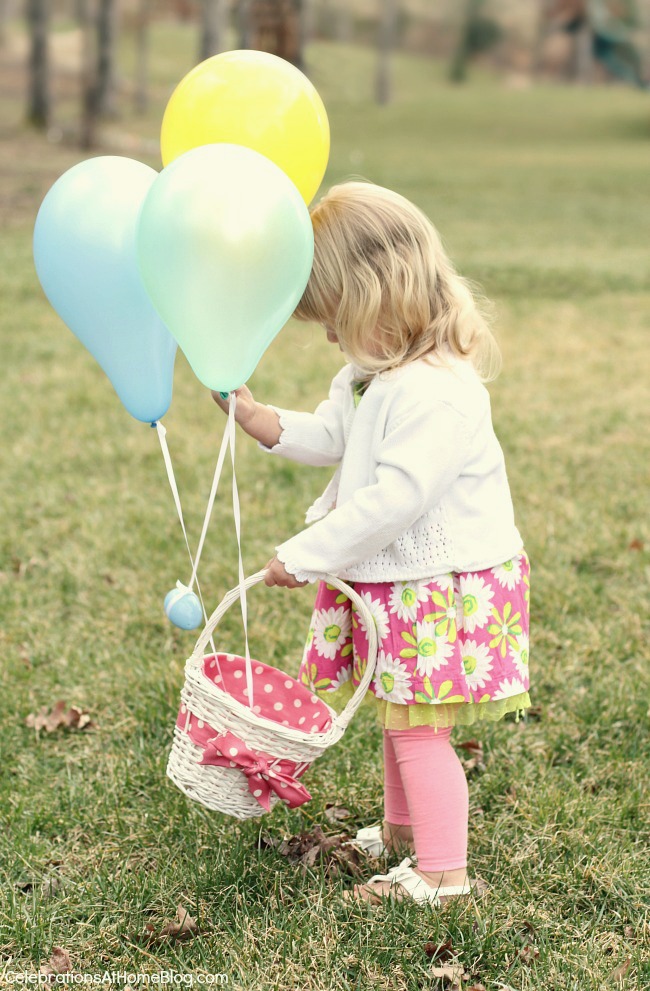 GET WHAT YOU NEED HERE (affiliate links)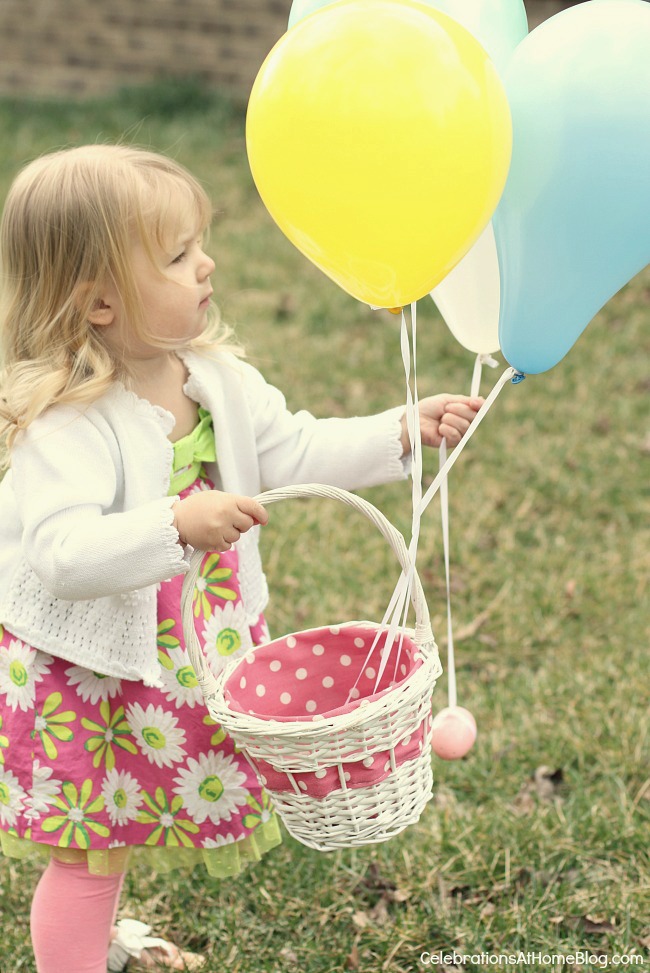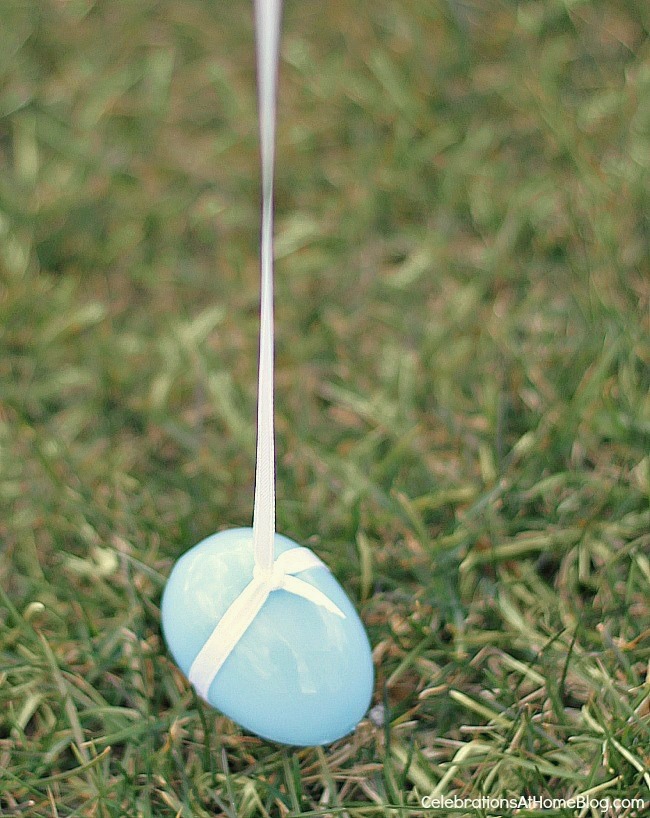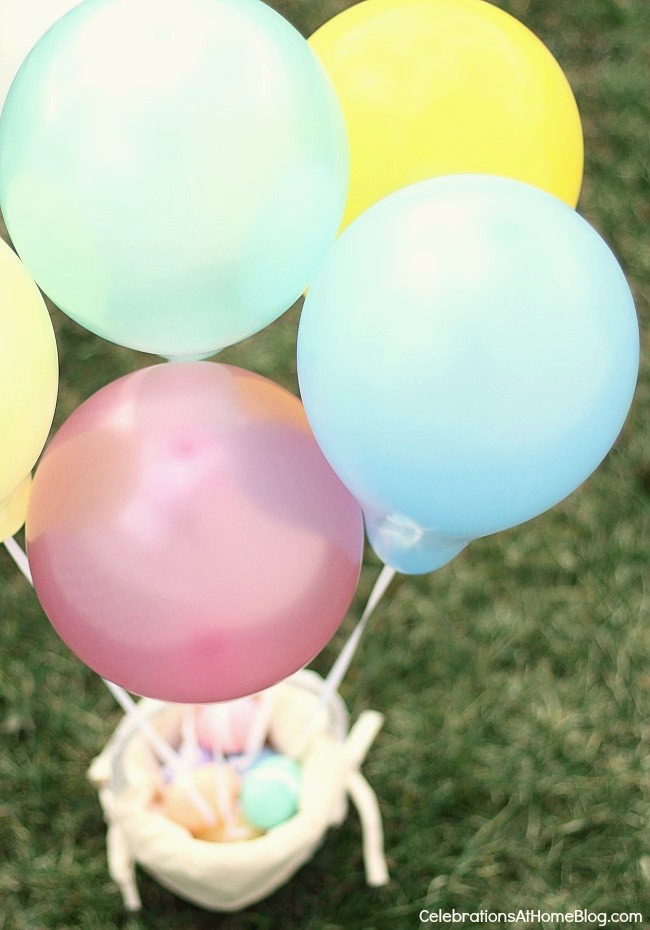 These Easter balloon ideas are a terrific way to involve toddlers in an Easter egg hunt
This Easter egg hunt idea is so simple and is a great way to let the smallest hunters participate. This is specifically designed for ages 1 to 3, at the oldest. Eighteen months to 2 years old is optimal. After that they should be ready for egg hunting on their own.
If you have older children who are doing the Easter egg hunt, make sure they know to leave the balloon-tied eggs for the toddlers, or do a separate round of hunting for the older group.
This would work for larger groups and organizations. Just get a few volunteers to help with blowing up the balloons.
The nice thing is that less eggs/balloons are needed for children this young. Our friend Rose was perfectly happy with six treat-filled eggs.
The trick to this Easter egg hunt idea is to tie balloons to the eggs, and scatter them throughout the yard. The floating balloons draw toddlers in like a moth to a flame. It doesn't take much coaxing from the parents either, because children naturally love balloons.
What You'll Need for the Best Easter Egg hunt idea for Toddlers

Balloon Time helium tank
9 inch balloons in a variety of Spring colors
thin ribbon
plastic Easter eggs + treats for filling
clear tape

Fill balloons with helium and tie them off to secure.

Tie long strands of ribbon around treat-filled Easter eggs, securing with a piece of tape.

Place eggs all around the yard.

NOTE: Optimal height for the floating balloons should be around toddler height or slightly taller.