Small Garden Cocktail Party
I'm so excited to share this garden cocktail party with you today. When I first saw it I think my jaw dropped! Not because it is over-the-top elaborate, but because it is so fabulously chic, and inspiring. This was a launch party designed by Katie of Petite Social and was held in a private courtyard garden. The setting and furniture pieces give it a French vibe, and the colors used reflect the client's business logo.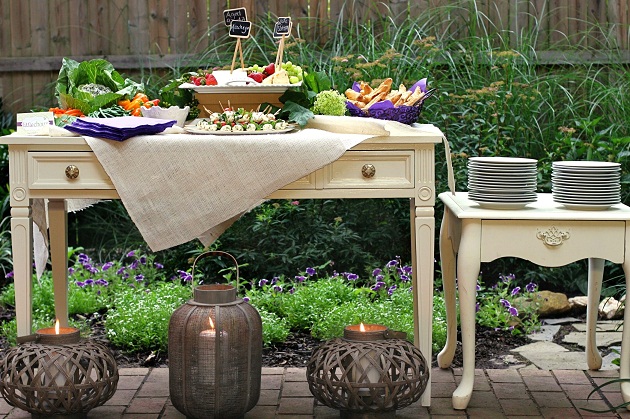 Food Table
We used (our client) Anne Marie's desk and side table and covered it with cream colored burlap. This was a cocktail party so I wanted the menu to be fuss-free, colorful, and rustic. We kept it minimal and served mini tenderloin sandwiches, savory tarts, caprese pops, and a selection of cheeses, nuts, fruit, fresh vegetable platter, and crusty baguettes. I loved the vibrant colors of the vegetable platter (with cabbage as a serving bowl) and caprese pops. It looked like everything was picked from the garden!
Wine Bar
I was only looking for one dresser, but when I found this crackled, chipped, distressed, and absolutely perfectly dresser for $20, I thought it was a no-brainer! We kept the bar menu simple and selected several different red & white wines, and local Virginia brewed beers, using mason jars as our beer mugs. The drawers functioned perfectly as our wine display."
Dessert Station
To set up the dessert table we used an old shabby chic dresser we found for $5! We used the top drawer to hold serving pieces.
Going along with the garden theme, we filled our dessert table with homemade Lemon Tarts, Peach Melbas, Raspberry Brownie Bites, and Strawberry and Blueberry cupcakes from Alexandria Cupcake.
Since this was a launch party for an online boutique, we also created a "pop-up" shop for our guests to get an up-close and personal look of featured products curated by Little Choux. We created and styled different product stations to represent Little Choux's 'live', 'play', and 'wear' categories.
It was such a fun night! We achieved what we aimed for — an intimate and relaxing evening in the garden with good friends. I think our photographer really captured the mood of the evening beautifully."
Wow, don't you just want to step into this cocktail party! I am dying over those Craigs List deals, and the food presentation is beautiful. If you have a desire to host a casual but elegant get-together with friends, why not host a simple garden cocktail party inspired by this one.
This would be fantastic for an adult birthday party or other celebration.
Styling & Paper goods – Petite Social / Boutique Items – Little Choux / Cupcakes – Alexandria Cupcake