You Are My Sunshine Birthday Brunch
I have a confession to make. I was busy working on another blog post for today when I checked my "in" box and found this stunning 1st birthday party submission from photographer extraordinaire, Wendy Updegraff. I immediately hit "save" on the other post and got busy on this one! The party is for Wendy's niece who turned one, and her talented mom created the cutest "You Are My Sunshine" birthday brunch. With all of the vibrant colors, playful fabrics & trims, and stylish food display I'm sure you will love this as much as I do.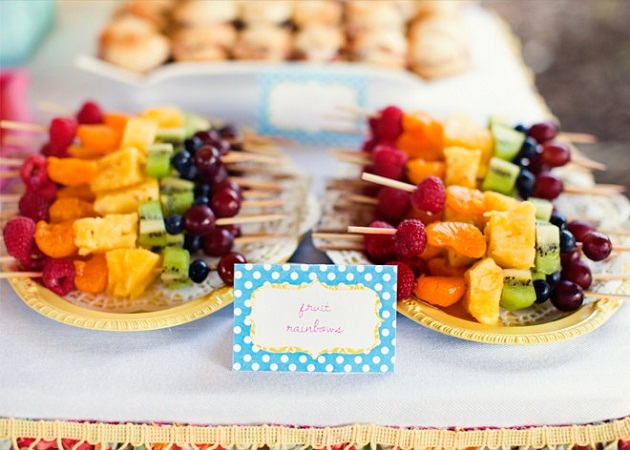 The welcome sign in the top photo points guests to the pool area where brunch is served. There, they find all the usual breakfast menu items displayed in mini sizes and with lots of style. You'll see the sun motif used in several locations: above the food table, part of the centerpiece on the seated table, and on the tote bags that hold favors.
I love the use of fabrics and ribbon with their mix-n-match patterns and colors. Mom even dressed up little Zoe's high chair in a most adorable way!
Even the tablecloths look amazing! The layered cloth with ball fringe trim is gorgeous and sophisticated but still whimsical enough for a toddler's party. Personalized tote bags were filled with bubbles, sunscreen, and flower seeds for each little guests to take home. There were also specially wrapped cd's for each family, that was a "rainy day music mix."
Above is the cutest little one year old standing by her birthday sign, and the invitation that started it all. Every last detail is simply stunning.
Wendy and her family are obviously talented with an eye for detail.  To see more of her work check out the brightly colored baby shower for she threw for her sister (pregnant with Zoe) and the "Up!" birthday party she designed for her own daughter.
Happy Party Planning!
Sign up for the latest

via Email