DIY Mini Bow Ties to Dress Up the Party
These DIY Mini Bow Ties dress up the party for any celebration! This easy diy project can dress up your drinks and more. See how to make them here.
DIY Mini Bow Ties
These festive DIY mini bow ties are a fun and unique way to dress up glasses and more for New Years Eve, Awards Viewing parties, and milestone celebrations.
Ever since I published these ideas for a movie party last year, I've gotten emails and feedback asking about how I made the mini bow ties that adorn the champagne glasses.
I decided this would be a great time to share a diy tutorial for them. Especially since I used them once again in this years Oscar themed party.
This is a simple little project but I think the result can make a great impact especially for New Years Eve, or other glamorous or formal celebration.
Once you make a batch of these mini bow ties you can dress up glasses, drink stir sticks, even use them as photo booth props. Here's how to do it.
How to Use Mini Bowties in Party Decor
I think these glasses look cute lined up on the "red carpet" for an Oscar's viewing party. Just use another strip of red felt fabric to create this look.
They also work great on a New Years Eve late night party buffet attached to push pops.
And you can make your own drink stir sticks with them too.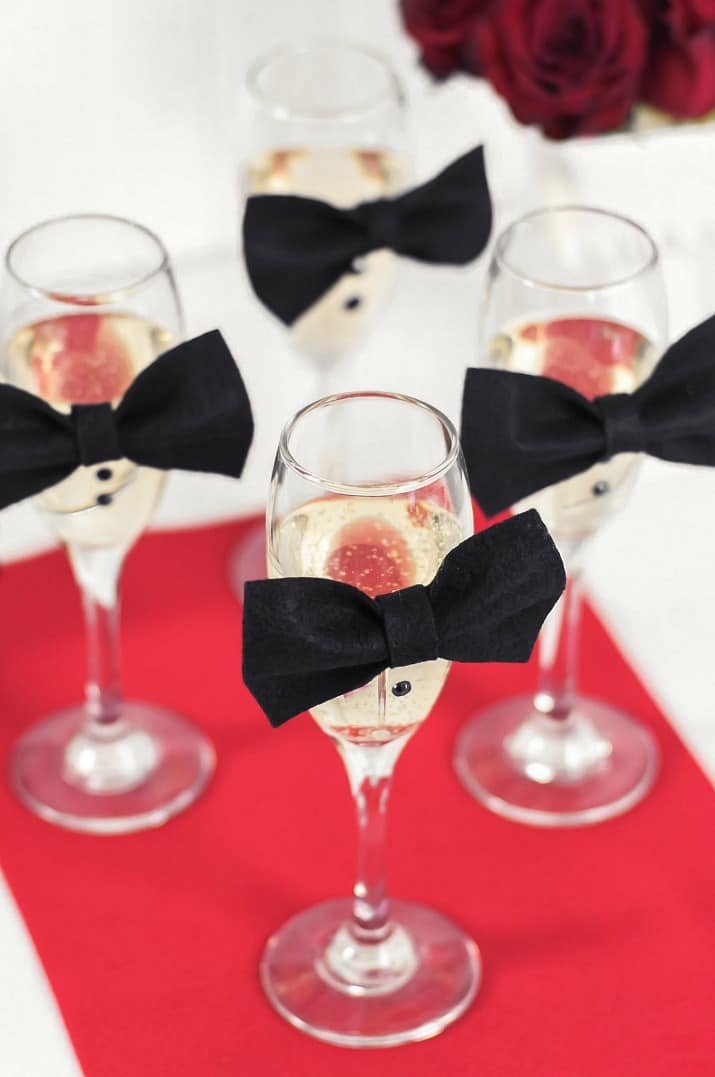 Let me know if you make these, and tell me what you think.
And if you like this idea please PIN, Share, or sign up for our Newsletter at the top of the page. Cheers!
How to Make DIY Mini Bow Ties
Yield:
4 mini bow ties per felt sheet
Easy diy mini bow ties are cute and fancy party decoration. Add them to cocktail glasses for New Years Eve or Awards viewing parties.
Materials
Black felt fabric sheets, from the craft store
black adhesive gemstones
glue dots
Tools
Glue gun and glue stick
Scissors
Instructions
Cut the felt into rectangles about 2 1/2 x 3 1/2 inches.
Cut a strip of felt for each rectangle, that is about 1/2 inch wide, or a little less.
Pinch the rectangle in the middle so the pleats are nice and neat.
Wrap the thin strip of felt around the pinched middle area, and cut off the excess length.
Use the glue gun to add a small dollop of hot glue to the strip on the back side of the bow to secure it. Let dry for a few minutes.
Place a glue dot to the back of the bow tie and attach it to your glass.
Apply 2 or 3 adhesive gemstones underneath the bow, for buttons.