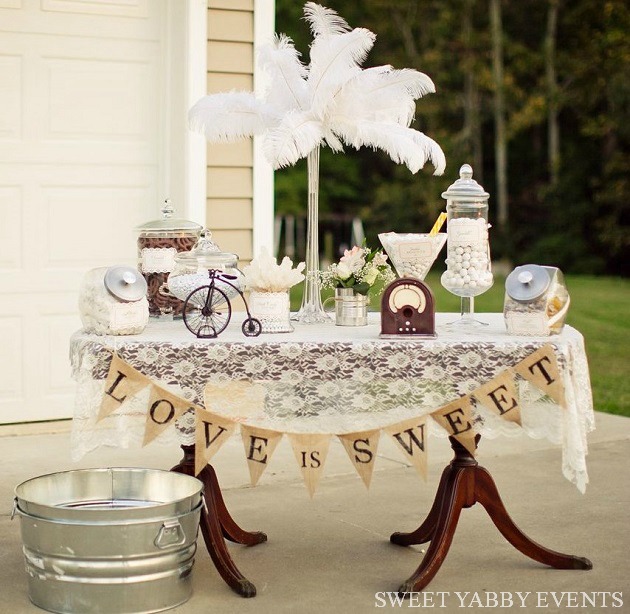 This pretty candy table was sent to us by Sweet Yabby Event Design and showcases the vintage style beautifully. The table was set up for a small celebration of a vow renewal, and incorporates lace, feathers, and burlap in a neutral palette. Enjoy these lovely details and a description by Sweet Yabby, below…
"We designed this candy table for a small wedding vow renewal held in Fredericksburg, VA. The bride & groom had under 50 guests for a backyard vintage 1920's themed ceremony, and wanted to include wild flowers, candles, twine, pearl, lace, burlap, glass, tin and feather accents.
We incorporated the theme into our candy selection by selecting nostalgic candy and neutral colors to coordinate with their wedding. We used Old Fashioned candy sticks, rock candy, salt water taffy, Jordan almonds, chocolate covered pretzels, M&Ms, French vanilla jelly bellies, and gumballs.
We accented the table with burlap using a "Love is Sweet" banner and a beautiful vintage glass vase to highlight the ostrich feathers as the centerpiece. The tin of wild flowers complemented the table well, along with the vintage radio and bicycle. To complete the design we found the most beautifully designed custom lace labels and complemented it with a lace tablecloth.
It was so much fun designing this very simple, yet classy vintage look for the bride & groom."
Design – Sweet Yabby Events / Photography – Sincerely, Liz, Inc
For more inspiration, follow me on Google+, Pinterest, and Twitter. Cheers!