See how to make my original tea bag cookie packs DIY Tea Party Favors that are perfect for any tea party. Make them for brides maids, for mothers day, or a little girls birthday tea party. See the instructions here.
Who doesn't love a tea party with all of it's lady-like charm and dainty accouterments. And of course it's the little details that set any party apart from the rest, and these "tea bag" DIY tea party favors are one of my favorite projects which does just that!
For the tea party lover, check out these 20 creative ideas & tips for entertaining with tea.
I made these "tea bags" to hold tea cookies and double as place card holders in the little girls tea party I styled for Hens and Chicks Parties "party in a box" set. All you need is some scrapbook paper and basic crafting supplies to make them for a ladies luncheon, mother's day, or little girls tea party.
Tea Bag DIY Tea Party Favors

Supplies:

Patterned scrapbook paper, cut into strips about 5″ x 9 1/2″
Bakers Twine
Printable tea bag tag here
Small oval shaped cookies
Scissors, hole punch, double stick tape

Steps:

Using your cookie as a gauge, fold paper into thirds, lengthwise
Fold one corner into a point
Fold other corner into a point; Repeat on other end
Fold one end up to the other, leaving some space at the end
Repeat on opposite side to create a base for the tea bag to stand on
Open paper back up and place cookies inside as shown
Close tea bag with cookies inside.  Punch a hole in each pointed end of the bag, and the tag; pull twine through tag and knot it at the ends.
Pull twine through tea bag holes and back over tag. Pull snugly to secure tag to bag.

NOTE: You can add a name tag as shown below, before pulling the twine through.

Place the tea bag favor in a tea cup to display.

TIP: For larger cookies use the entire sheet of 8 1/2 x 11″ scrapbook favor and fold as directed. This will make a larger pouch to hold the cookies.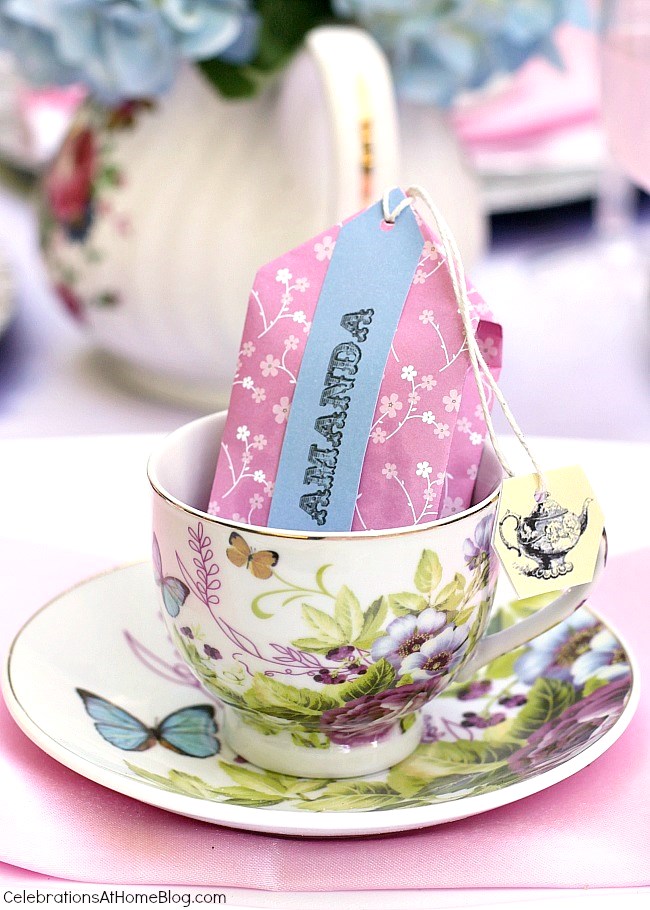 Let me know if you make them, and what you think!
---
Sign up for the latest

via Email