Looking for purple dessert table ideas for weddings or bridal showers? Today's guest feature has some for you! Sent in by Rima of Sugar Blast Events, this table design has some great DIY elements combined with specialty items to create a beautifully themed focal point.
I think you'll love the huge paper flower backdrop as well as the mini dessert items (that way you get to taste more!). Check out the details below, plus a description from Rima…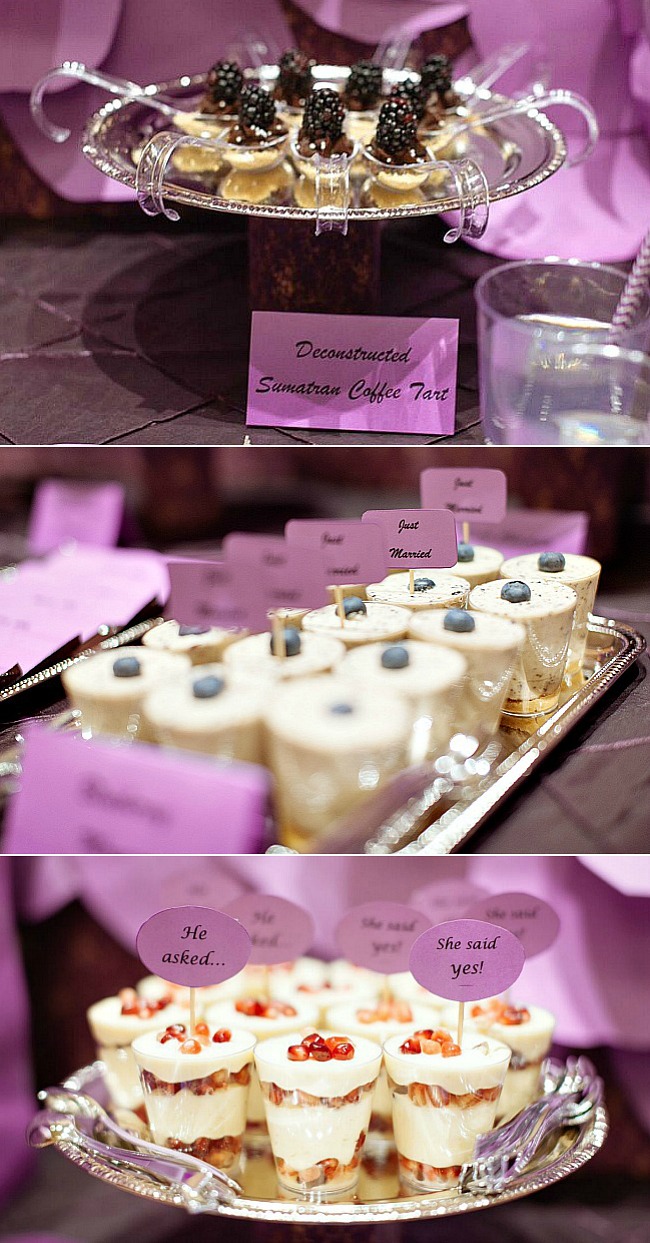 Purple Dessert Table ideas:
"In the event that the bride and groom are having a large wedding, a dessert bar is a particularly good idea. An important aspect of a wedding is the wedding cake, but we noticed that it's increasingly popular to provide guests with more than just the cake. Providing a lot of guests with more options will show them how much you care about everyone's variable tastes. This dessert bar provides an assortment of options like cupcakes, macarons, chocolates, mousse, and even fortune cookies to bring home filled with beautiful personalized wishes from the bride and groom! We loved how Bekti and April infused their personalities and favorite color into their day. The wedding was a lovely celebration and we loved every second of it.

Sugar Blast Events wanted the dessert table to be beautiful and elegant for the lovely couple. We designed this dessert table using DIY flower petals for the backdrop to give the table a simple but stylish focal point at the back. Silver plates and attractive desserts were the perfect complement to the color scheme. This dessert bar was a great way to add some flair to the reception and allowed us to display some creativity"
Thanks for the great inspiration, Rima!  For more great ideas for a purple wedding check out this romantic shoot.
Styling – Sugar Blast Events  |  Photography – Daniel Tan Photography