Halloween Framed Silhouette Wall
Hang a Halloween framed silhouette wall for spooky decor in your entry hall or party space. This diy gallery wall has a spooky twist.
Add some spooky wall art to your Halloween decorating this year with a framed silhouette wall display. I found these free printable silhouettes from Value Village and they add a great focal point. I put together this wall of frames as a backdrop to my gothic glam party design, and I love how it turned out. Gallery walls are all the rage in home décor so it just makes sense to create one for the holiday, right!
Halloween framed silhouette wall
It's fun to get creative and add special touches to these simple silhouettes too.
Here, I mixed in a skeleton key to add variety to the frames. You could also add in a small mirror with "spider webs" dripping off.
What is it about black lace that adds an air of mystery and creepiness? I added a few strips of lace trim to the frames and I love how it looks.
Add adhesive spiders "crawling" up the side of the frame.
You can also add googly eyes in strategic places for a fun effect.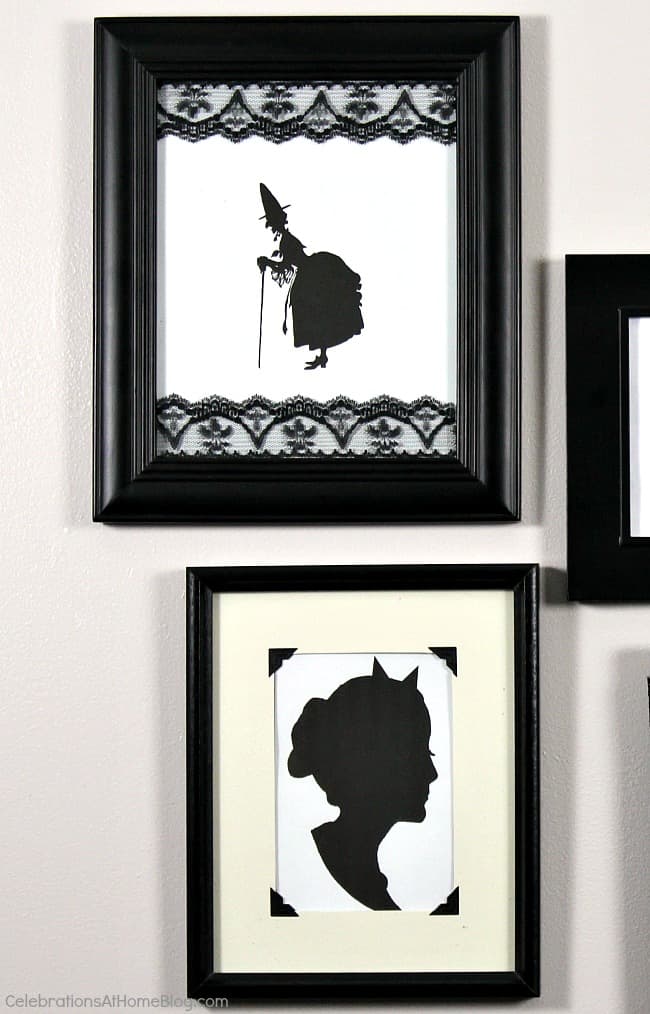 Free Halloween printable décor
Unfortunately the free download for these silhouettes has been removed, but here are some similar ones to use:
Happy Halloween!