This past weekend I hosted a birthday party for my husband.  We went with a French Happy Hour theme as sort of a nod to the time we spent in France, BC(before children).  For the decor, I used what I already had, and was so pleased with the result.  Hope you like it!
Guests were greeted with French wine and champagne!   I set up this area with my
DIY pipe & drape frame system
to hold old frames, a 'C' for Chuck, and curtain panels to frame it all out.  I brought out an old chest to act as a bar, and iced the champagne in a garden urn.
A little taste of France: Goat cheese toasts w/caramelized onions, Brie tarts with strawberry preserves, mini quiches, and "french" fries served in paper cones with a fleur de lis embelishment.

An old suit case was used to serve the toasts out of, and pictures from our trip created a 'banner' above.

The dessert table served up fruit tartlets, palmiers, croquembouche, and these divine macarons from

Petites Bouchees

.  I chose the chocolate-espresso butter cream, and the hazelnut-caramel.  Delicious!

I used drawers to display the macarons, an urn for height and to hold the palmiers, and a frame fitted with 'post card' scrapbook paper to hold the fruit tarts.

Other decorative elements were a globe, some French books I picked up in Paris, and a candelabra hanging above.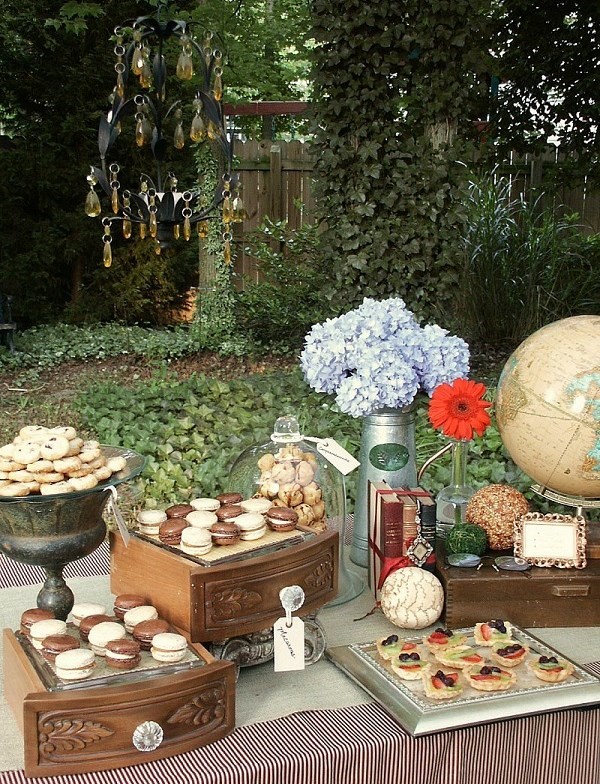 Take home favors consisted of various monogrammed items: note pads, coaster sets, and note cards.  The bags were wrapped with coordinating paper used throughout the party, and a monogram tag was attached with Fleur de lis wax seal.

Another vintage suit case was used to help display the favors.
For more inspiration, follow me on Pinterest, Twitter and Facebook. Cheers!