I have a children's Valentine's day table over on Homes.com and one of the details is this napkin envelope that looks so cute with a small printable Valentine's day card tucked inside.  I don't usually get caught up in fancy napkin folding but this ideas just seemed to fit so well with the holiday theme that I thought I'd share how to do it.
I used small cotton cocktail napkins but you could also use paper napkins if you like.  Full size napkins were pretty large for this particular placement, however.
How to Fold Napkin Envelopes:
Iron your napkin so it's wrinkle free, and lay it flat in a diamond shape.
Fold one side in towards the middle.
Fold the other side in towards the middle.
Bring the bottom up to the middle.
Now fold the bottom half up over the top half to meet the base of the 'flap'.
Tuck a card inside and fold the flap over.  Seal it with a puffy heart sticker.
For best results iron the folds as you go so they lay down flat.  Place them on each plate and continue setting the table.
NOTE:  Free printable Valentine's Day cards from The Rubber Punkin.
PIN

the post.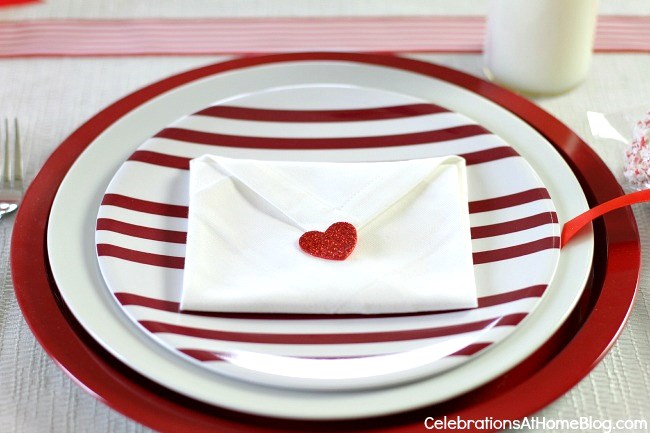 Even though this was for a kids table, the idea would work equally well for grown ups too, don't you think!
Have a great day!
For more inspiration, follow me on Google+, Pinterest, and Twitter. Cheers!