I'm pretty sure I want to linger over this table long after dessert is served. Image: California Wedding Wave
This gorgeous tabletop from Bliss Events, not only gives us great inspiration, but also can teach us a lesson. The centerpiece vases are a perfectly coordinated mixture of patterns in the same color scheme. A great reminder of how you can bring together a look when you think you have nothing that matches. Just gather […]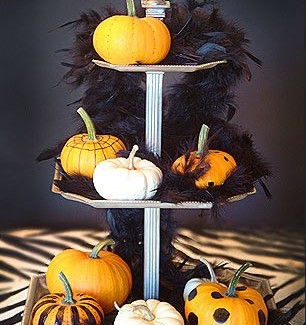 Check out this Fabo centerpiece with pumpkins and feather boa, not to mention the zebra fabric!! They must have made that just for ME!! This cutie patootie idea comes from St. Louis Entertains and there is a video to watch with more great table settings. No, I'm not in St. Louis, but my girl Amy […]
I found this lovely centerpiece display on Boston Mamas. This is perfect for a fall tabletop, or for Thanksgiving. It uses nuts and lentils to fill cylandar vases, and incorporates oranges (or use mini pumpkins) tied with ribbon and topped with an orchid. This is so beautiful and eco-friendly too!
I wanted to share this beautiful tabletop from Brides.com because I love how it looks incredibly glamorous at first glance, but when you break it down, it's really quite casual and easy to put together. Simply top the table cloth with a lace runner(you may have from your grandmother). Use a mixture of candle sticks, […]
Create a beautiful tablescape inspired by nature, like the one here from Green Wedding Shoes. Incorporate large leaves, birds nests, birch candles, green plants, and birds. You automatically get a soft color pallete of green with lots of interesting textures.
On a tight budget? Break out the cellophane! These vases are filled with crumpled cellophane and water, people!!!! And if it's good enough for a wedding of 500 guests, then it's good enough for you ; ) I found this on Australia Entertains, and was their way of working with a "tight" budget….hmmm, okay, I'll […]