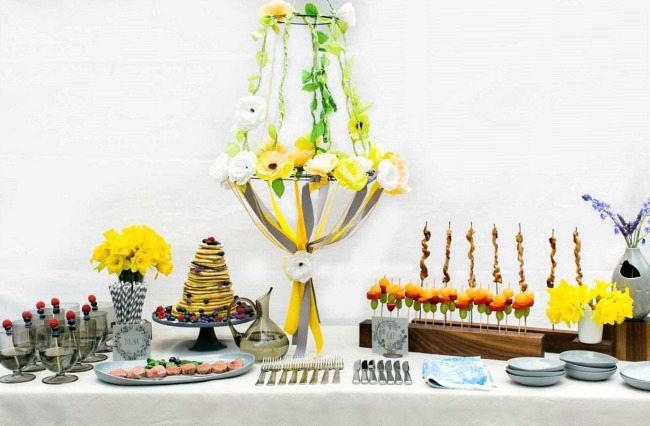 Recently I've been thinking it would be fun to host a ladies brunch one Saturday or Sunday morning. Right now I'm only "thinking" about it, but this submission from Milou + Olin Photography may be just the push I need to make it become a reality. This is a styled shoot designed by Madeline Trait and offers some great display ideas as well as some links to some delectable recipes.
The focal point to this brunch display is the gorgeous DIY flower chandelier, made from paper flowers. Isn't it fantastic! Check out all the details and tips from Madeline below…
PIN this post
From Madeline:  "It's a perfect time to throw a brunch to celebrate the Spring! By using simple recipes and a creative eye I devised a great way to host so that you can have time to enjoy your guests and not be stuck in the kitchen.
To start off I rented all my serving ware from Chairs and Cups who specialize in handcrafted wares from American Makers. Then created some DIY decor that you can do ahead of time to really impress your guests.
Create a focal point with a DIY paper flower chandelier. 
Custom napkins using Lumi's inkodye, a light sensitive dye. You can create initials or easy botanical prints with leaves and other cuttings.
Create a stunning display with pancakes and fruit! I used a standard pancake recipe to create a towering stack then dusted it with powdered sugar and topped it off with a bit of fruit. It's an easy and effective way to dress up this simple dish. Further fancy it up with lavender infused agave nectar. 
Liven up fresh fruit by placing it on skewers. It's easy access for your guests and adds to your table display. Drizzle them with a balsamic reduction for some added flavor. 
Twisted and baked prosciutto on skewers is another simple addition to the table and this is a perfect complement to fresh fruit.
Lastly balance it all out with a simple roast dressed up with a red wine reduction and garnished with mint. 
And don't forget cocktails or mock-tails depending on your crowd. We used a lemon and lavender spritzer garnished with raspberries and blueberries to add that final touch.
Now that you have everything you need call your favorite ladies and enjoy the spring weather together at brunch."
For more inspiration, follow me on Google+, Pinterest, and Twitter. Cheers!